Every Friday night we smooth our way into the weekend with music, the universal language. These selections demonstrate that despite what is being passed off as art today, there is plenty of really good music available. Come along and enjoy.
A very fun theme this week: Cool Christmas music, because not every Christmas song is a church hymn. And that's, well, cool!
Let's get started!
Every year Jennifer Nettles hosts the CMA Country Christmas special, and there's always a dazzling opener. This year was no exception.
I told you this would be fun. And we're just beginning.
This next ensemble is known the world over, having formed at Ithaca College back in 1987. Their close-knit harmony will make you think of the Singers Unlimited and The Manhattan Transfer.  Scott Albin of Jazz Times wrote about their 2013 album, "Let it Snow is one of the best jazz-related Christmas CDs in many a year."
The Airmen of Note is the premier jazz ensemble of the United States Air Force. Stationed at Joint Base Anacostia-Bolling in Washington, D.C., it is one of six musical ensembles that comprise The U.S. Air Force Band, and was created in 1950 to continue the tradition of Major Glenn Miller's Army Air Corps dance band.
They like to weave in notes from other pieces into the main number. Here you'll immediately recognize "Take Five." But I think you'll also detect the melody of a famous children's Christmas song.
Cool.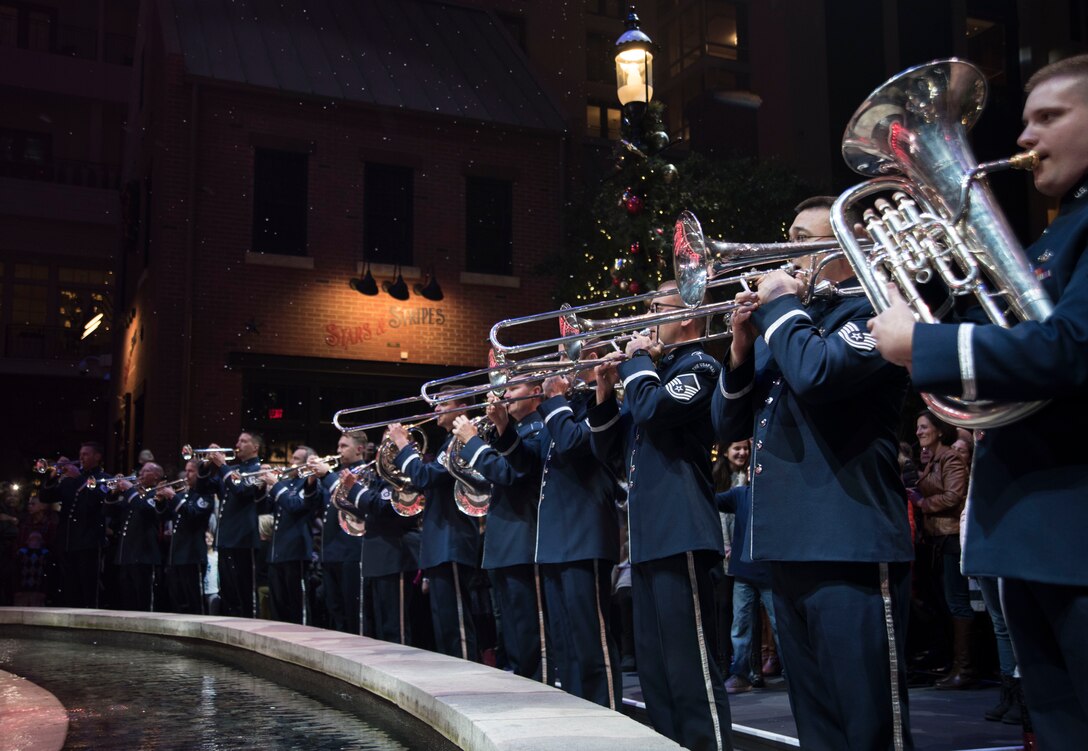 It is an urban legend that, "The Twelve Days of Christmas," was created as a coded reference to important articles of the Christian faith. That's according to the urban legend de-bunker, snopes.com.
"The twelve days of Christmas in the song are the twelve days between the birth of Christ (Dec. 25) and the coming of the magi (Epiphany, January 6). Although the specific origins of the song are not known, it possibly began as a Twelfth Night 'memory-and-forfeits' game in which the leader recited a verse, each of the players repeated the verse, the leader added another verse, and so on until one of the players made a mistake, with the player who erred having to pay a penalty, such as offering up a kiss or a sweet. This is how the song was presented in its earliest known printed version, in the 1780 children's book Mirth without Mischief.
'Textual evidence indicates that the song was not English in origin, but French. Three French versions of the song are known and items mentioned in the song itself (the partridge, for example, which was not introduced to England from France until the late 1770's) are indicative of a French origin.
"The 'Twelve Days of Christmas' is what most people take it to be: a secular song that celebrates the Christmas season with imagery of gifts and dancing and music."
I'm not a big fan of this Christmas song. Sounds like one big skip in the record, the same old annoying refrain over and over and over again.
That's why I do enjoy versions that are a bit different.
Like this one. Listen very closely for lots of "cool" surprises.
That's it for this week. More good Christmas music next week, promise.
Goodnight.
Sleep well.
Have a great weekend.
We close with a Grammy-award winning group.
Save
Save