THERE ARE THOUSANDS AND THOUSANDS OF FOOD BLOGS, BUT ONLY ONE CULINARY NO-NO!
This week we're discussing women's bodies.
Before you roll your eyes, shake your head, and jump to conclusions, please remember this is a food blog. This week's installment is serious. Here's why.
A survey was conducted back in January on behalf of RiverMend Health and Rosewood Centers for Eating Disorders. Respondents were asked to describe the "perfect female body."
More than half of the 1,004 respondents, 54% agreed that an athletic physique is ideal for a man. When it comes to a woman's body the answers were mixed. Forty-nine percent of women said an athletic body type is ideal, but 38% of men voted for a curvier frame.
"Women are inundated with pictures of the 'ideal,' and we tend to view ourselves in a way that taints how we see ourselves and the way we're valued,"said Dena Cabrera, executive clinical director of Rosewood.  "Women put a lot of value into body shape and size and weight."
In other words, this issue is a big deal.
More than 75% of those surveyed said they would give up something important to them if it meant they could achieve the "perfect" body overnight including dumping fried food, alcohol, social media, and sex. A small percentage of people, 3% said they would go so far as to give up their homes, and 2% said they would give up a relationship with someone they love for their desired bod.
Take the look of a model. There is no shortage of women today striving for that shape. Reaching that goal is next to impossible. Models over a size 12 reportedly only make up 1.4% of advertising campaigns. That doesn't stop women from going to extremes to achieve the best physique possible, like resorting to unthinkable diets.
What do successful models eat? Let's examine a few.
Martha Hunt appears in the Victoria's Secret fashion Show. In the days leading up to the program, and this is laughable, Hunt says she eats "more than usual": Greek yogurt or eggs for breakfast, sushi for lunch, and salmon/chicken/or meat with vegetables and healthy carbs for dinner.
Adriana Lima also has her ways to prepare for that Victoria's Secret show. She works out twice a day and drinks only protein shakes for nine days. She has no solids during that time.
Charlotte McKinney
Breakfast
Hot water with lemon
Banana with a few tablespoons of almond butter
Lunch from True Food Kitchen
Quinoa burger with hummus and kale salad
Snack
Juice: beets, ginger, lemon and apple
Dinner
Grilled shrimp and grilled veggies
Dessert
Blueberries
Glass of rosé
Stella Maxwell
"For breakfast, I like scrambled eggs, avocado, oatmeal—I really love oatmeal—or granola and yogurt. Lunch would be a piece of fish like salmon and then maybe some salad on the side—today we had chicken and salad. And then dinner, probably the same thing—a protein and a green."
Josephine Skriver
"For breakfast today, I had scrambled eggs, spinach, and a cup of brown rice. I would say most of the time it's grains, protein, and rice, but sometimes for lunch, I don't do as many carbs because it makes me sleepy. But for breakfast, it's such a good start—especially after my workout, I'm dead tired and I need fuel for the whole day. My biggest meal is breakfast—sometimes I have it twice because I'm so hungry.
"For snacks, I love everything from fruit to carrots or nuts—like a little handful of nuts keeps me going or just a half a portion of what I ate earlier. I always carry fruit and nuts with me. Nut bars are good and easy to bring in your bag."
Gisele Bunchen (wife of QB Tom Brady)
Eighty percent of what they eat is vegetables. Whole grains like brown rice, quinoa, millet, beans. The other 20 percent is lean meats: grass-fed organic steak, duck, and chicken. As for fish, wild salmon.
No white sugar, white flour, or  MSG.
No tomatoes, peppers, mushrooms, or eggplants.
No coffee. No caffeine. No fungus. No dairy.
Get the picture?
That brings us to the real motivation behind this week's feature. My wife told me she recently saw this book on display at Target.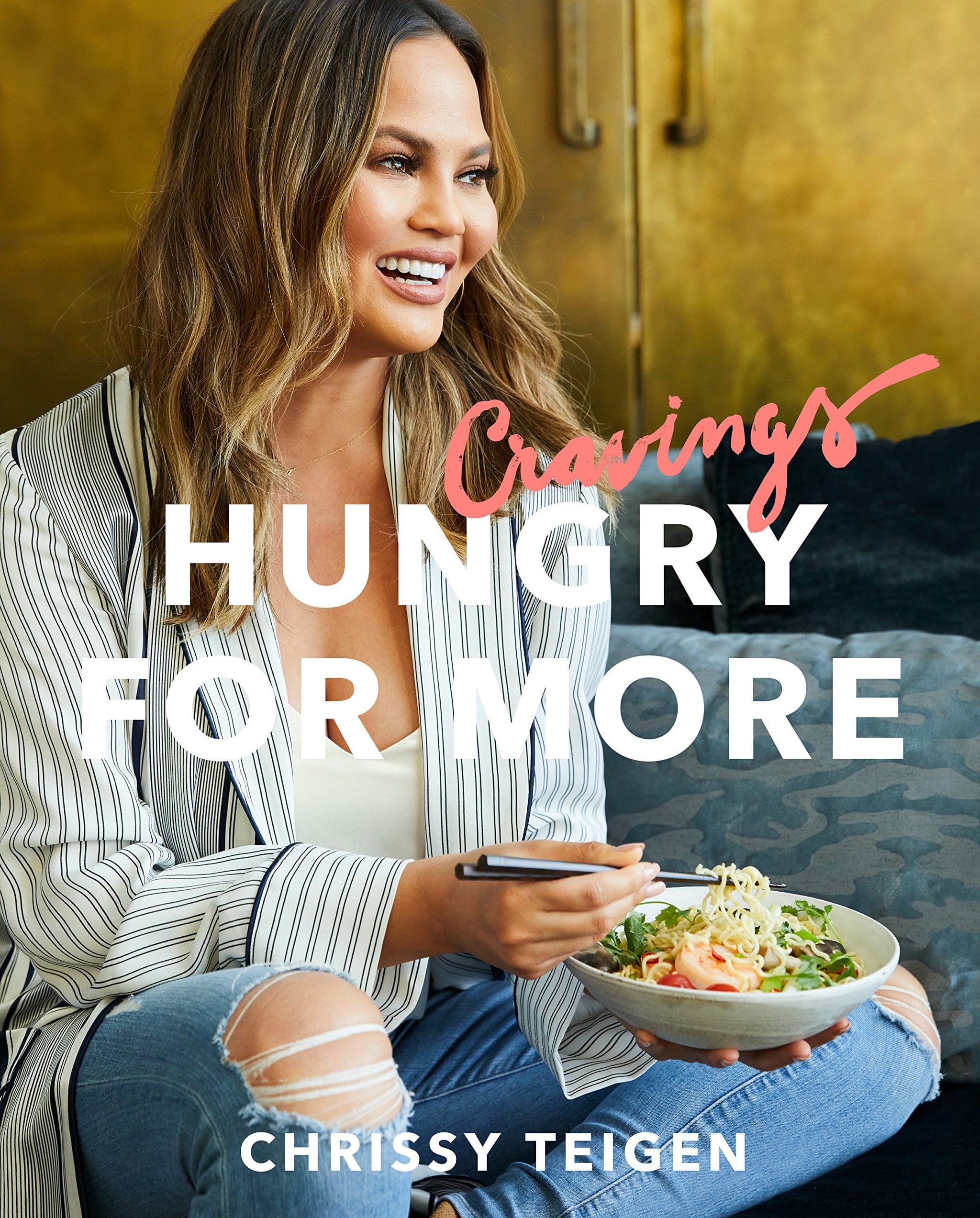 That's model Teigen's second cookbook. I was unaware she wrote a cookbook in the first place.
Teigen made her debut in the 2016 Sports Illustrated Swimsuit Edition.
Since then Teigen's popularity has grown thanks in part to her being so relatable, a quality that clearly comes through in the new cookbook. One would assume a model-authored cookbook would be ultra-healthy. Geared towards families looking to have quick meals with  few ingredients, Teigen's latest effort still surprises with items that would probably repulse the above-mentioned ladies. From People.com:
"I wanted the photos and the food to look realistic and attainable. You guys can really make everything," she said. "Nobody can't cook. You know? Everything is possible."
Teigen is married to singer John Legend.
"John can be a jerk because he really enjoys the healthy recipes, which is fine. But, you know, I think we're both finding as we grow older that pounds just aren't shedding like they used to," she said.
Good for Teigen. If she can eat these recipes that would make the typical model shriek in terror and still maintain her figure and career, then why are women adhering to a near anorexic lifestyle in order to reach unattainable perfection?
CULINARY NO-NO BONUSES
U.S. kids eating more fast food, healthier offerings not helping