Every Friday night we smooth our way into the weekend with music, the universal language. These selections demonstrate that despite what is being passed off as art today, there is plenty of really good music available. Come along and enjoy.
Did you know that the woman who was the inspiration for creating Mother's Day later wanted it banned?

Anna Jarvis of Philadelphia is credited with originating Mother's Day. Her own mother had organized women's groups to promote friendship and health. On May 12, 1907, Anna Jarvis held a memorial service at her late mother's church in West Virginia. States around the country began their own observances. In 1914 President Woodrow Wilson made it a national holiday.

People started sending cards and giving gifts. In her last years Jarvis, upset over the day's commercialization, tried in vain to get rid of the very holiday she gave America.

This week, some of my mother's favorite music in my musical Mother's Day card to her and all moms. Enjoy.

The inspiration for this week's feature came a few weeks ago when our family vacationed in Disney World. On a scorcher (there were plenty of 90-plus degree days that trip) we were standing in a long line to get into this ride in the Hollywood Studios park:
Music of the 30's and 40's had been playing throughout the park so it was no surprise we heard a recording of a contemporary group over loudspeakers performing this Tommy Dorsey classic. Mom was a Dorsey and big band fan, and since we always like a rousing opening…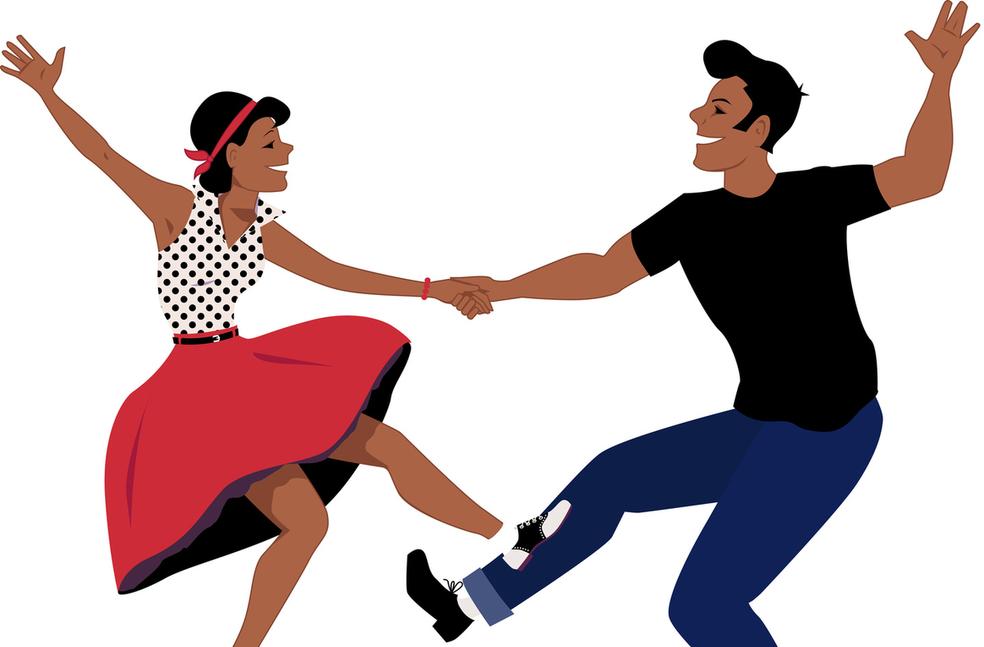 Wow!

That definitely blows the roof off!

Tommy Dorsey's recording had strings. And the vocal group "The Mills Brothers" had their own lyrics:

I'm rackin' my brain to think of a name
To give to this tune, so Perry can croon
And maybe old Bing will give it a fling
And that'll start everyone hummin' the thing

The melody's dumb, repeat and repeat
But if you can swing, it's got a good beat
And that's the main thing, to make it complete
'Cause everyone's swingin' today
Tommy had a brother Jimmy, and the two played in the same orchestra. But they each had a terrible temper, and a nasty feud sent them on their separate ways and separate bands.
Trumpeter Max Kaminsky wrote in his book Jazz Band: My Life in Jazz:

"They had been brought up in a feisty Irish family where love was expressed with fists as much as kisses. Both Tommy and his brother Jimmy were natural born scrappers. When they had their own Dorsey Brothers orchestra they fought around the clock. Tommy would kick off the beat. Jimmy would growl, 'Always the same corny tempo!' Tommy would snarl, 'Oh yeah! And you always play those same corny notes!' Jimmy would leap up, snatch Tommy's trombone and bend it in two. Tommy would seize Jimmy's sax and smash it on the floor, and the fight was on."

One of Mom's ultimate favorites was Rosemary Clooney, best remembered for her starring role with Bing Crosby in White Christmas. The Wall Street Journal called her, "A pop icon and spoken in the same breath as Sinatra and Ella Fitzgerald."

A&E's bio of Clooney said, "The distinctively unpretentious, deep, rich, and smooth voice of Rosemary Clooney earned her recognition as one of America's premiere pop and jazz singers. According to Clooney's record company press biography, Life magazine, in a tribute to America's 'girl singers' named her one of 'six preeminent singers … whose performances are living displays of a precious national treasure … their recordings a preservation of jewels.' First-class crooner Frank Sinatra stated, as was also reprinted in Clooney's press biography, 'Rosemary Clooney has that great talent which exudes warmth and feeling in every song she sings. She's a symbol of good modern American music'."

Nominated several times for Grammy Awards, Clooney never won. But she received the Grammy Lifetime Achievement Award on February 28, 2002.

The previous month Clooney underwent lung cancer surgery. She remained hospitalized at the Mayo Clinic until early May, when she was able to go home to Beverly Hills and share Mother's Day and her birthday with her family, which included five children, ten grandchildren, brother and sister-in-law Nick and Nina Clooney, and sister Gail Stone Darley Clooney died on June 29, 2002.
This track is from a 2001 album, Clooney's last studio recording.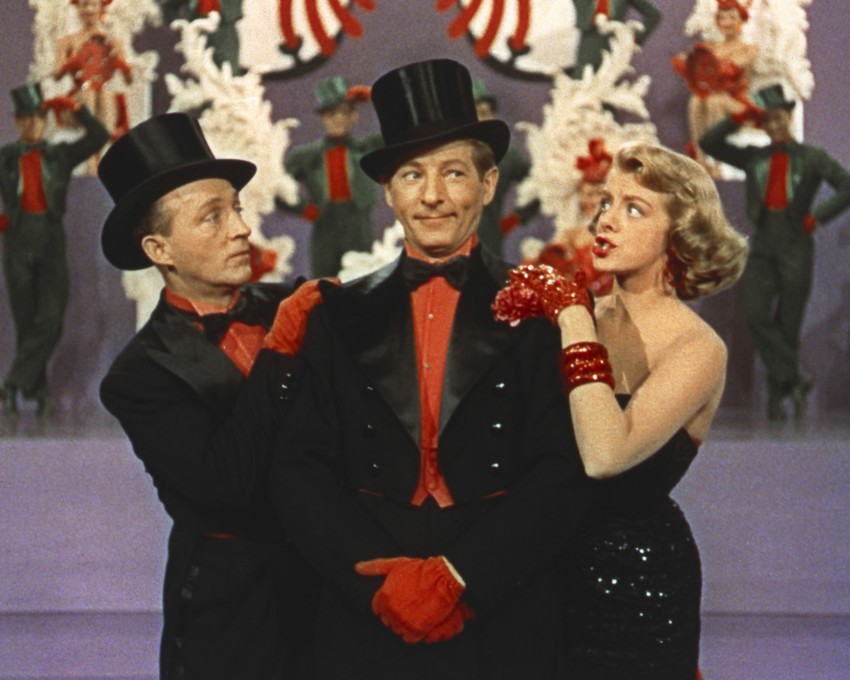 From the liner notes of the above album written by respected jazz critic Will Friedwald:

To put the statistics of Clooney's career into perspective, whenever the day comes that she decides to hang up her microphone (and I hope it never does!) after this album (her 27th Concord release), she'll already not only be one of the most prolific female singers of all time, but, thankfully, probably the one who recorded the most in the later part of her career-with not only the most consistently excellent but the most amazingly personal series of statements since Thomas Edison ever tinkered with tinfoil.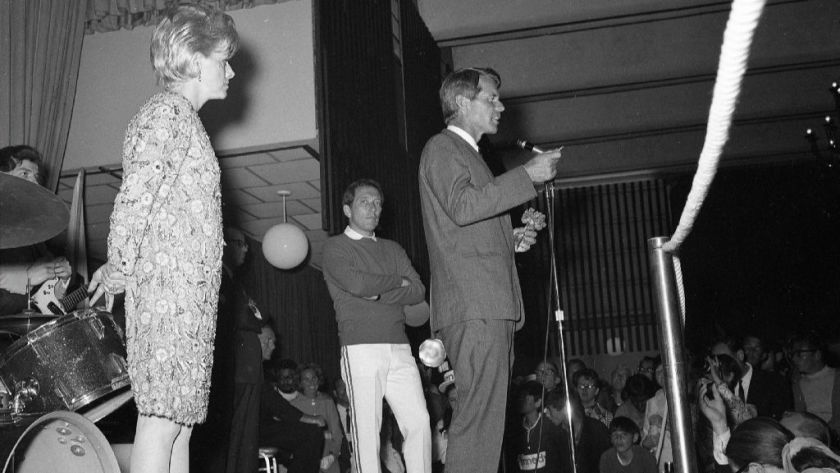 Robert Kennedy campaigns with Rosemary Clooney and Andy Williams in San Diego on June 3, 1968, the day before the Democrat California primary. Four hours after the polls closed in California, Kennedy claimed victory as he addressed his campaign supporters just past midnight in the Ambassador Hotel. On his way through the kitchen to exit the hotel, he was mortally wounded by assassin Sirhan Sirhan. Standing beside RFK during the shooting was Clooney, and his death traumatized her for years. She suffered a deep depression requiring psychiatric hospitalization. Her entertainment career was never the same.

One more note. You probably know Clooney is the aunt of actor George Clooney. He was a pallbearer at her funeral.

Our next tune was a real favorite of Mom's, so much so that when she'd play it on the stereo she couldn't resist singing along. A George Gershwin composition (so you know it has to be good), this one dates all the way back to 1927, the biggest hit in the Broadway musical Funny Face.
Recorded live in Rio de Janeiro, November, 2008….
So now we've enjoyed female vocalists, two in a row. The trend continues.
From writer Bruce Eder:

The mere mention of the name the McGuire Sisters (Christine, Dorothy, and Phyllis) evokes images of '50s America and comfortable, white middle-class life and aspirations. Their work was the perfect musical embodiment of the popular white culture of the period… and Dwight Eisenhower's America. They even came from a place called Middletown.

(The McGuires were) the daughters of Asa and Lillie McGuire. Lillie McGuire was an ordained minister, and the girls' first singing experiences were in church — indeed, secular music was frowned upon in the household — They sang at weddings, funerals, and revival meetings, revealing a special knack for close harmony.
In 1949, they were recruited to tour veterans' hospitals and military bases, and it was during this period that they took the opportunity to learn material other than the hymns and inspirational songs. By the time the tour was over, they'd come to the attention of a local bandleader, Karl Taylor, who got them a series of appearances on radio, broadcasting from the Van Cleef Hotel in Dayton, Ohio. During a break in one of these broadcasts, they were encouraged to try out for the Arthur Godfrey Talent Scouts program in New York. The trio pooled their resources and borrowed enough money to make the trip and, in their innocence about the ways of the entertainment industry, simply went to the CBS studio where the show was broadcast. Their manner was so unaffectedly beguiling that they got an audition from the program's producer, which resulted in a promise to get them on the air once he had presented the whole matter to Godfrey, who was away on vacation.
Godfrey contacted the McGuire Sisters and signed them up for his Talent Scouts show, which he followed by booking them on his morning program. It was the start of a seven-year gig that made the McGuire Sisters one of the most well-known vocal groups in the country.
These two songs both went to #1.
Phyllis McGuire, the last surviving member of the group, died on December 29, 2020.

When the sisters were performing at the Desert Inn in Las Vegas in 1959, Mafia leader Sam Giancana saw her onstage and told the pit boss to "eat the marker" on the thousands of dollars of debt she owed at the blackjack tables. Their romance began.
"When I met him I did not know who he was, and he was not married and I was an unmarried woman, and according to the way I was brought up there was nothing wrong with that. And I didn't find out until sometime later really who he was, and I was already in love," McGuire said. "It was really hurting the career and it was really breaking my parents' heart, and I also had an ultimatum from my sister's husband that if this didn't end that the trio would be over. So that was very painful for me to think of, and so I tried twice but it didn't work."

That's it for this week.

Goodnight.

Sleep well.

Don't forget Mom.

I've written in the past that Mom liked Barry Manilow who did a big band album in 1994 featuring one of her all-time favorite songs. Here's a brief clip:
I love this ending. Did I mention Mom loved the big bands?

On April 24, 1967, Herb Alpert and the Tijuana Brass had their first TV special on CBS, sponsored by the Singer Sewing Machine Company.

There's a scene at the Aragon Ballroom in Santa Monica that's a tribute to big bands and halls once packed with enthusiastic crowds and dancers. Another great Tommy Dorsey classic.