Every Friday night we smooth our way into the weekend with music, the universal language. These selections demonstrate that despite what is being passed off as art today, there is plenty of really good music available. Come along and enjoy!
Imagine Peter Max meets the Fab Four.
That was the movie "Yellow Submarine" that opened 50 years ago.
This was the third Beatles movie prepared to fulfill the October 1963 agreement with United Artists.  The first two movies  were "A Hard Day's Night" and "Help!"
The Beatles weren't at all excited about the requirement to crank out a third film. So they were more than happy to let Al Brodax (who produced the Beatles cartoon series) create an animated movie, leaving them very little to do, just the way they wanted it. The four didn't even do their own voices.
From Variety.com:
"Has there ever been an animated feature as deliriously infectious, as blissed out on its eye-candy surrealism, or as sheerly madly gorgeous as 'Yellow Submarine'? It's remarkable to consider that in all the years since, no mainstream animated feature has come close to matching — or even trying to match — its majestically trippy pop-art dazzle."
"To commemorate its 50th anniversary, 'Yellow Submarine' is being re-released, in a startling new 4K print (it was cleaned and restored by hand, one frame at a time). The 'Yellow Submarine' revival kicked off on Monday, July 9, and the movie, which is playing in 79 theaters, will be expanding throughout the summer."
Throughout Wisconsin the Marcus Theaters are presenting the special anniversary edition on Sunday, August 19, and Thursday, August 30.
This week we go beneath the waves!
Let's get started.
This ensemble was a group of studio musicians who recorded a series of easy listening instrumental albums for Capitol Records at the peak of the British Invasion era. The band of musicians covered tunes from just about anybody who was big.
Let's put it this way. My dad loved the Beatles, but didn't buy a single Beatles album. However he bought the Hollyridge Strings' albums of Beatles hits, including this one.
Like the animation, the orchestration for the soundtrack was splendid, wonderful.
Using a 41-piece orchestra, George Martin, the Beatles' genius producer, did the musical arrangements that took up the entire second side of the soundtrack album.
Many record buyers weren't pleased that Beatle songs made up only one side. John Lennon minced no words, calling Martin's orchestral contributions "fill-ins."
"All this terrible sh*t that went out with our LP, you know.  If you check it out, it's a whole sort of joke.  George Martin is on one side of our album."
Not surprisingly the recording did very well.
On March 1, 1969, the soundtrack peaked at #2 on the Billboard Top 200 Albums chart. Beating it out at #1? The Beatles' "White Album."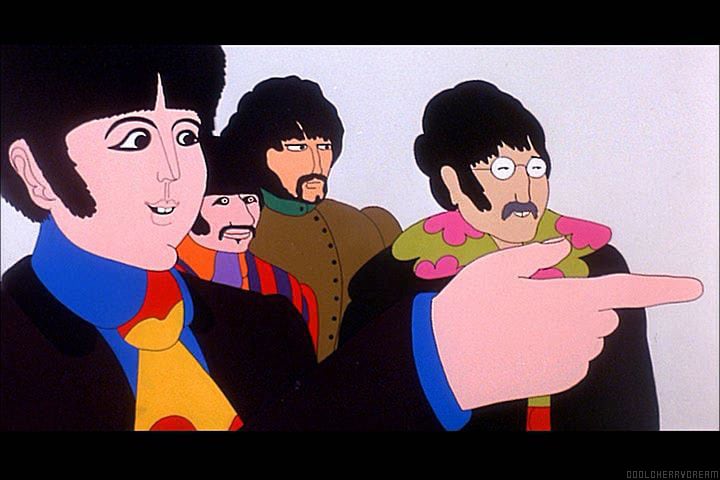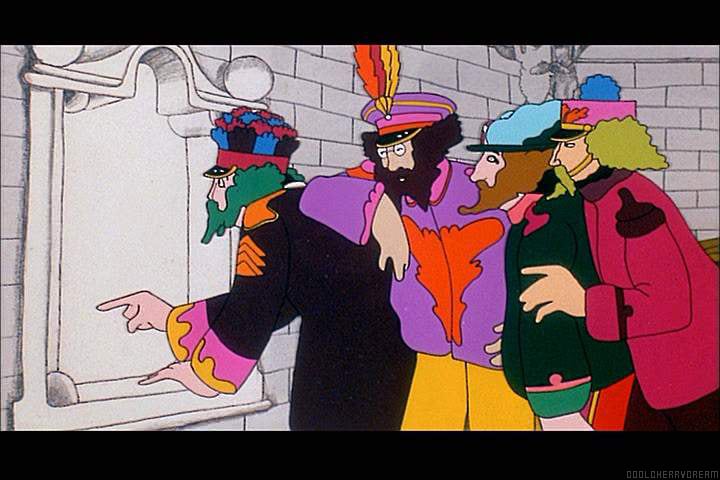 The film took nearly two years to complete, went through 14 different scripts, 40 animators and over 140 technical artists.
The music hating Blue Meanies take over Pepperland. Captain Fred and his Yellow Submarine call on The Beatles to help save Pepperland from an assortment of villains.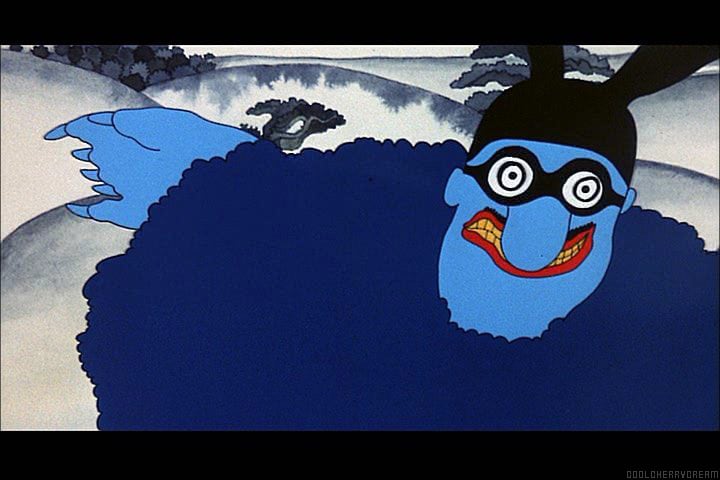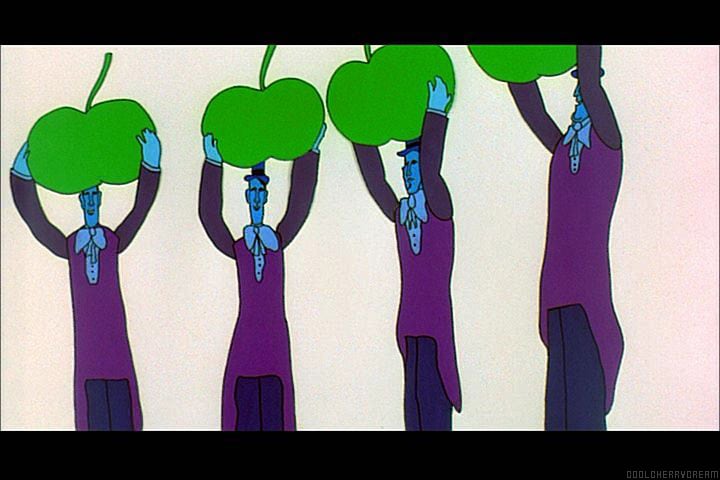 In addition to George Martin's lovely score the soundtrack album features several original Beatle songs.
Again, from Variety.com:
"The song sequences dart along with fantastic eclecticism, (including) the tear-drop nickelodeon sadness of "Eleanor Rigby"…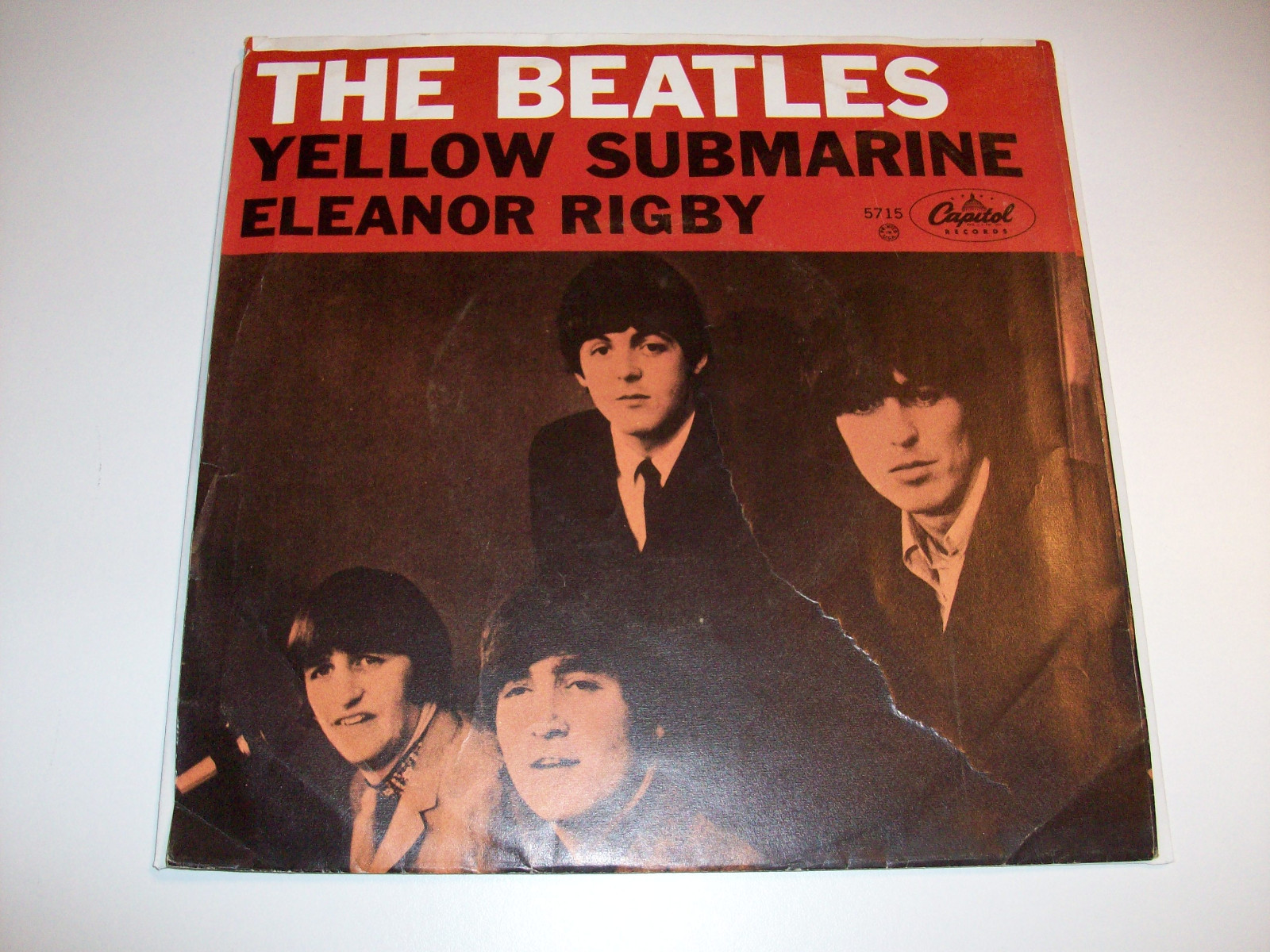 Remember the conspiracy theory that Paul died in 1966, the other Beatles covered it up, hired someone who looked and sang like Paul, and hid clues about it in their music?
Manager Brian Epstein was concerned about the direction the group was going. Paul made this admission in an interview.
"When I told him our future albums would be dominated by songs about interesting people and places, his heart sank. He didn't think people would buy such albums and came up with this great idea to push sales in the event he was right and we were wrong. The idea was that we would plant clues in our songs and album covers that one of us had died in a car wreck. If after a few albums, our records weren't selling well, we'd leak out word about the clues and let our fans and the press take over. People would buy the albums to see and hear the clues. We thought, 'Wow, that's an incredible idea!' We realized it would be great fun to have all those clues sitting there undiscovered until people started going nuts looking for them all."
One of the clues had John Lennon mumbling "I buried Paul" at the end of "Strawberry Fields Forever."
And from this week's featured movie…
Next…
A colossal event was in the early planning stages in 1966. The BBC (British Broadcasting Corporation) envisioned taking advantage of new satellite technology to produce a TV program that could be seen around the globe. Even more challenging was the broadcast would be live.
"Our World" would be beamed worldwide on June 25, 1967, spanning five continents and nearly 20 countries (the number would shrink when Eastern bloc nations pulled out a week before the telecast). Each participating country would feature their own way of life and culture. No politicians allowed.
The United Kingdom wisely selected The Beatles to be in their spotlight. When The Beatles accepted the opportunity they had about a month to plan what they would compose and perform.
Paul McCartney suggested two of his already penned songs, "Your Mother Should Know" and "Hello, Goodbye." Instead, The Beatles opted for a John Lennon original that had all the perfect characteristics. It was simple. It was direct. It was incapable of being misunderstood.
On the day of the big broadcast starting at just before 9PM local time, the Beatles and producer George Martin went before the live cameras to record "All You Need is Love" with a gum-chewing John doing the lead vocal.
"All You Need Is Love" that had been seen by anywhere between 400 and 700 million viewers was released as a single on July 7.
On August 19 it hit #1 on the Billboard Hot 100 chart.
The song was included in "Yellow Submarine."
Here's that worldwide broadcast.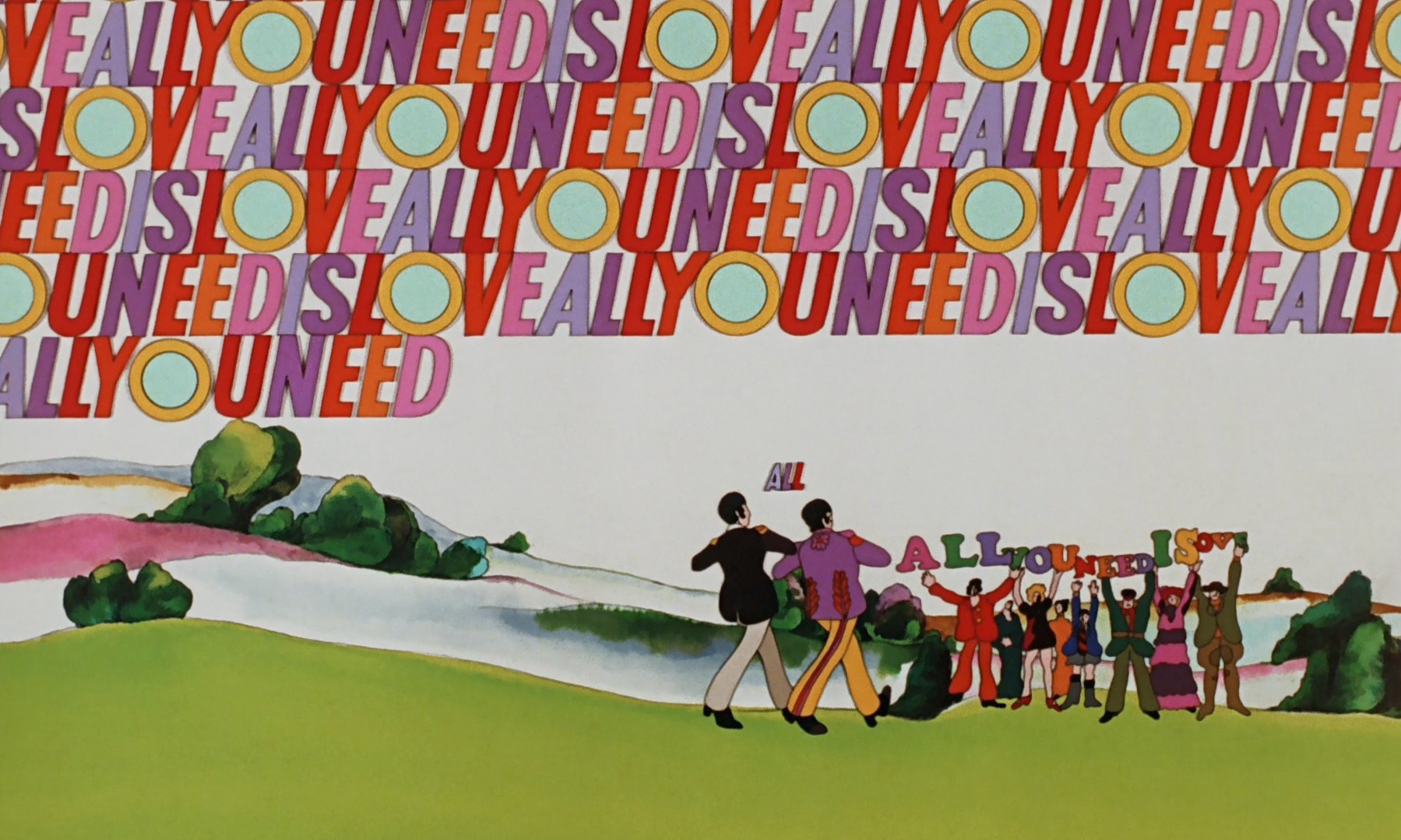 That's it for this week.
Goodnight.
Sleep well.
Have a great weekend.
April 4, 2009, at the Radio City Music Hall in New York City,  with Eddie Vedder, Sheryl Crow, and Ben Harper.
Full speed ahead Mr. Boatswain, full speed ahead.