THIS WEEKLY BLOG POSTED EVERY MONDAY PROMOTES A CULTURE OF LIFE
Don't miss our heartwarming closing story every week!
From Pro-Life Wisconsin:
HISTORIC MARCH FOR LIFE
This past Friday, January 20, marked the 50th annual March for Life in Washington D.C. Thousands converged on our nation's capital to advocate for the preborn and speak out against the injustice of abortion. Over 100 pro-life Wisconsinites filled three buses for the journey, leaving on Wednesday, January 18, and returning on Sunday, January 22.

This year's March for Life was filled with a spirit of joy at the overturn of Roe. The message was one of hope and renewed commitment to keep fighting for life until every preborn child is protected–now is not the time to let up! Speakers included Johnathan Roumie, Tony and Lauren Dungy, Christina Francis, M.D., Sr. Mary Casey and her twin sister Casey Gunning, and many more! Participants left feeling energized for the work ahead and eager to advocate for life in their communities. Thank you to all who joined us for the Pro-Life Wisconsin March for Life trip! Your witness is extremely powerful in the fight to change hearts, minds, and culture.

Looking to march again here in Wisconsin? Mark your calendars for the March for Life Wisconsin on Saturday, June 24, 2023, as we commemorate the day Dobbs was decided. See you there!

PRO-LIFE NEWS
AG JOSH KAUL ASKS JUDGE NOT TO DISMISS CASE CHALLENGING ABORTION BAN IN WISCONSIN: (Wisconsin State Journal) – "Almost seven months after the case was filed, Attorney General Josh Kaul's challenge to the state's near-complete abortion ban remains unresolved, with defendants trying to dismiss the lawsuit and Democrats aiming to keep it going. On Tuesday, Kaul asked a Dane County judge not to dismiss the lawsuit after the three defendants each asked for the opposite." Read the full story here.
FOCUS ON 'CHANGING HEARTS,' BISHOP BURBIDGE TELLS PACKED POST-ROE VIGIL MASS FOR LIFE: (Catholic News Agency) – "Following the Mass, Heather Kramer, who traveled to the vigil and the march from Wisconsin, told CNA that she felt it was important to attend "to be a testament to our faith and a peaceful support to the unborn." She saw Roe being overturned as "just one battle that we've overcome now," but "the battles are really back to our states and we have to still have a united front and show people that we're still here and still caring for the unborn." Read the full story here.
NEW MARIST POLL: 91% OF AMERICANS AFFIRM PRO-LIFE PREGNANCY CENTERS: (Live Action) – "The January 2023 Knights of Columbus-Marist Poll has revealed that a whopping 91% of Americans support the existence of pregnancy resource centers, which offer resources to women during pregnancy and after their babies are born. These centers have been attacked by abortion advocates who seem to see them as a threat to abortion businesses." Read the full story here.

—Pro-Life WI

ALSO:

Scott Walker on the March For Life
The March for Life in 2023 should be the last time a march for the pro-life movement is held in Washington, D.C., during the month of January.
Energized By The End Of Roe, The March For Life Is All About The Victories Still Ahead
'I especially wanted to come this year to celebrate the end of Roe,' one marcher told The Federalist. 'But we can't stop fighting now.'
Slings, Arrows, and Tony Dungy
This weekend's March for Life provided yet another opportunity for the hate-filled Left to trash this good Christian man.
Longtime March for Life Attendees See Their Prayers Answered in Roe's Downfall
"We lost a baby 33 years ago, and that brought me into the pro-life movevment," Mindy revealed. "My husband, and his family, has always been in the pro-life movement, since even before Roe v. Wade. And they really inspired me."
The Daily Signal went to the 50th March for Life in Washington, D.C. and asked pro-life advocates the questions pro-abortion activists would like to ask…
AND FINALLY, LOVIN' LIFE…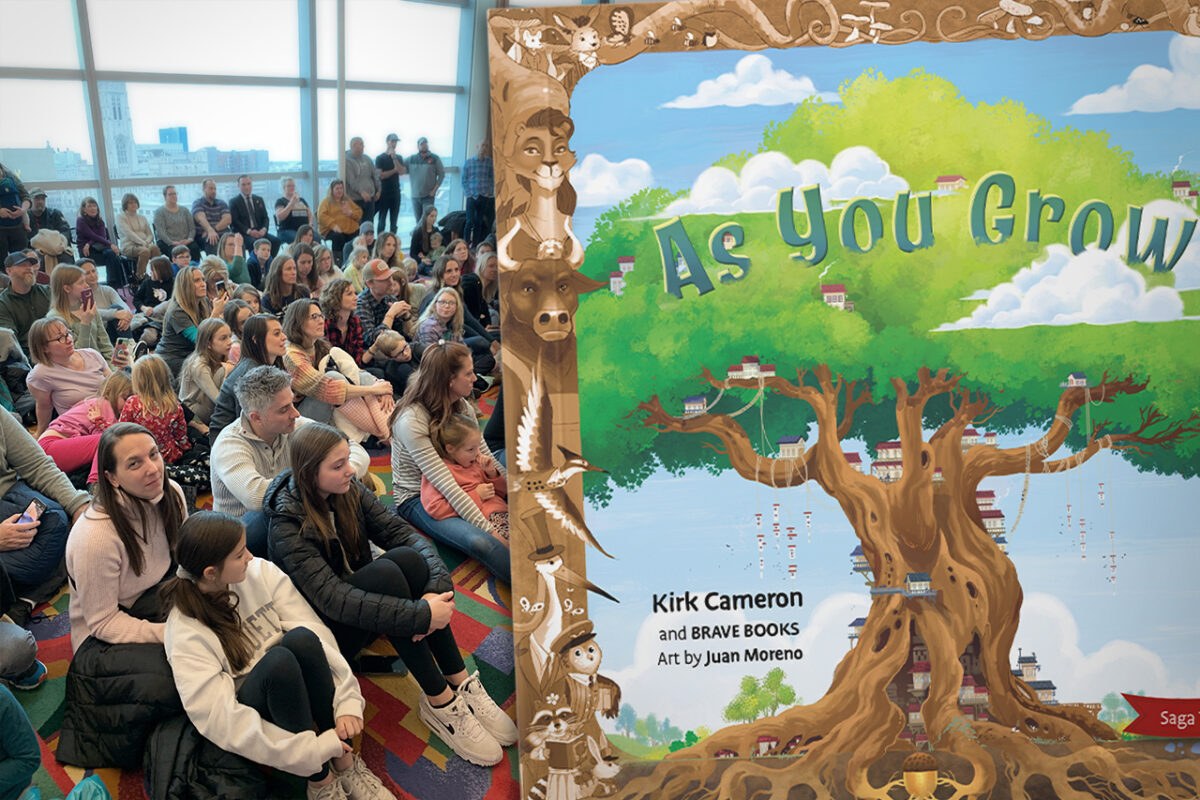 Photos: Courtesy of Zach Bell and Brave Books
Actor Reads Christian Kids' Book at Library, Takes Aim at Wokeism: 'God Gave Children to You, Not Government'
BY MICHAEL WING, The Epoch Times, January 7, 2023

Overflowing crowds enthusiastically welcomed actor and author Kirk Cameron to story hour at public libraries in New York and Indiana last week to hear him read his Christian-themed kids' book "As You Grow."
The Brave Books storybook espouses a message of "biblical truths of the fruits of the spirit"—those are "love, joy, kindness, gentleness, faithfulness, self-control," Cameron told Fox News's Julie Banderas.
Scarsdale Public Library in Westchester County, New York, was brimming past capacity on Friday, Dec. 30 forcing Cameron to give two readings in the allotted hour for the program.Play Video
"We're here because we love God, we love our families, our children, we love our country, and we love Scarsdale Public Library," Cameron told the audience.
"We're so grateful that we get to be here and read this story."
The book tells the tale of an acorn that grows into a mighty oak tree and then dispenses wisdom to the animals that live within the shelter of its branches.
One passage of the book reads, "As you grow strong, grow in gentleness."
Afterward, they sang a rendition of "God Bless America" at the suggestion of a grandfather in attendance.
They then went to the library to request more time to read to the families who missed out. "They told us no," Brave Books spokesman Zac Bell said.
Cameron aims to battle woke ideologies in public libraries like Scarsdale's that promote drag queen story hours for toddlers as young as 18-months.
"God gave your children to you and not to the government," Cameron told the audience, generating applause.
Cameron was received by an even larger crowd on Thursday, Dec. 29, in Indianapolis, Indiana, where an estimated 2,500 people attended—the largest gathering in the library's 137-year history.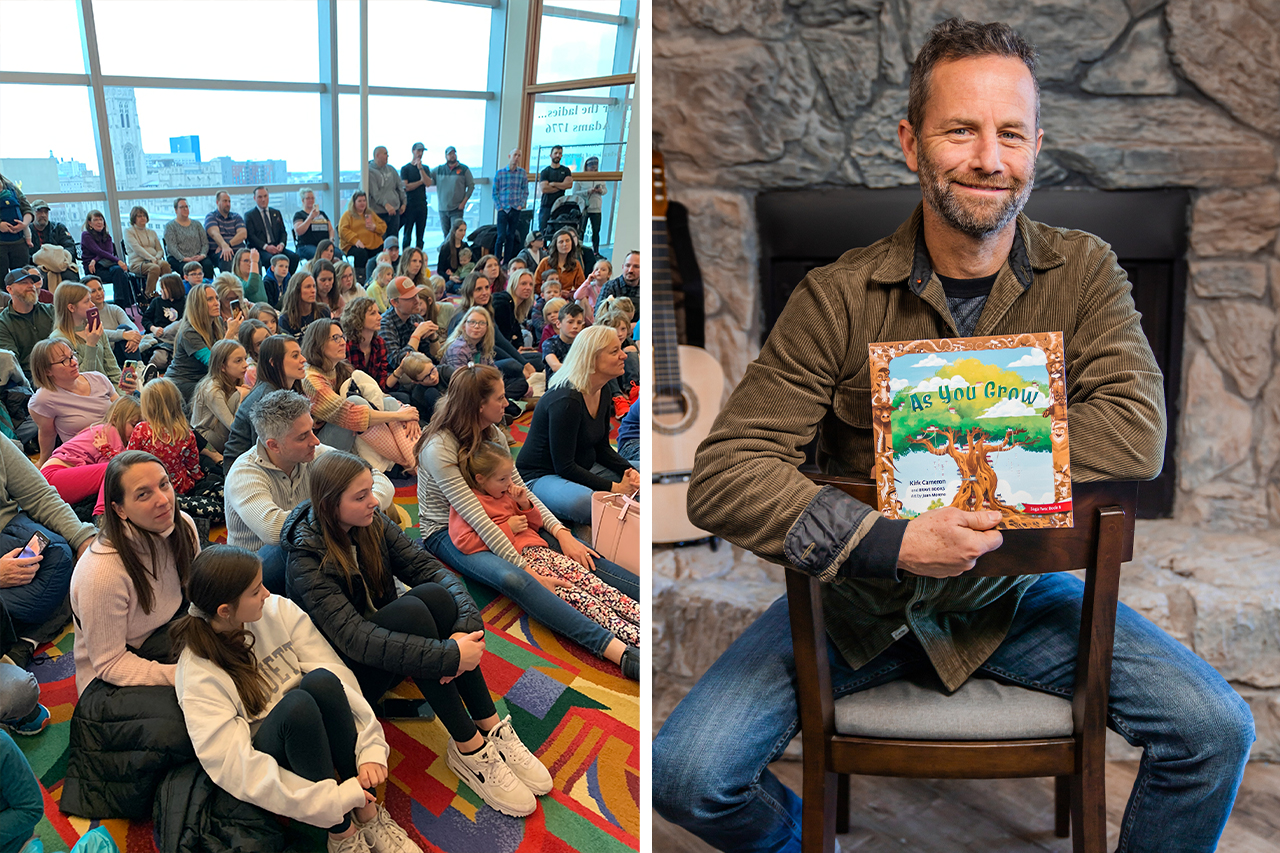 There were about "1,000 moms, dads, and kids INSIDE the library" and another "1,000 waiting OUTSIDE" to show their support, Cameron wrote on a message on Facebook. The library reading room holds only 170 people.
"We were blown away by Indianapolis and the room was absolutely filled here," Cameron told Fox News. "We could not be happier with the reception."
Not all libraries allowed the book to be heard, however.
Over 50 of the libraries Brave Books contacted either rejected or did not respond to the request.
"It seems sort of silly, right?" Cameron said. "There are no skeletons in the closet here.
"This is about helping kids grow in wisdom through the seasons of their life and learn how to be kind and loving and strong and gentle and compassionate toward others.
"I don't know why anybody would push back on a message like that."
After Cameron wrote an open letter to the libraries and cited the First Amendment right to free speech, two libraries, in Scarsdale and Indianapolis, acquiesced.
"I came here because of [Cameron's] values," Marie Wayne, of Hawthorne, New York, said at the Scarsdale event. "We thought we were going to get in and out like that. We were very surprised to see this many people."
The two readings are just the beginning, Cameron said. He's taking suggestions for what library they should visit next.
"A 'brushfire' of faith, family, and freedom was ignited," he told Banderas of their momentum. "And it's moving across the country uncontained."
—Michael Wing is a writer and editor based in Calgary, Canada
Thanks for reading!