THERE ARE THOUSANDS AND THOUSANDS OF FOOD BLOGS, BUT ONLY ONE CULINARY NO-NO!
We don't shop at Costco.

I don't shop at Costco because my wife Jennifer does 99.37% of the shopping.

Jennifer doesn't shop at Costco because the nearest store is about seven miles away. Why go to Costco when Sendik's and Pick 'n' Save are both mere minutes away?

IF we did shop at Costco's for sure we'd buy their rotisserie chicken.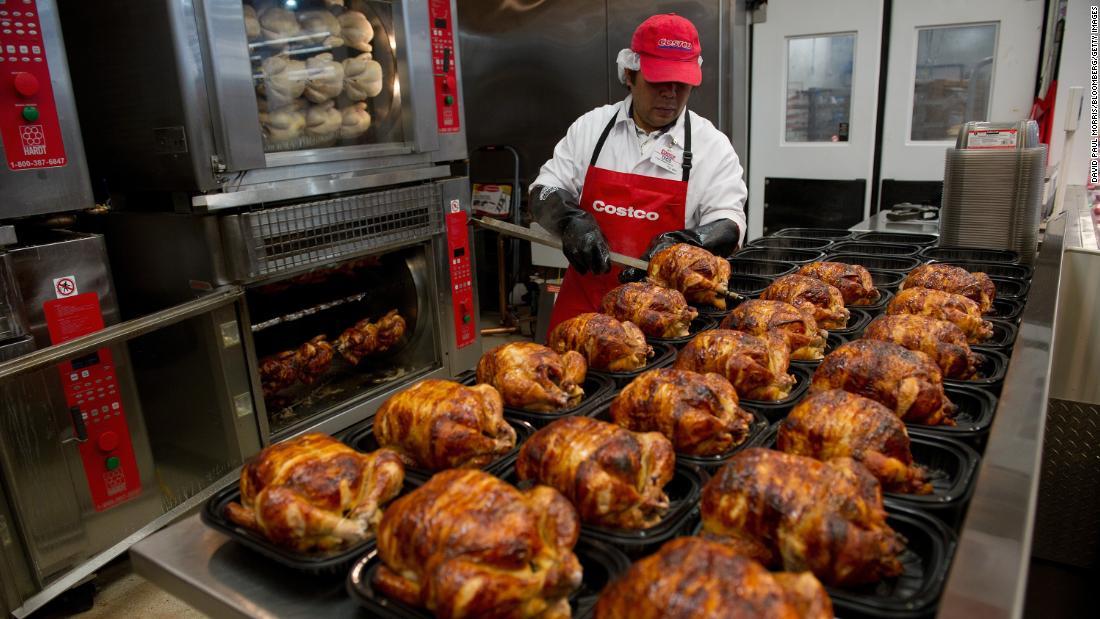 From social media:
Costco's rotisserie chickens are a phenomenon. Sold under the franchise's brand name, Kirkland Signature, the whole chickens are super-tasty, super-popular, and super-cheap. At just $5, in fact, they can be less expensive than a whole uncooked bird.
Costco consistently ranks the highest in a long line of rotisserie chicken taste tests. Taste of Home ranked Costco's "super juicy and flavorful" rotisserie chicken tops, while Costco also won top honors from Eat This, Not That!
I found the chicken at the back of the store. I immediately saw people standing around the shelves waiting for the next batch of birds to hit the shelves. It only took me a few moments to realize that right in front of me was the most competitive rotisserie-bird hand-off I'd ever seen. The Facebook fan page's photo shows shelves full of of golden-brown chickens waiting to be scooped up. In real life, Costco customers didn't even give employees a chance to set them down. Almost like clockwork, as soon as an employee put down a chicken, someone would grab it. Some more aggressive shoppers were positioned in front of the display, ready to grab the bird as soon as it came off the spit.
At just $4.99 per bird, it's hard to imagine finding a tastier and easier meal than this.

Not so fast!

David Chang is an American restaurateur, author, podcaster, television personality, and the founder of the Momofuku restaurant group.

Chang recently caused quite a ruckus when he publicly burnt Costco's prized poultry.

"I think the Costco chicken is the worst rotisserie chicken," Change said on his latest podcast program.

"They're not good. They're not seasoned.

"There's something about all the nitrates and all the crap they pump into the chicken that makes the chicken breast even more disgusting the next day when it's cold. It's gotta taste good cold."
Chang made fun of the crowds of shoppers waiting for hot chickens to be stocked under the heat lamps.
"It's like a Gold Rush jailbreak," he said. "It's like they're doing commodity trading in Chicago. I was like, 'What is going on?'"
But David…they're so…cheap.
"Eighty billion chickens are processed in the world. I think every year 40 billion of them are because of Costco. I mean, it is $4.99 or $5.99. If I were a weightlifter on Atkins, I would just be buying that nonstop. I bought a brisket – $49. The prime brisket. It should be $149. If you bought that at Whole Foods, it would be 150 bucks."

Costco, as you might expect, had its defenders.

"(David Chang) Please tell us more about your $15 appetizer that's just grilled shisto [sic] peppers. Please don't hate on Costco chicken. Feeds many families and it's still good the day after," user @Kenneth38063999 tweeted.
"The Costco Rotisserie is among the better versions out there – extremely tasty and cooked healthily!" @AlexRichRevue added.

And why are they so doggone cheap?
But throughout the year of inflation — and for 11 years before that — one poultry product has remained at the same bargain-basement price: Costco's $4.99 rotisserie chicken.
The roasted birds have been hailed as an economic lifeline — most rotisserie chickens will run you $6 to $10 — but the chicken isn't cheap because of corporate benevolence. In 2015, Costco it was able to maintain its low price because the company considers the rotisserie chicken a "loss leader." That means its purpose isn't to bring in profits, but rather to bring in customers to buy more of the wholesale retailer's bulk toilet paper and five-packs of deodorant. And it works. The item is so popular among Costco members that it has its own Facebook fan page with 19,000 followers.
But there's another reason the birds have remained so affordable. In 2019, Costco made an unprecedented move to source its chicken at even lower margins: It set up its own feed mill, hatchery, and slaughter plant in Nebraska, and contracted nearby farmers to raise over 100 million birds each year, all under the name Lincoln Premium Poultry (LPP). It could be saving the company up to 35 cents per bird.
—Vox, July 22, 2022
"Very few people simply buy the chicken and leave," said John Longo, a professor at Rutgers Business School. They probably shop for other items that provide higher profit margins."
Adjusted for inflation, Costco should be selling its chickens for $8.31. But over the past 20+ years, the retailer has only raised its prices one time — a brief, $1 increase during the 2008 financial crisis. In 2009, it knocked its rotisserie chickens back down to $4.99, where they've stayed ever since.

Despite higher labor costs, higher freight costs, higher transportation demand, along with the container shortage and port delays, Costco has indicated it will continue to refuse to increase the price of their rotisserie chickens.

CULINARY NO-NO BONUSES

Fine Dining Isn't Fine

ICYMI, Culinary no-no #761: Wine