THERE ARE THOUSANDS AND THOUSANDS OF FOOD BLOGS, BUT ONLY ONE CULINARY NO-NO!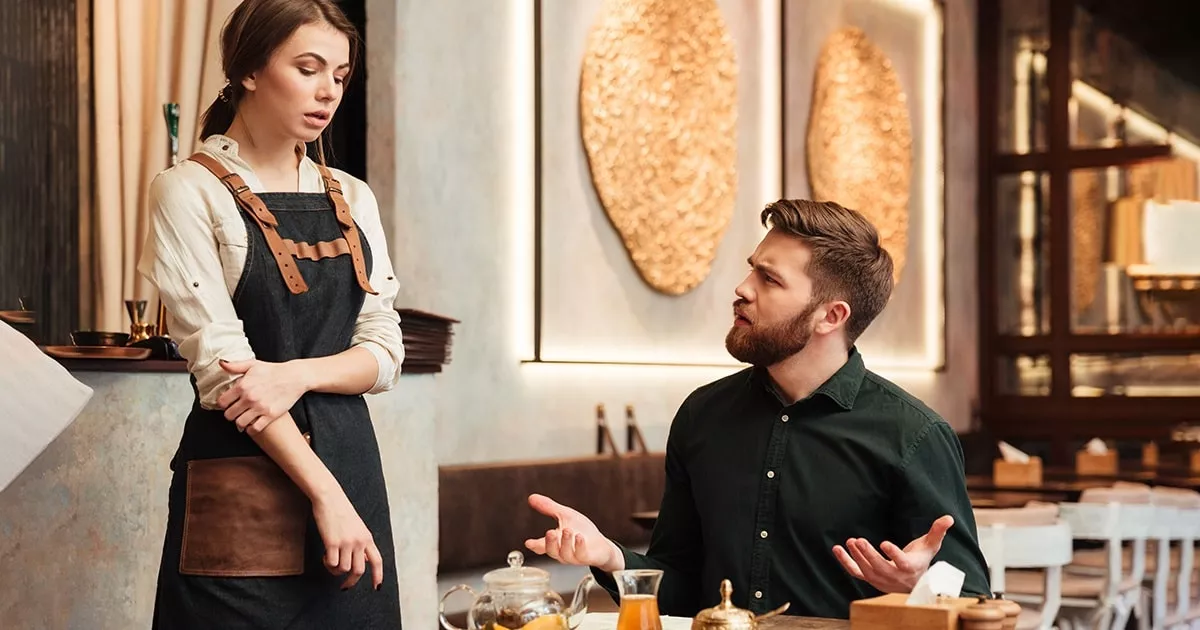 Regular readers know there's often a lengthy prelude to the weekly no-no. So some background first. Actually material from a couple previous no-no features before an update.

Let's begin by going all the way back to one of the first installments in this series.

Culinary no-no #18
By Kevin Fischer
Sunday, Sep 23 2007
I've never been a waiter, and judging from the impolite and condescending attitude of many customers, I don't think I'd ever want to be.

Many diners I've observed seem to have never heard of the words, "Please," or "Thank you."

Some customers are downright bullies.

I recall seeing a table of patrons at a casual restaurant complain to the owner when the waitress didn't come to the table quickly enough in their opinion. Their complaint didn't have merit in my opinion. Even so, the manager fired the waitress on the spot.

On another occasion, I saw a middle-aged woman dining alone, dressed in fur coat and jeans. She apparently picked up a bottle of A-1 sauce and spilled some on her fur that she had not taken off. The woman was furious. She summoned for her waitress and launched into a verbal assault, claiming she should have advised her that the cap on the A-1 bottle was loose, that the restaurant would have to buy her a new coat, and that the waitress should be terminated. Despite the scene the woman created, she didn't get a new fur coat and the waitress kept her job.

Being a waiter/waitress isn't easy.

The Consumer Health Interactive reports, "Many people enjoy waiting tables for the good tips and lively human drama. But the job also serves up high stress, exhaustion, and a fat menu of kitchen hazards."

Page Bierma writes that besides stress, servers face a plateful of problems:

Sexual harassment

Repetitive stress injury including carpal tunnel syndrome

Slippery floors that can lead to accidents

Burns

Varicose veins

Backaches and sore muscle

Secondhand smoke

Noise

Cuts

Heavy lifting

Poor sanitation

You can read Page Bierma's entire column, "Waiting for a Living."

So the job is difficult. It's also thankless. You've got complaints about waiters and waitresses? They're not always thrilled with you.

The late restaurant critic of the Milwaukee Journal/Sentinel, Dennis Getto wrote the following in 1996:

DINING DON'TS
Servers have plenty to beef about
They give customers some tips on boorish behaviors to avoid

DENNIS R. GETTO
Journal Sentinel restaurant critic
Published: February 11, 1996

We've given restaurant gripes a lot of coverage over the last month.
It all started Jan. 14, when I wrote a column about practices that aggravated me, such as being ignored or not being served water.

Then readers responded with their complaints: mishandled drinking glasses and coffee cups, and vacuum cleaners running under the table while they were finishing lunch. There's a third take on the restaurant world, and it comes from the workers who have to deal with the public daily – the waiters, waitresses and managers whose job it is to keep diners satisfied and coming back.
I hadn't realized how tough the business can be until I heard from workers who read my original gripe column. They weren't as numerous as the diners who sounded off, but they made some good points.

Doris Janke, who will mark her 20th year as a waitress at what is now Bakers Square in West Allis this November, took me to task for criticizing waiters and waitresses who ask, "Do you need change?" (I took it to mean they were automatically asking for a tip.) Janke set me straight by explaining that the question really means, "What kind of change do you want?"

"People often hand me a $20 bill," she said. "I can't guess whether they want singles or $5 bills." So she asks the customers, and saves herself an extra trip back to the cash register.

Janke said that some servers handle silverware or glasses improperly but countered that with some of the unsanitary actions of customers. "People leave dirty diapers wrapped up in napkins or blow their nose on a napkin and then leave it on the table for the waitress or the busboy to handle."

At Bakers Square, she said, dispensers in the kitchen hold anti-bacterial hand lotion, and she and the other waitresses use it frequently.

As for water not being served automatically, waitress Skaidrite E. Huttl reminded me that the practice got some of its momentum from Milwaukee's Cryptosporidium crisis.

When the bacteria hit, she wrote, many folks stopped drinking their water and, subsequently, some places quit serving it. "But anyone who wishes may have a glass of water."

As a waitress in private clubs, Huttl also reported that she's surprised how many folks don't know their etiquette, such as what piece of silverware to use for a given course. It always helps to know that the shorter fork is for salad and the round spoon is for soup.

George K. Jones, a graduate of the Culinary Institute of America in Hyde Park, N.Y., has worked in many well-known restaurants in town, including the English Room, Grenadier's and Mader's. Now managing a private club, he offered some suggestions for diners who want to ensure good service:

"Please make reservations," Jones said. "It allows the restaurant to staff properly . . . And if you aren't coming, please call. And don't make a reservation for 6 p.m. and then sit at the bar for an hour and ask to be seated at 7 p.m."

"Tell your servers of any time constraints when you're seated," Jones said. Some diners will wait until 20 minutes before curtain time to tell the waiter or waitress that they have to leave for a show.

Pay attention when servers are telling you about the special. In some cases, Jones said, a server will have to repeat the soup of the day to a party eight times.

"If there's something wrong, let us know right away," Jones said. That way, the problem can be fixed. Too many people wait a week and then send a letter when they should have brought up the problem right away.

"The thing that restaurants want to do is satisfy their customers," Jones said. "We can't do that unless you tell us something is wrong."

–Dennis Getto, Milwaukee Journal, February 11, 1996

So, for many reasons, do not disrespect your server.
— Sep 23 2007
MORE on the subject from someone who has walked the walk and is talked the talk.

Phoebe Damrosch has written a book about her experience waiting tables at Thomas Keller's four-star New York City restaurant, Per Se.

The inside cover notes of Damrosch's book, Service Included say, "After reading this book, diners will never sit down at a restaurant table the same way again."

Damrosch includes numerous dining tips that fall under the no-no category. Here are a few:
Please don't ask waiters what else they do. That implies they shouldn't aspire to work in the restaurant industry even if it makes them happy and financially stable. It also implies they have lots of free time because they have such easy jobs and that they are not succeeding in another field.
Don't send something back when you've eaten most of it.
Don't make faces or gagging noises when you hear the specials. Someone else at the table might like to order one of them.
Don't bribe the host. If there's no table, there's no table.
Don't touch your waiter.
Don't say this to the host or a waiter: "Do you know who I am?"
Don't begin a sentence with, "Give me…."
Don't get angry at your waiter if you don't like something. Your waiter didn't make it
Don't steal the waiter's pens. Usually, they have to provide their own.
I first learned about Damrosch after hearing her appearance on American Public Media's "Splendid Table." The program is heard on public radio stations around the country and on Sirius Satellite Radio. Damrosch was a former waiter at Chef Thomas Keller's acclaimed Per Se in New York City when she wrote Service Included: Four-Star Secrets of an Eavesdropping Waiter, and discussed it on "Splendid Table" on February 16, 2008. To hear it click here and press LISTEN.

The Damrosch interview begins 14:20 into the program.
AND that brings us to this week's feature which has more than a single no-no.

From Madison.com.

CULINARY NO-NO BONUSES

Preparing Labor Day food can be risky

ICYMI, Culinary no-no #746: Tailgating