The Barking Lot is a regular weekly feature of This Just In…Originally written by both my lovely wife, Jennifer and me, this blog brings you the latest news about our furry friends including articles, columns, photos and videos. Enjoy!
THE WEEKEND DOG-WALKING FORECAST: We grade the weather outlook for taking your pet outdoors.
TODAY:  Partly cloudy. High of 58.  "B"

SUNDAY:  Intervals of clouds and sunshine. High of 52. "C"

Time now for DOGS IN THE NEWS, canines that made headlines the past week.
Why on earth would Anthony Fauci's NIH fund such barbaric research on beagle puppies?
'People may forget their pet dog is a predator': Warning issued after 2 separate dogs kill deer.
'She was just doing her job': Homeless vet loses service dog during arrest for panhandling.
Lilac dogs: the cruel new craze.
A mysterious 'A Team' just rescued dogs from a volcano's lava zone in La Palma.
Meet the Dog Groomer Who Offered Pandemic Cuts for Free: 'It Warms the Pet Parents' Hearts.'
Milwaukee vet loved 'All Creatures Great and Small' as a child. Now, she's echoing the series, making house calls on animals.

Do Dogs Suffer Stress in Animal-Assisted Therapy Sessions?
New research suggests cat and dog 'moms' and 'dads' really are parenting their pets.
Talk-to-tilt: Head tilting in dogs.
PHOTOS: 2021 Tompkins Square Halloween Dog Parade in NYC.
Dear Abby: Am I violating the rules of dog walking?

My wife Jennifer blogged about this in April of 2020:
Most responsible dog owners understand cleaning up after a dog poops is a must. No ands, ifs, or buts. That's not a critical issue. But this makes for interesting discussion. Published in papers all across the country about a week ago:
DEAR ABBY: When I take my dog for a walk, I always carry little doggy bags and pick up his business. I live in a residential neighborhood with alleys behind the houses. After my dog does his business, I pick it up and often throw the tied-up bag in a trash can along the alley.
Is this rude? Is it illegal to put things in other people's trash cans? My dog may make several stops along our long walks, and I don't want to carry his waste with me the whole trip.
CONSIDERATE IN COLORADO
I'll get back to how Abby (Phillips) responded in just a bit.
Found this in another newspaper, the Coloradoan in late 2018:
Mike Gutman was out walking his dog, Wyatt, when it happened: The dog pooped.

Gutman was a mile away from the park and two miles away from his house, so he plopped the waste in a bag and threw it in the nearest trash can.

That was his mistake.

He and his Siberian husky-American Staffordshire terrier-mountain dog mix made it maybe half a block before he heard a man yelling at him. A very angry man.

"Did you seriously just put your poop bag in my garbage can?" the man said.

"Yeah, it's garbage," said Gutman, a self-proclaimed serial poop-bag-depositor. "That's where garbage goes."

"He was like, 'That's your garbage, not my garbage. This is my garbage can. You take your garbage and go throw it in your garbage can,'" Gutman recalled, a month after the encounter.

He and Wyatt high-tailed it out of there because the man seemed "pretty aggressive."

He posted a poll about it on Nextdoor.

Nearly 600 people cast their votes in his poll, titled, "Are you OK with people putting dog poop bags in your garbage can?"

The poll was split 80/20, with most people saying they didn't mind.
In this next example, there was a decidedly opposite view. The source was New York, a habitat with a well-known reputation for being belligerent.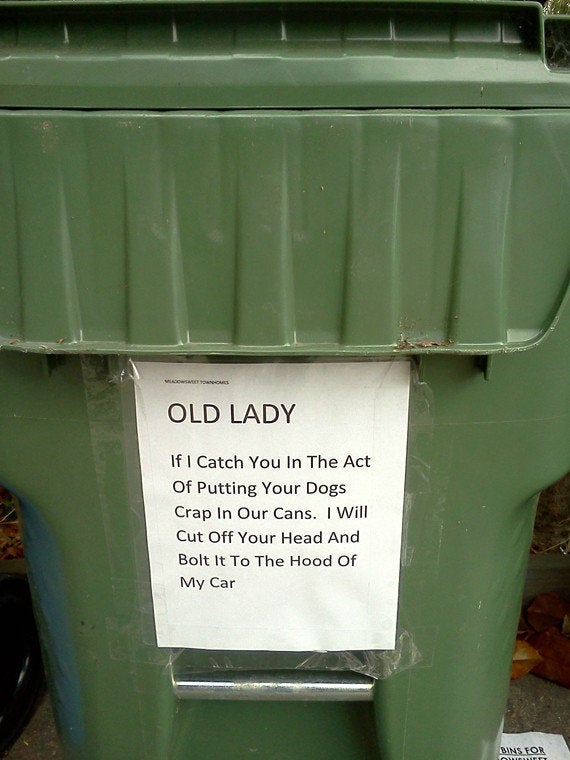 A bit much, wouldn't you say?
The Dear Abby reader asked if what he/she did is illegal. Could be, depending on where you live. Consider that you probably pay to have your garbage hauled away. Now someone has dumped junk in your trash and doesn't pay for it go away. You do. That's called theft.
Somewhat complicating matters is the can itself. Odds are you don't own it. The container is the property of the municipality or the company contracted to do the job. There goes the whole "Don't dump that poop in my garbage can" argument.
Not yours, hey. Can someone then walk across your lawn to get to a bin to toss the poop? Well, that would be trespassing. But if the bin is in an alley, or at the end of a driveway curbside awaiting pickup, it's essentially fair game.
Here in Franklin our alderwoman Kristen Wilhelm informs that our containers are owned by the city's contractor, Johns Disposal Service, and they stay with the home. If we move the containers remain. maintenance and cleanliness are the responsibilities of the homeowners. Replacement due to damage is decided on a case by case basis that generally favors the resident (s). Wilhelm suggests taping a notice on the cans saying if you approve or disapprove.
OK, let's return to Dear Abby. What's her take? What was her reply to the dump and run culprit?
DEAR CONSIDERATE: Whether it's illegal in your community is something you should check locally because there may be an ordinance that forbids it. While I can't speak for everyone, some of the homeowners those trash cans belong to would strenuously object to someone throwing dog doo-doo into them. That's why my advice is, "When in doubt — DON'T."
That was this past week. But in 2009, when asked a similar question, Abby wrote back:
As long as the bag was securely sealed, I don't think adding it to someone's trash bin was a social no-no.
Another advice columnist is Dear Prudence.
"In the interest of my guiding principle of never getting yelled at, I generally hold out until I find a public waste bin."
(For the record, this hasn't happened to us and we're not aware of this occurring in our neighborhood).
Finally, my view on the topic: The proper etiquette should be to seek a public garbage can or bring it home to your house.
Is it rude to dump in someone else's can? You bet it is.
—-Jennifer Fischer
That's it for this week. Thanks for stopping by.
We'd really appreciate it if you forward this on to other dog lovers you know. Let them have some fun!
See ya, BARK, next Saturday!