Every Friday night we smooth our way into the weekend with music, the universal language. These selections demonstrate that despite what is being passed off as art today, there is plenty of really good music available. Come along and enjoy.
For the second year in a row a lot of Irish eyes won't be smiling as some St. Patrick's Day celebrations will be scaled back or flat out canceled. But you can't kill the undying lively Irish spirit.

Fun, rollicking Irish music is our theme this week. Let's get started.

We open with an award-winning quartet from Galway that combines Irish with Old-Time American and Bluegrass music. Featuring banjo, fiddle, mandolin, guitar, vocals and percussion We Banjo 3 make a bold and extraordinary musical statement. They're a Milwaukee Irish Fest favorite.
Fingers crossed that Irish Fest takes place and this band makes a triumphant Milwaukee return.

It's only natural that in the long, glorious history of the Boston Pops Orchestra there would be some Irish recordings.

"The Celtic Album, which I'm proud to say was nominated for a Grammy Award in the Classical Crossover category, best represents what we want to do with albums today," said current Pops conductor Keith Lockhart. "BMG approached us (in 1998) to do a Celtic album because of the big revival in world music in general and Celtic music in particular. We thought long and hard about this idea, because what we really didn't want was to record an album of music that the Chieftains could have done better!"
The Boston Pops LP spent 62 weeks on the Classical Albums chart, peaking at #4.

"In today's world there are so many distractions, so much noise in our lives, so many things competing for our attention that the quiet voice of the classical performing arts can easily get trampled in the shuffle," said Lockhart. "The Boston Pops is unique in that it is one of the few institutions that really stands a chance of shouting out the message from a tall enough pulpit that people can actually hear it. We can convey the message that there is great and significant music that is related to the monuments of our culture, and that this music can be fun, eminently enjoyable, and emotionally and viscerally arresting."
In the past couple of weeks I've featured the work of Louis Clark, who arranged many of the Electric Light Orchestra's albums, and then hit more gold conducting the orchestra on some of the early "Hooked on Classics" recordings. Just about anything was fair game to Clark's creativity.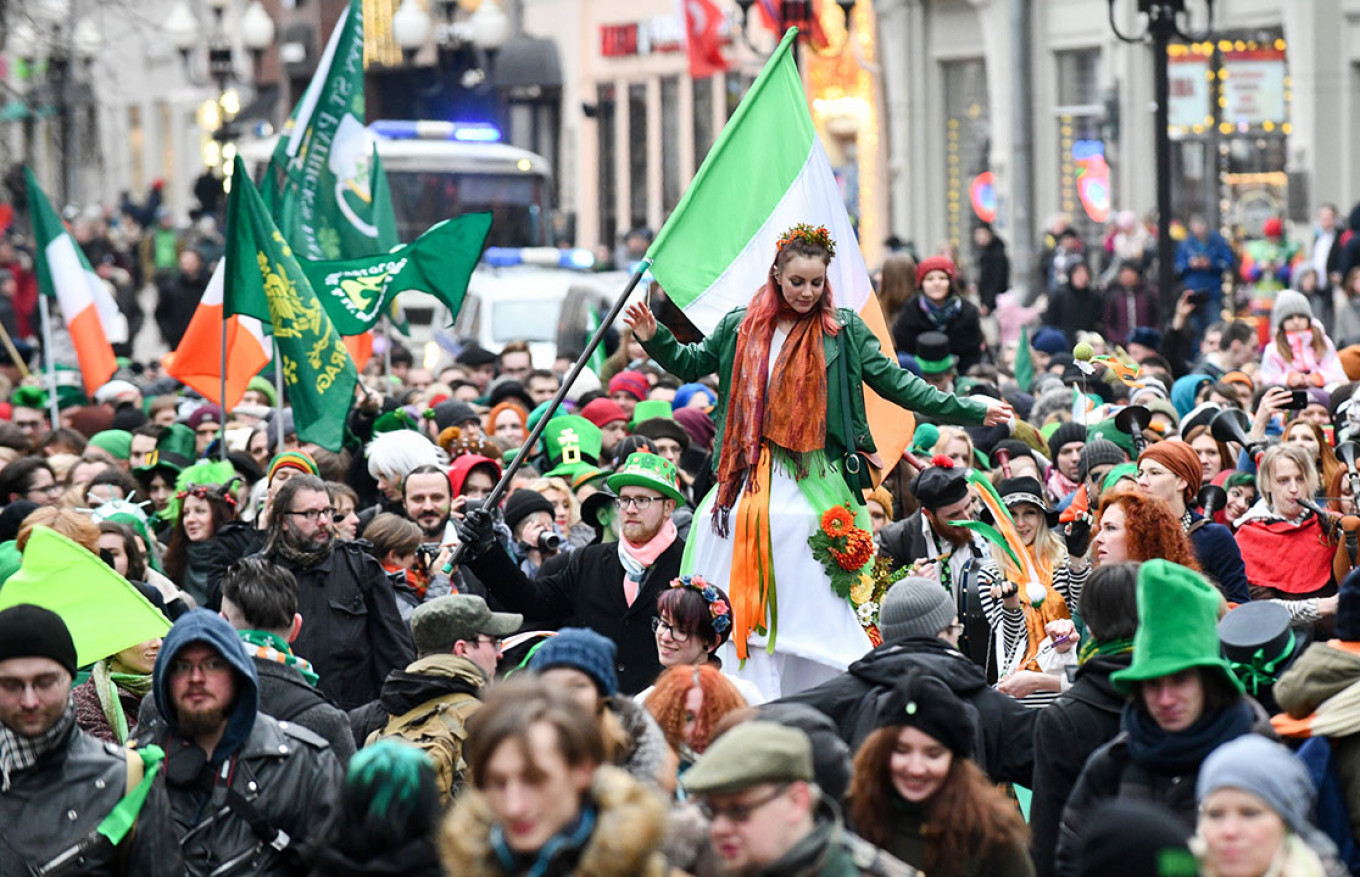 The above photo was taken in Moscow. No surprise. St. Patrick's Day has undoubtedly gone global.

Back to Louis Clark. He died last month at the age of 73.
His wife Gloria wrote, "He passed very peacefully surrounded by love. This morning he watched Premier League soccer and listened to The Beatles, two things he loved. This afternoon I told him I loved him, he said I love you too, and we kissed. He was gone five minutes later. We love this man forever and always. He was a good man, loved by many and will be greatly missed by all. We want to thank family, friends and fans who have always loved and supported him."

We're getting rambunctious and uproarious. As we should!

If we haven't brought down the house yet, let's keep trying!

Now in his early 80's, John Sheahan is a fiddle player, composer, poet, wood carver, origami enthusiast, and Irish legend.
That's it for this week.

Goodnight.

Sleep well.

Have a great weekend.
Sure wish this next group would book a tour here. I know they would have the lakefront at Milwaukee's Irish Fest jumping.
An Irish family band, the Corrs write their own material and play an assortment of instruments like fiddles, bodhráns, guitars, drums and keyboards.

Here they perform with Mick Fleetwood, the drummer, co-founder, and leader of the rock band Fleetwood Mac.