The Barking Lot is a regular weekly feature of This Just In…Written by my lovely wife, Jennifer and me.  It opens with the weekend dog walking forecast followed by the main blog from dog lover, Jennifer. Then it's DOGS IN THE NEWS and our close. Enjoy!
THE WEEKEND DOG-WALKING FORECAST: We grade the weather outlook for taking your pet outdoors.
TODAY:  Early morning temps in the 30's. Mostly sunny.  High of 57.  "C"

SUNDAY:  Chance of showers developing late in the morning and continuing throughout the day.  High of 60. "D"
Now, here's my lovely wife, Jennifer, with this week's main blog.
The first day of Fall 2017 wasn't chilly and making me want to wrap myself in a new sweater.  Do you remember?  Last year, we set a new record high temperature.   I vividly recall those blistering temps because I work in a school that does NOT have air conditioning in the classrooms.  I was less than enthusiastic about coming in that day.  I survived by drinking plenty of water and standing in front of fans any chance I had, but I did my share of complaining.
Today Kyla and I will take our annual jaunt to the Harvest Fair at the WI State Fair Park.  I may have mentioned once or twice that I LOVE FALL.  An entire festival dedicated to pumpkin bowling, hay rides, scarecrow building and caramel apples is my idea of heaven.  Last year, instead of searching out a hot cider stand we were downing bottle after bottle of cold water just to try to stay hydrated.  In fact every year we've gone it's been shorts & t-shirt weather.  Not once have I been able to wear leggings, boots, and a light sweater.  This year it appears I will FINALLY have my chance!  The forecast appears that it will not reach a high of even 60 degrees!  (I'm doing my Fall Happy Dance!)
Harvest Fair isn't a dog-and-human event.  That's OK – you can certainly find ways to enjoy the start of the season and the appropriate temperatures with your pup.  Surely dogs can also appreciate cooler temperatures (longer, more pleasant walks) and seasonal treats (pumpkin is totally canine-friendly.)
There are many fall activities that you can enjoy with your furry friend.  Dogtime.com found a list of seven easy ones for your consideration.   Like any other season, Fall can bring some health and well-being dangers for your pet.  Common sense should always prevail but just in case here are some basic reminders of how to keep your furry friend safe.
To all the fall-loving dog owners:  Enjoy this time of year!  Thanks for reading and please "leaf" a comment telling us how your dog celebrates fall!
—Jennifer Fischer
Thanks Jennifer!
Time now for DOGS IN THE NEWS, canines that made headlines the past week.
Man who lost limbs due to bacteria in dog's saliva says he 'couldn't wait' to see his dog Ellie.
Wisconsinites are lending a helping hand to Hurricane Florence victims.
Ontario researchers use 3D-printing tech to replace dog's cancer-ridden skull.
Meet Molly, the world's first anti-doping dog.
I feed my dog treats through a camera while I'm at work — here's how.
Are Dog Booties Actually Necessary?
National Dog Week: Google's Most Searched Dog Questions.
THAT'S IT FOR DOGS IN THE NEWS.
HERE'S OUR DOG PHOTO(s) OF THE WEEK.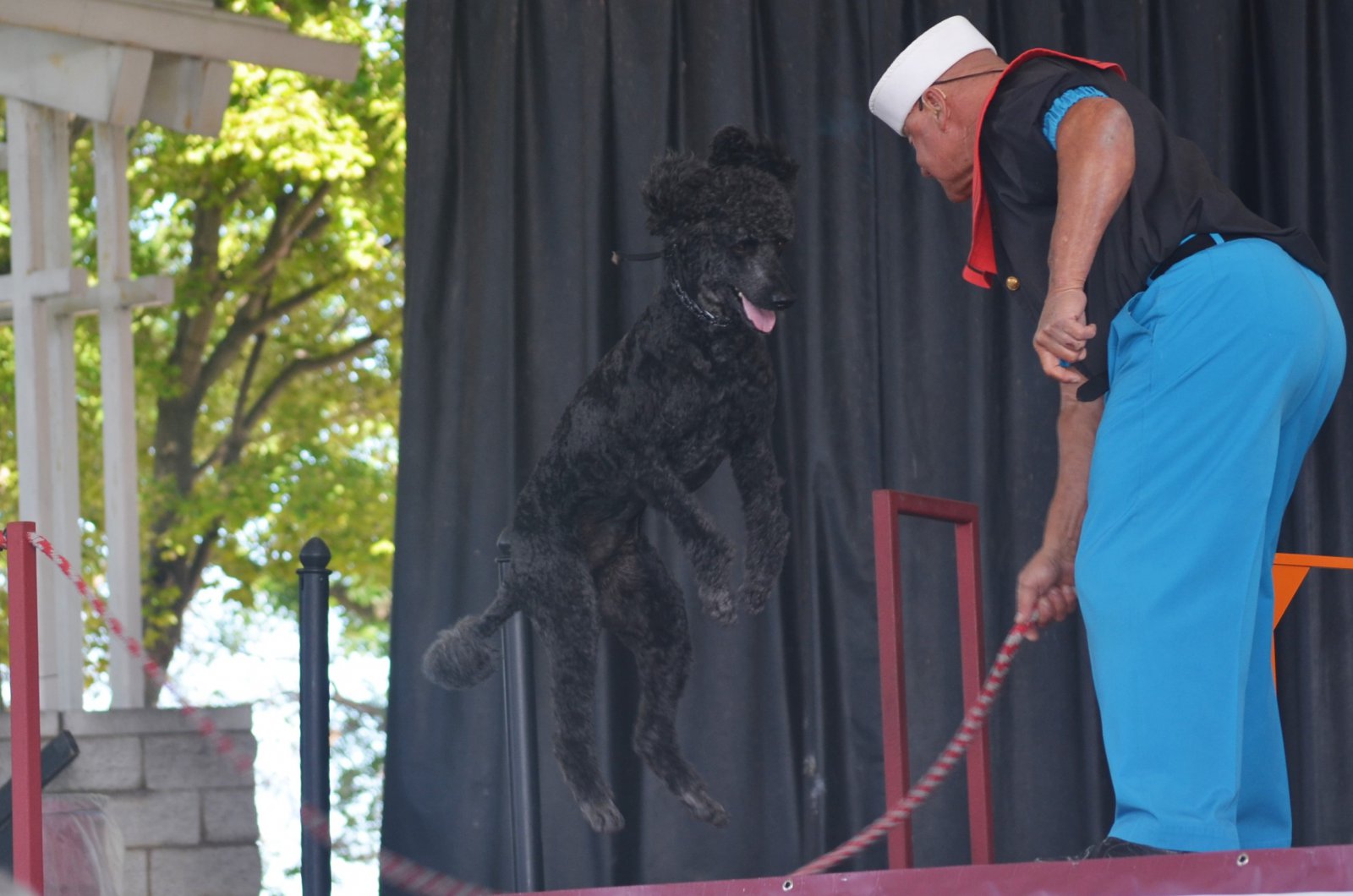 Petfest 2018 was held last Saturday at Henry Maier Festival park. The festival invited guests to bring their dogs, cats, and even rabbits for a variety of fun activities. Six time Guinness World Record holder Sailor the Poodle was there with his handler Alex "Popeye" Rothacker. Photo: Jack Fennimore for UrbanMilwaukee.com.
We close as we always do with our closing video.
Let's bring in the author to answer a good question.
And one more: A Dog's Dream. Watch.
That's it for this week.
Thanks for stopping by.