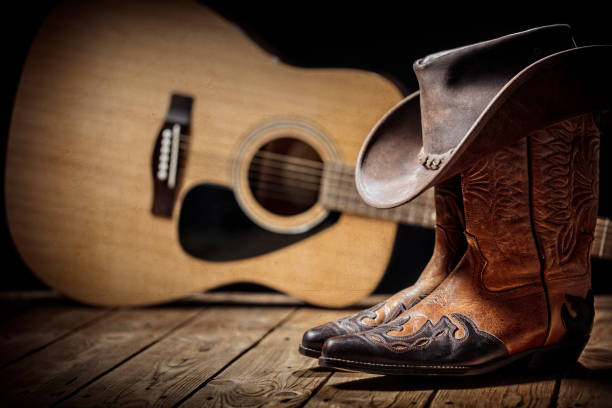 It used to be Country & Western.

Then just plain old Country.

But is it still Country? Or is there no Country left in Country?

I didn't watch the CMT (Country Music Television) Awards earlier this week. But I read about criticism from viewers. They argued the music sounded too much like rock and not country.

Watching Gwen Stefani and Carly Pearce who performed you'd have to agree.
But I skimmed many of the nominees on You Tube and I've got to say they all sounded like country to me.

Still there's no question country has changed a great deal over the years and many so-called country artists aren't doing country exactly the way country has sounded for decades. Two authors suggested 20 years ago that there's been a marriage of country and pop.

In 2003 David Cantwell and Bill Friskics-Warren wrote "Heartaches by the Number: Country Music's 500 Greatest Singles" that features essays on 500 songs that were instrumental in the development of country and pop music. From their Top Ten of the greatest country songs of all-time, starting with #2:

"Lost Highway," Hank Williams
"Crazy," Patsy Cline
"Can the Circle Be Unbroken," The Carter Family
"Don't Be Cruel," Elvis Presley
"Crazy Arms," Ray Price
"The Window Up Above," George Jones
"Coat of Many Colors," Dolly Parton
"Rank Stranger," The Stanley Brothers & the Clinch Mountain Boys
"Born to Lose," Ted Daffan's Texans
"When my co-writer and I were growing up, our parents listened to country radio, but we listened to pop. But we realized they played some of the same music," Cantwell told CNN. "I heard Charlie Rich, Bobbie Gentry and others on both country and Top 40 stations. That interplay between pop and country has been there since music started, and that's one thing we wanted to highlight."

So what song was #1 on their list?
"It's an example of great songwriting.

"It's by a woman.

"And it's clearly a record — not just words and melody, but a performance. It's greater than the sum of its parts," said Cantwell.
According to Cantwell the song offered cultural relevance at a time when feminism was becoming prominent. Not to mention it was a hit that while distinctly country had elements of pop and soul.
"It emphasizes the importance of the crossover element," Cantwell said. "It's a country record, but it's willing to open its arms to soul music."

From Cantwell's book:
(The song) "signaled country's arrival in the rock and soul era. Kristofferson takes the period's political and cultural impulses—impulses endemic to among others, the civil rights, women's, and counterculture movements—and boils them down to their emotional essence: the desire for community, freedom and love, and the suffering that results when the needs go unmet. (The singer) was advocating for a woman's right to initiate sex. And to enjoy it. But what's most remarkable here is the single is only superficially about sex. Kristofferson's sensual imagery sets us up for a seduction. Instead it embraces a deeper feeling, the fear that one cannot make it alone. The darkness is about to overcome her."

The song went gold on April 26, 1971, and was the Country Music Association's Single of the Year.
BONUS

Hope this guy is never forgotten.

From CBS last Sunday…