In the highly unlikely event that you didn't hear, daughter Kyla turned 14 today. If you weren't aware it's probably because Mommy didn't post enough pictures. 🙂

Those pictures are wonderful memories. And seriously we couldn't take enough.

Jeff Minick has four children and many grandchildren. For 20 years, he taught history, literature, and Latin to seminars of homeschooling students in Asheville, N.C. He is the author of two novels and two works of nonfiction.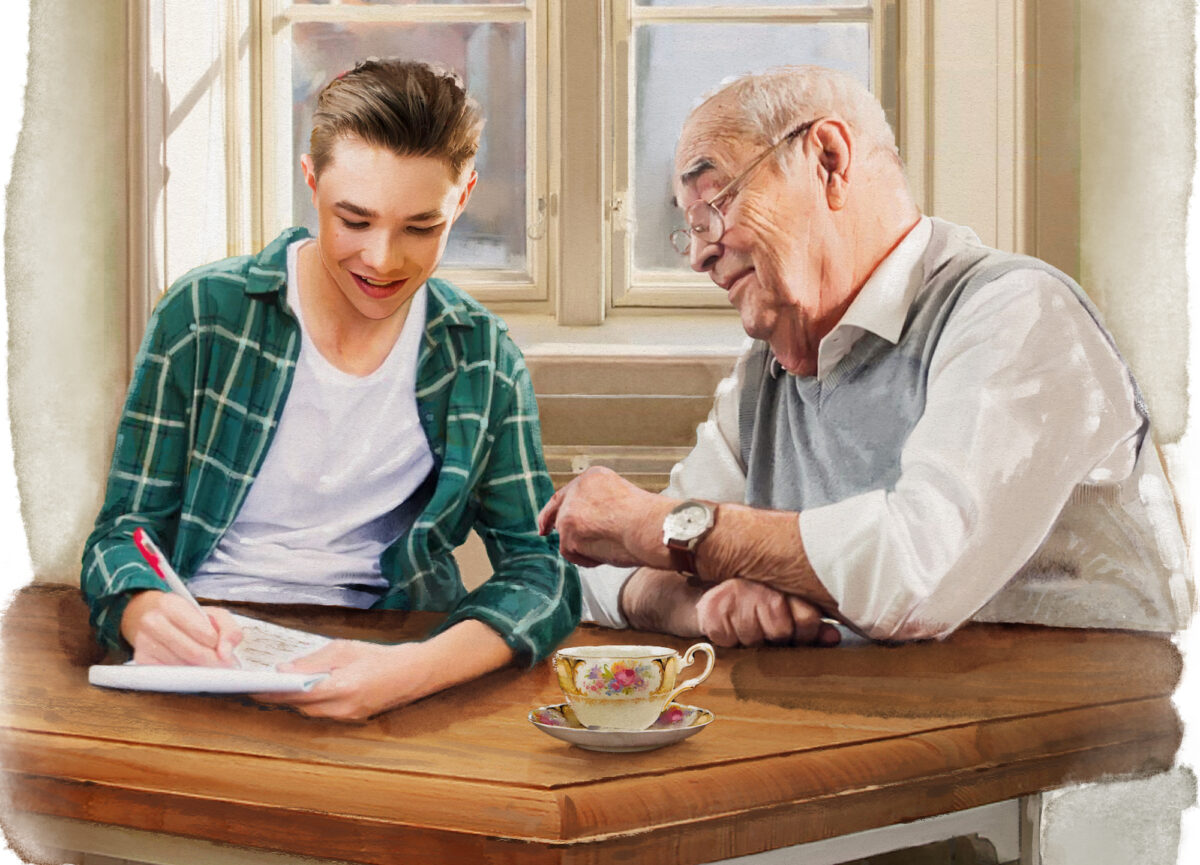 Interviewing family members about their life experiences is a great way to learn more about them. (Biba Kayewich)
Saving and Sharing Good Memories Is Easy, Healthy, and Fun
No matter how fast life seems to fly by, memories keep us connected to the happy days of yesteryear
BY JEFF MINICK
MARCH 21, 2023
Trust me friend a hundred years
Goes faster than you think, so don't blink

Written by Casey Beathard and Chris Wallin, that's the refrain for country music star Kenny Chesney's poignant hit song, "Don't Blink." The ballad tells of a 102-year-old man celebrating his birthday on television, who when asked the secret of life, says:

Don't blink, just like that you're six years old
And you take a nap
And you wake up and you're twenty-five
And your high school sweetheart becomes your wife

Don't blink, you just might miss
Your babies growing like mine did
Turning into moms and dads
Next thing you know your better half

Of fifty years is there in bed
And you're praying God takes you instead

Most of us, even the young, have experienced this revelation of time sweeping past us, as fast and furious as a wind in March. A 29-year-old kisses her daughter's bruised knee suddenly recollects her own mother doing the same for her after she had tripped and fallen in the yard and is jolted by how swiftly the years have flown away since her childhood.

And yet, while we can't reset the ticking clock of our lives, just like that young mother, we, fortunately, can return, if we so choose, to happier days gone by via that time capsule of the mind: the memory.
The Way We Were
"Nothing is ever really lost to us as long as we remember it," L.M. Montgomery, author of "Anne of Green Gables," wrote in "The Story Girl."
It's for this reason that we look with pity on our loved ones undergoing the ordeal of dementia, witnessing their confusion and the progressive loss of their faculties. In myriad ways, human beings are made up of memories, and when those memories begin vanishing, so does the person.
That people wish to prevent that disappearance by preserving the present, especially those moments associated with joy or achievement, can be seen everywhere. Pharaohs and kings have left monuments as signs of their glory so that others might remember them. Writers and painters frequently include themselves or the people and places they've known in their art.
The rest of us snap photographs or make videos in hopes of capturing those fleeting delights of a graduation or a wedding, using the pictures later to aid recollection. Some folks keep a journal to record their toddler's first step, the day she learned to ride a bicycle, and her first dance in middle school. We keep these mementos not only as markers of celebration but also as sparks to light the flames of memory.
And here are some other ways to keep those fires burning.
Interviews
One spring morning nearly 40 years ago, I sat at her dining room table and asked my mother about her family tree, recording the information as she spoke. It was good stuff, but I should have asked Mom for details from her own life. What was her favorite candy as a kid? Her favorite game? When and where did she first meet my dad? What was her biggest dream for herself when she was 16?
I know a lot about my mom and have passed much of that information to my children, but I missed the perfect chance to know a whole lot more.
With the help of some electronic device or even just pen and paper, ask family members questions and record their answers. If you're a 16-year-old who's close to your grandfather, set aside an hour or so, lift up the lid on his past, and write down what he says. His responses may surprise you. Grandparents might reverse this process, asking their offspring similar questions. Either way, the result is a time capsule, bits of the past and present to be reopened and treasured in the future.
The Joy of the Jar
Memory jars—small, decorative boxes will serve just as well—are easy, provide fun for the family, and can even give you a much-needed lift on a bad day.
The concept is simple. Take a large, clean jar with a lid, decorate it as you will, and keep it on the kitchen counter or the dining room table where it won't be overlooked. Alongside it, keep some pens, pencils, and pieces of paper for recording memories. Cutting some three- by five-inch index cards in half for reasons of space works perfectly fine.
After that, how you use the jar is up to you. Some people make a memory jar a part of some special occasion—birthdays, anniversaries, Christmas. Those present write down a comment about the event or the person involved and drop it in the jar. With the same purpose in mind, some people create a memory jar for the funeral of a loved one. Others pass the paper and pens around the supper table once per week and have family members write down an event they want to remember. It can be as important as making the cut for the basketball team or as trivial as baking a pie with Mom. A few words usually suffice to jog the memory.
If you're keeping your own personal memory jar or box, sometimes pulling out one of the written reminders can bring a flood of sweet thoughts or a needed smile. The comments deposited in a memory jar honoring a deceased relative, when read later, can bring tender memories. If the jar has notes from the entire family, a shared meal is the perfect time to have two or three people dig into the jar, pull out a note, read it aloud, and then ask the person who wrote it to tell the story behind the note.
These aids to memory can bring laughter and tears, as well as deeper connections with those we love.
Which brings us to one of the best ways to savor the past and keep it alive
Story Time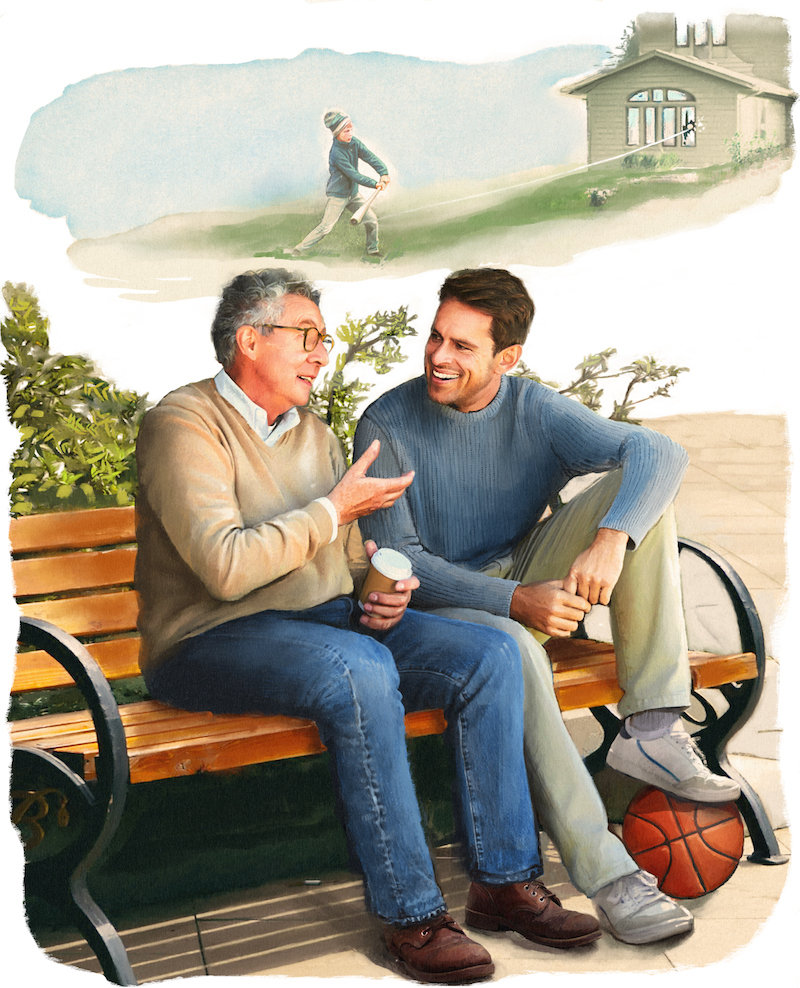 Who doesn't enjoy a good story?
If you want your childhood memories kept alive, tell those stories to your children and grandchildren. We know kids love hearing about Grandma's beloved foxhound when she was an adolescent or the time Dad hit a home run playing sandlot ball but smashed a neighbor's window, because they keep coming back and asking for more. And if you want to better recall the kids' stories of their adventures or humorous moments, tell those stories to friends or other family members.
Look online for the "power of telling stories to kids about our past," and you'll find a dozen or more benefits derived from this activity, from the development of better listening skills in school to an enhanced ability to make moral judgments. Best of all, however, you're leaving a part of yourself in your children, who will remember and relish your childhood tales long after you've left this earth. An example: My uncle and dad passed on some wild tales about my Great-Grandfather Clark. Both my children and grandchildren have gotten some fun from these family gems, but the stories also connect them to an ancestor born 150 years ago and will live on in them and perhaps their descendants.
Whatever avenue we use—photographs, journals, story boxes, or storytelling—passing along our memories, especially the good ones, enriches those around us, keeps our special moments a vibrant part of who we are and reconnects us with our heritage.