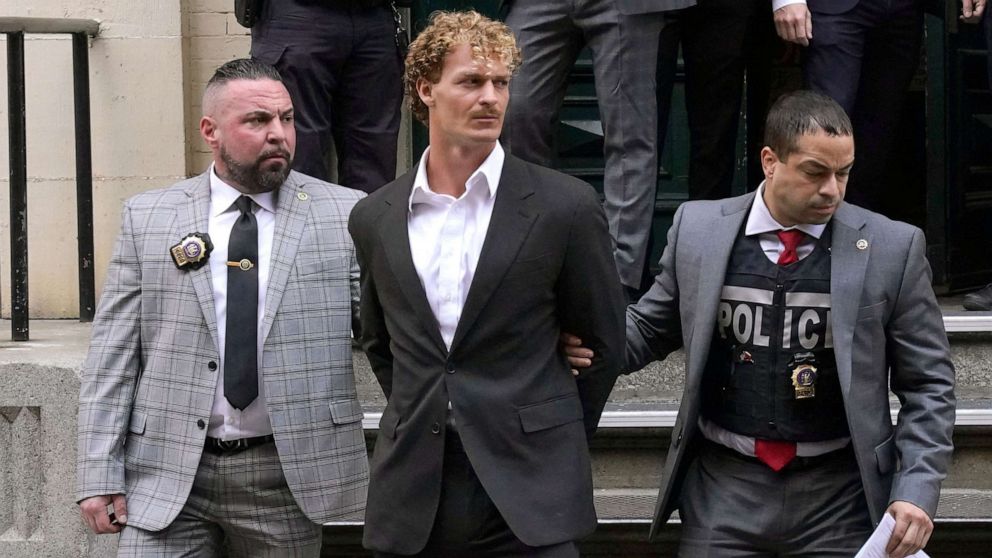 Former Marine Daniel Penny surrendered to police Friday (today) and was arraigned on a charge of second-degree manslaughter, 11 days after placing homeless man Jordan Neely in a fatal chokehold on an F train.
Penny, 24, appeared in Manhattan Criminal Court before Judge Kevin McGrath, who set bail at $100,000, which the Queens man soon posted.
Dressed in a dark suit and black sneakers, Penny stood with his head down and answered procedural questions in a soft voice.
Both Penny's defense attorney Thomas Kenniff and Manhattan Assistant District Attorney Joshua Steinglass agreed to the $100,000 bail amount, with the judge signing off on it.
Penny was also ordered to surrender his passport within 48 hours and barred from leaving the state without judicial approval.
He is due back in court for another hearing on July 17.
During the hearing, Steinglass laid out the facts of the case, which he said he learned from eyewitness accounts, interviews with 911 callers and officers at the scene.
According to the prosecutor, Neely entered the F train at the Second Avenue stop.
Other passengers "observed Mr. Neely…making threats and scaring passengers," Steinglass said.
"The defendant approached Mr. Neely from behind and placed him in the chokehold, taking him down to the ground," the prosecutor told the court. "When the train arrived at the next stop, Broadway-Lafayette, the defendant continued to hold Mr. Neely in the chokehold for several minutes."
Two other men helped Penny restrain Neely's arms, according to Steinglass.
"At some point, Mr. Neely stopped moving. The defendant continued to hold Mr. Neely for a period and then released him," Steinglass said.
Penny turned himself in less than 24 hours after the Manhattan District Attorney's Office revealed it would pursue charges against him.
—NY Post

Today's read is from William Voegeli, senior editor of the Claremont Review of Books and the author of Never Enough: America's Limitless Welfare State. Here's a portion:

The government's message to subway passengers is: You're on your own; there's just not that much the city will do to keep you out of situations involving homeless people. These situations will sometimes feel dangerous and occasionally be dangerous, but another part of being on your own is that you'll have to figure out for yourself which situations do and do not pose a genuine threat. To make the challenge even more stimulating, be advised that the world's most influential newspaper is prepared to denounce you if it believes your response to a particular situation was disproportionate to its true dangers.

Read the entire column here.