When I worked for WHEDA, the Wisconsin Housing and Economic Development Authority as part of Gov. Scott Walker's administration, Matthew Desmond was the keynote speaker at the Authority's annual conference in August 2018, attended by more than 800 in Madison. Desmond was a very big deal.

A Princeton sociologist, Desmond won a Pulitzer prize for his New York Times bestseller Evicted: Poverty and Profit in the American City. The Times wrote, "Desmond turned eviction into a national topic of conversation with 'Evicted,' a book that chronicled how poor families who lost their homes in Milwaukee sank ever deeper into poverty. It became a favorite among civic groups and on college campuses."

Desmond has a new book out.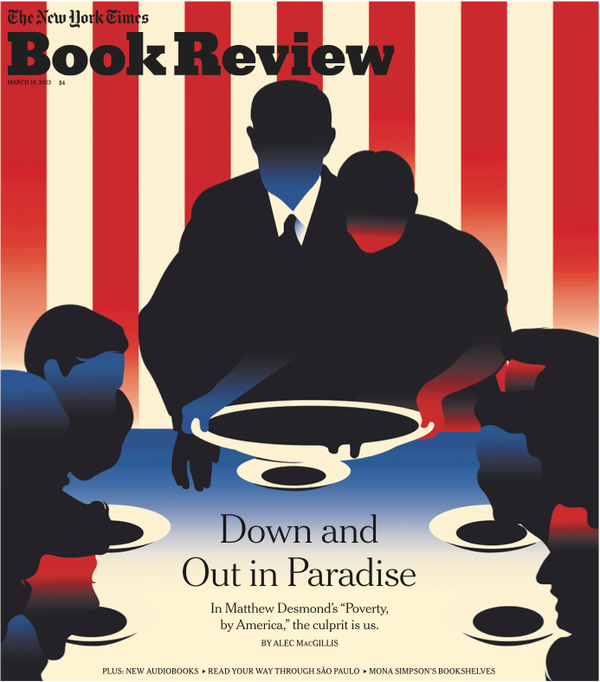 Desmond maintains that in the past 50 years, scientists have eradicated smallpox. In the United States, infant-mortality rates and deaths from heart disease have fallen by roughly 70 percent, and the average American has gained almost a decade of life. The internet was invented.

But on the problem of poverty, Desmond submits there has been no real improvement

From his recent column in the NY Times:
The United States has a poverty problem.
A third of the country's people live in households making less than $55,000. Many are not officially counted among the poor, but there is plenty of economic hardship above the poverty line. And plenty far below it as well. According to the Supplemental Poverty Measure, which accounts for government aid and living expenses, more than one in 25 people in America 65 or older lived in deep poverty in 2021, meaning that they'd have to, at minimum, double their incomes just to reach the poverty line.
Programs like housing assistance and food stamps are effective and essential, protecting millions of families from hunger and homelessness each year. But the United States devotes far fewer resources to these programs, as a share of its gross domestic product, than other rich democracies, which places America in a disgraced class of its own on the world stage.
On the eve of the Covid pandemic, in 2019, our child poverty rate was roughly double that of several peer nations, including Canada, South Korea and Germany. Anyone who has visited these countries can plainly see the difference, can experience what it might be like to live in a country without widespread public decay. When abroad, I have on several occasions heard Europeans use the phrase "American-style deprivation."
Poverty … is experienced as an exhausting piling on of problems. Poverty is chronic pain, on top of tooth rot, on top of debt collector harassment, on top of the nauseating fear of eviction. It is the suffocation of your talents and your dreams. It is death come early and often. From 2001 to 2014, the richest women in America gained almost three years of life while the poorest gained just 15 days. Far from a line, poverty is a tight knot of humiliations and agonies, and its persistence in American life should shame us.
All the more so because we clearly have the resources and know-how to effectively end it. The bold relief issued by the federal government during the pandemic — especially expanded child tax credits, unemployment insurance and emergency rental assistance — plunged child poverty and evictions to record lows and powered a swift economic recovery. "I don't think we have ever seen a policy have as much impact as quickly as the child tax credit in 2021," Dorian Warren, a co-president of Community Change, a national organization aimed at empowering low-income people, told me. "In six months — six months — we reduced child poverty almost by half. We know how to do this."
We do — but predictably, some Americans with well-fed and well-housed families complained that the country could no longer afford investing so deeply in its children. At best, this was a breathtaking failure of moral imagination; at worst, it was a selfish, harmful lie.
We could fund powerful antipoverty programs through sensible tax reform and enforcement. A recent study estimates that collecting all unpaid federal income taxes from the top 1 percent — not raising their taxes, mind you, just putting an end to their tax evasion — would add $175 billion a year to the public purse. That's enough to more than double federal investment in affordable housing or to re-establish the expanded child tax credit. In fact, an additional $175 billion a year is almost enough to lift everyone out of poverty altogether.
The hard part isn't designing effective antipoverty policies or figuring out how to pay for them. The hard part is ending our addiction to poverty.
Poverty persists in America because many of us benefit from it. We enjoy cheap goods and services and plump returns on our investments, even as they often require a kind of human sacrifice in the form of worker maltreatment. We defend lavish tax breaks that accrue to wealthy Americans, starving antipoverty initiatives. And we build and defend exclusive communities, shutting out the poor and forcing them to live in neighborhoods of concentrated disadvantage.
Most Americans — liberals and conservatives alike — now believe people are poor because "they have faced more obstacles in life," not because of a moral failing. Long overdue, however, is a reckoning with the fact that many of us help to create and uphold those obstacles through the collective moral failing of enriching ourselves by impoverishing others. Poverty isn't just a failure of public policy. It's a failure of public virtue.
To break this cycle, we must commit to becoming poverty abolitionists.
Like abolitionist movements against slavery or mass incarceration, abolitionism views poverty not as a routine or inevitable social ill but as an abomination that can no longer be tolerated. And poverty abolitionism shares with other abolitionist movements the conviction that profiting from another's pain corrupts us all.
Ending poverty in America will require both short- and long-term solutions: strategies that stem the bleeding now, alongside more enduring interventions that target the disease and don't just treat the symptoms.
When the Johnson administration launched "an unconditional war on poverty in America" in 1964, it wasn't just lofty rhetoric. It set a deadline. Sargent Shriver, the director of the Office of Economic Opportunity, announced that "the target date for ending poverty in this land" would be 1976, the bicentennial. "We once had ambitions about poverty abolitionism," Dorian Warren reminded me, and we can rekindle that sense of urgency.
We can also disrupt all the quotidian ways we normalize the status quo. It is commonplace for privileged Americans to gripe about taxes. But doing so ignores how the country's welfare state does much more to subsidize affluence — with tax breaks for college savings accounts, wealth transfers and more — than to alleviate poverty.
Today, as then, the best hope we have of ending poverty is to bind ourselves together and demand this of our country. A mass movement for economic justice is necessary. One led by those who have had enough is stirring. We can join them, no matter our lot in life.
On the problem of poverty, though, there has been no real improvement — just a long stasis. As estimated by the federal government's poverty line, 12.6 percent of the U.S. population was poor in 1970; two decades later, it was 13.5 percent; in 2010, it was 15.1 percent; and in 2019, it was 10.5 percent. To graph the share of Americans living in poverty over the past half-century amounts to drawing a line that resembles gently rolling hills.
The primary reason for our stalled progress on poverty reduction has to do with the fact that we have not confronted the unrelenting exploitation of the poor in the labor, housing and financial markets. … When we are underpaid relative to the value of what we produce, we experience labor exploitation; when we are overcharged relative to the value of something we purchase, we experience consumer exploitation. … When we don't own property or can't access credit, we become dependent on people who do and can, which in turn invites exploitation, because a bad deal for you is a good deal for me.
Those who have amassed the most power and capital bear the most responsibility for America's vast poverty: political elites who have utterly failed low-income Americans over the past half-century; corporate bosses who have spent and schemed to prioritize profits over families; lobbyists blocking the will of the American people with their self-serving interests; property owners who have exiled the poor from entire cities and fueled the affordable-housing crisis.
Living our daily lives in ways that express solidarity with the poor could mean we pay more; anti-exploitative investing could dampen our stock portfolios. By acknowledging those costs, we acknowledge our complicity. Unwinding ourselves from our neighbors' deprivation and refusing to live as enemies of the poor will require us to pay a price. It's the price of our restored humanity and renewed country.

—March 16, 2023

The opposite perspective tomorrow in Part Two.