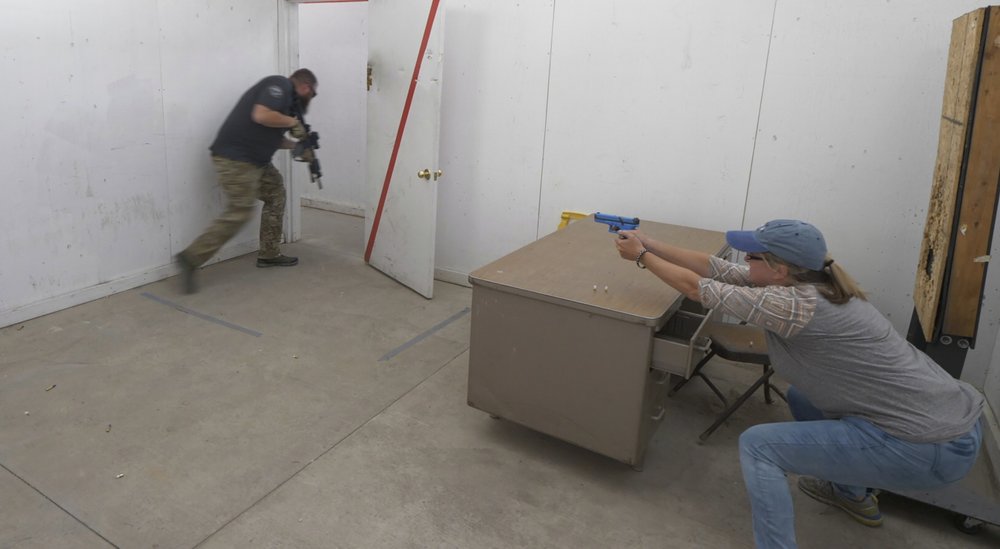 In this June 29, 2019 photo, Christy Belt, Timpanogos Academy 5th grade teacher, engages in an exercise designed to help teachers make good decisions in critical, high stress situations such as an active shooter incident during the teacher's academy training at the Utah County Sheriff's Office shooting range, in Spanish Fork Canyon, Utah. (AP Photo/ Rick Bowmer)

Two Republican lawmakers are proposing to permit Wisconsin school officials to decide whether to allow employees who are licensed gun owners to carry firearms on school grounds.

Didn't take but a few seconds for  Gov. Evers after learning about this dastardly Republican plan for him to beat his chest and proclaim to the lapdog media he would veto such legislation the very moment it was plopped on his desk. Unless it was after 3:00 PM when he usually leaves the office to go home for his afternoon nap (that the Capitol press corps is keenly aware  of). That means his veto would have to wait a day.

Allow me to supply some important background, courtesy of the non-partisan WI Legislative Reference Bureau.
Both federal law and state law prohibit a person from possessing a firearm on the grounds of a school.

There are exceptions. For example, exceptions are made for law enforcement, naturally. Also, for persons in accordance with a contract between the person and the school.

Federal law provides another exception for a person who is licensed to possess a firearm by the state if the state requires a background check to ensure the person is qualified for the license. A licensee is allowed under federal law to possess a firearm on the grounds of a school. State law, however, does not provide an identical exception, so a licensee is prohibited under state law from possessing a firearm on the grounds of a school.

Under the bill authored by Rep. Scott Allen of Waukesha and Sen. Cory Tomczyk of Mosinee a person who has a license issued by DOJ may possess a firearm on the grounds of a school IF the person is employed by the school AND the school board or governing entity has adopted a policy that allows employees who are licensees to possess a firearm.
Under current law, a person who applies to DOJ for a license to carry a concealed weapon must pay an application fee and a person who is renewing a license must pay a renewal fee. The fee can be no more than $37 for an initial license and $12 for a license renewal. In addition, the person must pay for a background check for each initial application and renewal application.

The bill waives the initial application fee, renewal fee, and background check fee for teachers who apply for a license.
"The sad reality is that school shootings have happened," Rep. Allen said in a statement. "Schools provide soft targets for those looking to do harm, and this bill gives school boards the option to change that."
Allen said he drafted the bill at the request of the Germantown School Board, who wrote him a letter explaining their opposition to "gun free school zone signs" that "do nothing but notify a criminal that there will be few, if any, people in the building that can defend themselves."
"We need to protect our students," said Allen. "Every local school district should be given the choice to protect their students from bad actors with the awareness that schools are no longer soft targets."
"I guess it's becoming harder to find days without mass shootings to introduce bad gun bills," said Rep. Deb Andraca of Whitefish Bay, who holds a concealed carry license and is a former teacher. "Allowing guns in schools is NOT the answer," she tweeted.

Andraca is correct. This new bill is not the answer. But it is an answer.

Here are more details from two of my blogs posted last June.