Every Friday night we smooth our way into the weekend with music, the universal language. These selections demonstrate that despite what is being passed off as art today, there is plenty of really good music available. Come along and enjoy.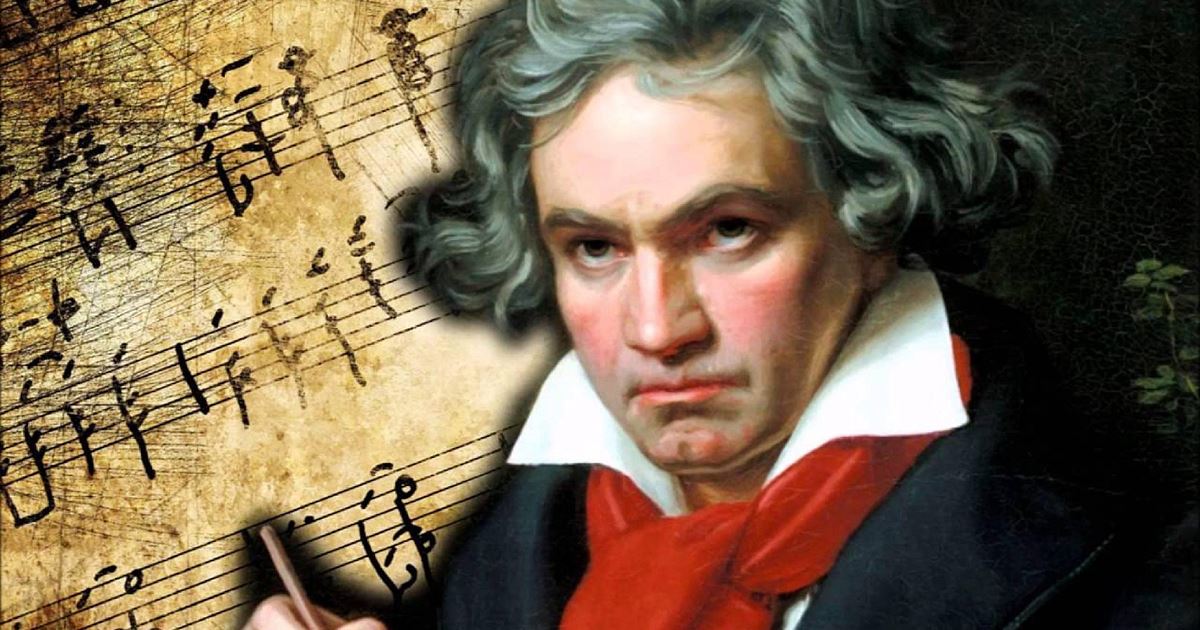 Ludwig van Beethoven is widely regarded as the greatest composer who ever lived. This week marked the anniversary of his death on March 26, 1827. And the German composer continues to make news. More on that later.

Beethoven-inspired music is our theme for this week's segment. Let's get started with the biggie.

According to tradition, Mozart was highly impressed with Beethoven's powers of improvisation and told some friends that "this young man will make a great name for himself in the world." If Mozart did indeed make that prediction he was correct.
Essential to the history of Beethoven's brilliance was his deafness. Beethoven first noticed difficulties with his hearing sometime in 1798, when he was about 28.

In a letter to his friend Franz Wegeler he wrote: "I will seize fate by the throat. If only I were rid of my affliction I would embrace the whole world."

But by 1802 he could no longer be in doubt that his malady was both permanent and progressive.

Beethoven started working on his famous Fifth Symphony in 1804, and he knew he was going deaf. He wrote the remarkable symphony in about four years.

A contributing factor to Beethoven's deafness may have been tinnitus, ringing in the ears, the sensation of hearing ringing, buzzing, hissing, chirping, whistling, or other sounds.

Tinnitus struck rockabilly singer and guitarist turned big band leader Brian Setzer while he was onstage in Amsterdam in 2019.

"It's incredibly nerve-wracking," Setzer said. "It'll drive you crazy and the only thing to do is to just take a break. Basically, picture a tea kettle going off in your ear 24/7, it'll drive you mad."
Setzer's recording and live concerts have become limited, although he did produce a 2019 album, his first solo album in seven years.

Believing Beethoven and other classical musicians were the rock stars of their day Setzer in 2007 dedicated an entire album converting classical into catchy pop.

"These guys were like big party boys," said Setzer.

From reviewer Nels Ferre: "Think Emeril Lagasse, the Cajun chef. BAM! What Legasse does with food, Setzer has done with the thirteen tracks that make up Wolfgang's Big Night Out. From the opening track 'Take the 5th- An Adaptation of Beethoven's 5th Symphony' I knew I was in for something different and special. While I enjoy Beethoven's 5th, I consider it angry and rather somber. Kick up the tempo a few notches, however and it becomes joyous and happy."

Ludwig swings!
Setzer's good friend and fellow guitarist Jeff Beck, who was inducted into the Rock & Roll Hall of Fame twice, as a member of the Yardbirds and as a solo artist, passed away in January. Beck, too, suffered from tinnitus.

Just a few years before Beethoven's death he finished his Ninth Symphony that was performed, together with movements from the Missa Solemnis and the overture from Opus 124, with a fine reception at the Kärntnertor Theatre. The composer remained unaware of the applause until one of the soloists made him turn to face the audience. The Ninth Symphony was Beethoven's last work for large-scale forces. "Ode to Joy" is best known for its use by Beethoven in the final (fourth) movement of his Ninth Symphony.

Can't go wrong with this guy and his understated (LOL) performances, this one in Maastricht.
"Für Elise" (German for 'for Elise') is one of Beethoven's best-known works, but who was it dedicated to?
It is widely thought that Therese, perhaps the true dedicatee of 'Für Elise', was Therese Malfatti, a woman to whom Beethoven proposed in 1810 – the same year he composed 'Für Elise'. Other researchers have suggested Elise could have been a German soprano named Elisabeth Röckel. Röckel played Florestan in Beethoven's opera Fidelio, and many sources show that Elisabeth often met with Beethoven, who fell in love with the young woman and wanted to marry her. And then there's another German soprano and friend of Beethoven called Elise Barensfeld. In 2012, musicologist Rita Steblin claimed Beethoven dedicated 'Für Elise' to Barensfeld.
Valentina Lisitsa is one of the most frequently viewed pianists on YouTube.Born in the Ukraine in 1973, Lisitsa took up the piano at the age of three and performed her first solo recital when she was four.

Lisitsa burst on to the international classical music scene after uploading videos of her performances to YouTube, which have now received more than 45 million views.
Beethoven composed "Fur Elise" April 27, 1810, as his hearing was getting gradually weaker. The composer could apparently still hear some speech and music until 1812. But by the age of 44 (four years after he composed 'Für Elise'), he was almost totally deaf and unable to hear voices.
Ultimately, "Für Elise" wasn't even published until 1865, nearly forty years after Beethoven's death.
One of Beethoven's letters to his friend Franz Wegeler refers to "a dear sweet girl who loves me and whom I love." It's thought Beethoven was writing about the countess Giulietta Guicciardi, a piano pupil and the cousin of two other pupils, Therese and Josephine, daughters of the Graf von Brunsvik. It was to Giulietta that he dedicated the Piano Sonata in C-sharp Minor, Opus 27, No. 2, known as the Moonlight Sonata. But the countess married the Graf von Gallenberg in 1803.

No other artist may have a more distinctive recognizable sound than Henry Mancini. His rendition of Moonlight Sonata was a track on the 1969 album Six Hours Past Sunset.
Many artists have been inspired by "Moonlight Sonata," including John Lennon who got the idea for the Beatles track "Because" when he heard Yoko Ono playing "Moonlight Sonata" on the piano. He asked her to play it backwards, and came up with "Because" that was included on the Beatles' LP "Abbey Road.."
"Summing up his life and imminent death during his last days, Beethoven, who was never as eloquent with words as he was with music, borrowed a tagline that concluded many Latin plays at the time. Plaudite, amici, comoedia finita est, he said. 'Applaud friends, the comedy is over'."
The website Biography

As Beethoven lay dying in bed in March of 1827, friends and family sought small tokens by which they could remember the beloved composer. A not-infrequent request was for a lock of his hair. Just last week the Associated Press reported:
What made Beethoven sick? DNA from his hair offers clues

That's it for this week.

Goodnight.

Sleep well.

Have a great weekend.
In 1973 the rock band Electric Light Orchestra (ELO) released a single of their cover of the 1956 Chuck Berry recording "Roll Over Beethoven." The message was clear. Let the new sound of rock and roll take over.

Jeff Lynne was ELO's lead singer and founder. A member of the Rock and Roll Hall of Fame, he now tours and performs with Jeff Lynne's ELO.