The Barking Lot is a regular weekly feature of This Just In…Originally written by both my lovely wife, Jennifer and me, this blog brings you the latest news about our furry friends including articles, columns, photos and videos. Enjoy!
THE WEEKEND DOG-WALKING FORECAST: We grade the weather outlook for taking your pet outdoors.
TODAY:  Cloudy. High of 35.  "C"

SUNDAY:  Variably cloudy with snow showers. Temps nearly steady in the low to mid 30s. Chance of snow 60%. About one inch of snow expected. "D"
Time now for DOGS IN THE NEWS, canines that made headlines the past week.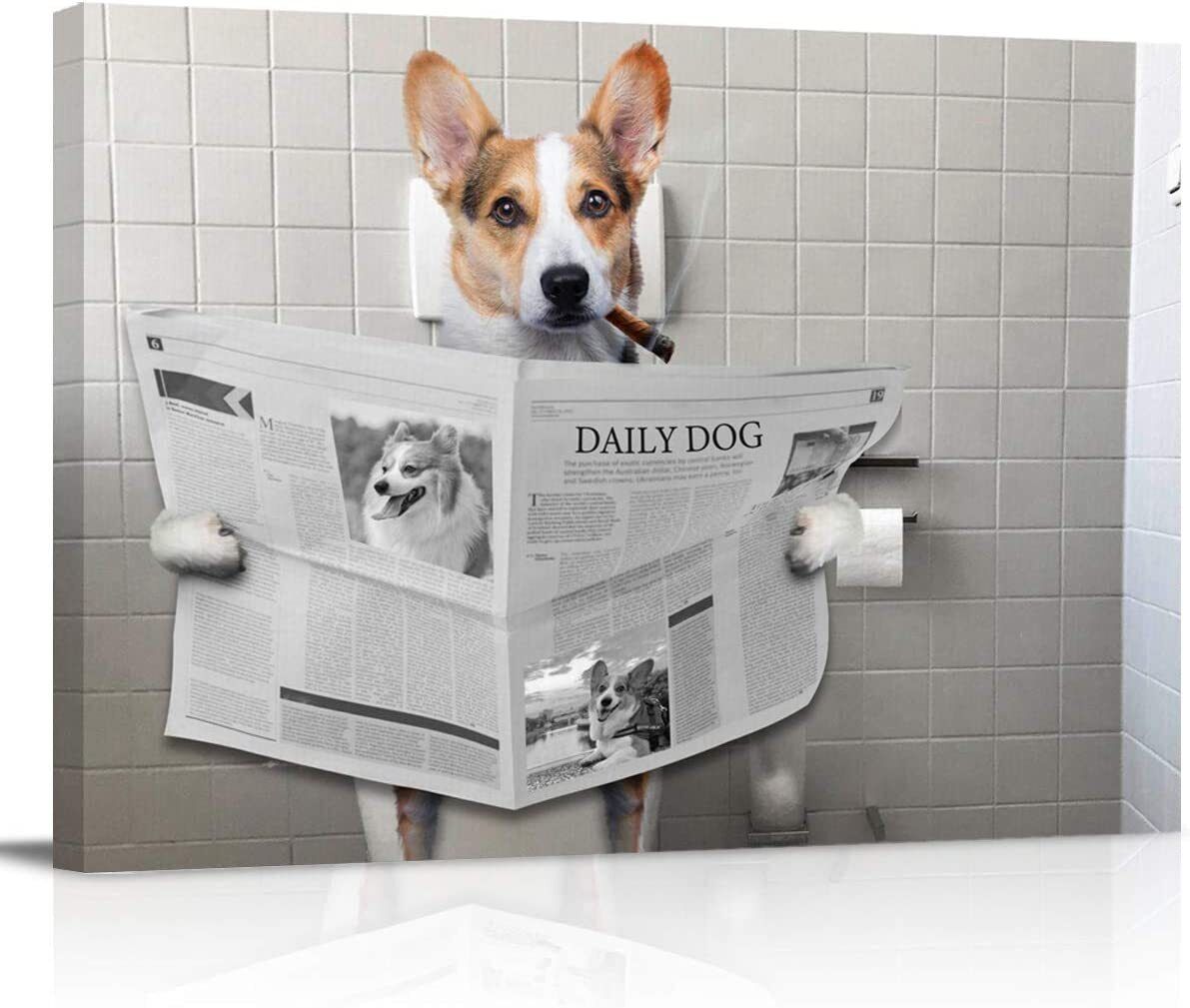 Dogs Routinely Abused at Illegal Cannabis Grows in California: Sheriff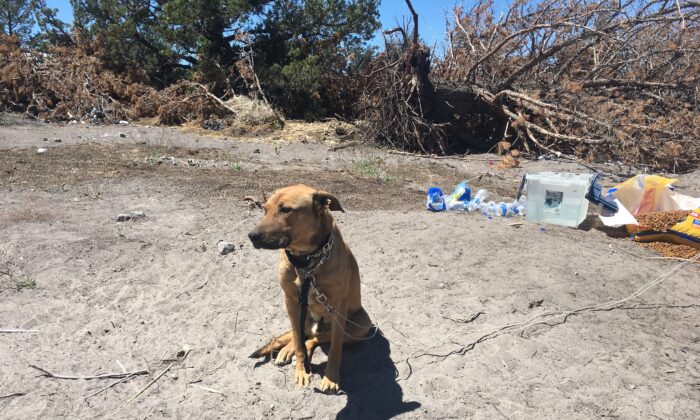 (Courtesy of the Siskiyou County Sheriff's Department)

By Jack Bradley, The Epoch Times, March 9, 2023
A northern California sheriff is sounding the alarm on the abuse of hundreds of dogs at illegal marijuana cultivation sites in his county.
Siskiyou County Sheriff Jeremiah LaRue told The Epoch Times that during eradication of an illegal site, commonly known as grows, deputies often encounter "poor treatment of dogs," which are used to guard the sites from intruders.
According to LaRue, the dogs are chained without food and water, and many are emaciated with ribs showing, have collars that are too tight, have skin lesions, or are mutilated.
"They're just neglected and abused," he said.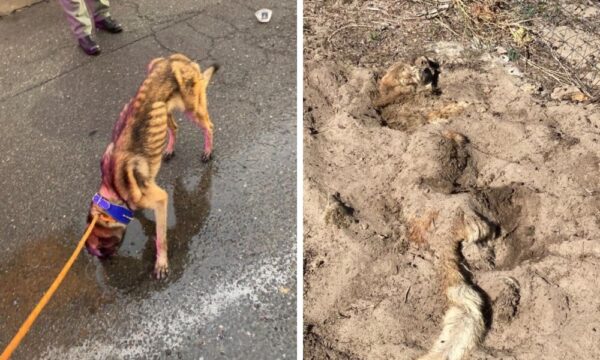 Authorities have routinely encountered dog carcasses, bones, partially burned dogs, and poisonous chemicals, such as pesticides, fertilizers, herbicides, and rodenticides, at the grows, LaRue said.
"These dogs are actually getting into these chemicals, either getting it on their skin or they're eating it," he said. "They don't die at this alarming rate anywhere else."
Local animal rescues have reportedly received a number of dogs from cannabis grows.
"The bulk of the strays we get are from the pot [cannabis] fields," John Golay, executive director at Siskiyou County's Rescue Ranch, told a local news station News 10 last summer.
This issue is not specific to Siskiyou County. Dogs have been found neglected in many other illegal grows across the state.
A litter of 16 puppies was rescued from one last October in Jupiter, a central California city about 150 miles east of San Francisco.
The dogs were found living in dirt under a shed—"unfavorable conditions"—a spokesperson from the Department of Cannabis Control told local radio station Clarke Broadcasting.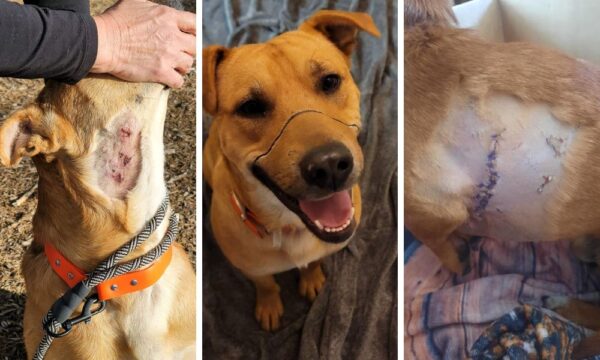 In Santa Barbara County, the sheriff's department has also reported multiple instances of dogs found at illegal grows.
Following a grow eradication in 2018, deputies reportedly found two abandoned dogs and 10 newborn puppies in an "unsecured tent." One puppy was stillborn.
LaRue said his department has helped rescue German Shepherds, Labradors, and Pit Bulls from the grows.
The sheriff's department will contact the county's animal control, which is oftentimes at capacity with what are then called "grow dogs," LaRue said.
During an eradication, dozens of dogs can be rescued at a time, he said.
"It's pretty obvious that they're malnourished," he said. "They're not being taken care of properly."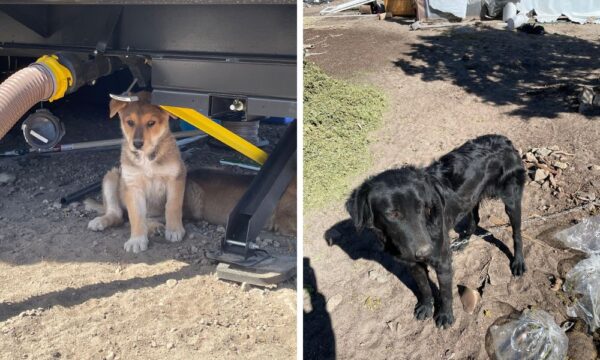 A 'Poor Rollout' of Legal Cannabis
California's Proposition 64 legalized recreational marijuana for adults 21 and older in 2016.
In addition to concerns about the abuse of dogs, LaRue said the law was poorly rolled out, with the most notable being the soft penalties for violating it—such as growing more than six plants—which are up to six months in county jail and a fine of up to $500.
But LaRue said regardless of whether the grow has 7 plants or 7,000, the penalties are the same.
Currently, Siskiyou County allows individuals to grow twice as many plants as the state allows for personal use. But it prohibits more than 12 plants, considering that amount to be used for commercial purposes, which is prohibited in unincorporated areas.
"But when you're growing for profit, you want 1,000 plants. You want 2,000, 3,000," LaRue said.
The county has enforced harsher penalties than the state, including a $5,000 fine per violation for marijuana-related offenses.
But that hasn't stopped the growing industry. LaRue said there are still thousands of greenhouses full of thousands of marijuana plants in the county.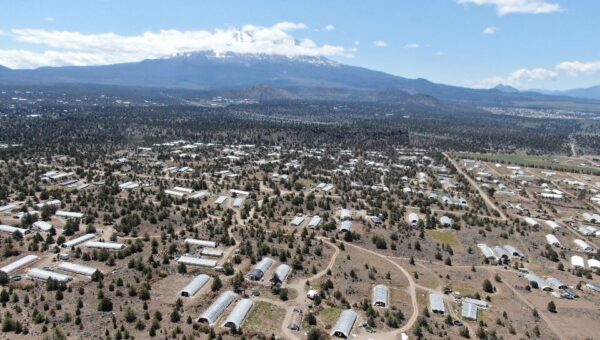 Oftentimes property owners are willing to take the risk and pay the fines, as "there's so much money in this illegal industry that people will pay whatever just to get away with it," LaRue said. "Fines become fees" to operate illegally.
Many other tragedies have occurred at grows in Siskiyou County.
Most encounters with workers on cannabis farms during an eradication are nonviolent, according to LaRue.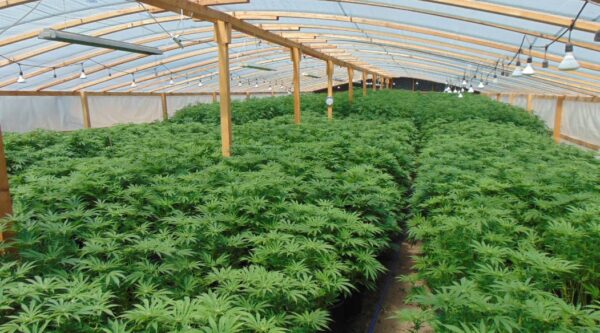 But there have been many instances of illegal firearms found on properties and last year, during a fire in the area four Siskiyou sheriff's deputies shot and killed a man who reportedly opened fire on them during an evacuation near thousands of cannabis farms.
In another instance, deputies found a deceased man at an illegal grow in 2020 after responding to a report of a shooting. They arrested a man for murder shortly afterward.
"[Prop 64 has] allowed for this increase in illegal activity, which has led to an increase in various violent crimes," LaRue said.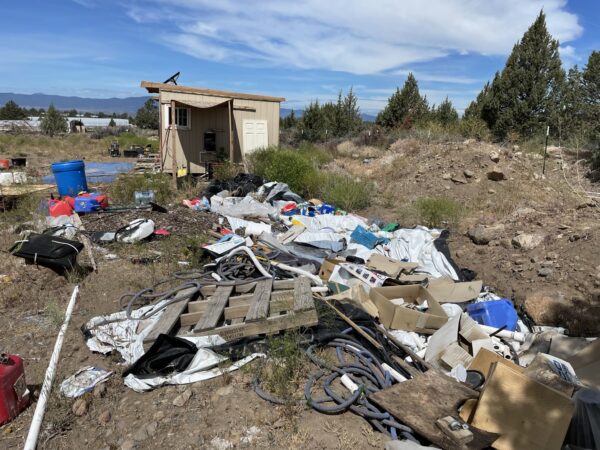 Man checks yard to see alligator biting dog's head. He pulled out gun, Florida cops say.
From Canada: Toronto dog owners bite back after city posts 'no barking' sign at pooch park.

VIDEO & ARTICLE: How accurate are dog DNA tests?
Heat Takes Toll as Iditarod Mushers Trek Across Alaska.

Best In Snow? Crufts Dog Show Kicks Off During Winter Storm.
From Waukesha County (WI) and the 'Dogs are Amazing' file…

Miss Manners: I understand my responsibilities as a dog owner, but I'm not sure of them as a host.
Wisconsin's first dog ice cream bar is coming to Milwaukee.
That's it for this week. Thanks for stopping by.
We'd really appreciate it if you forward this on to other dog lovers you know. Let them have some fun!
See ya, BARK, next Saturday!