THIS WEEKLY BLOG POSTED EVERY MONDAY PROMOTES A CULTURE OF LIFE
Don't miss our heartwarming closing story every week!
From Pro-Life Wisconsin:
Exercise your right to vote and encourage your family and friends to do the same. Vote for life TOMORROW. May God bless Wisconsin!

What's at stake in the Wisconsin Supreme Court race?
Wisconsin's current law abortion ban, s.940.04, is being challenged in our state court system by pro-abortion Democrat Attorney General Josh Kaul. If we lose our tenuous 4-3 conservative majority on the state supreme court, a new liberal, activist court will likely rule s.940.04 unenforceable, restoring abortion on demand in Wisconsin. Even worse, a liberal supreme court could find a right to abortion in our state constitution, thus overturning all our pro-life laws. We cannot let this happen! Justice Daniel Kelly is the only candidate in this primary race with a proven record of judicial conservatism, and therefore the only candidate we trust. His belief in the dignity of the human person makes him the ONLY choice for pro-life voters. We are extremely proud to endorse him!

What's at stake in the Wisconsin State Senate race?
There is currently an effort by some legislative leaders to weaken Wisconsin's current law abortion ban, s.940.04, by adding exceptions for rape and incest and possibly allowing abortions in the first trimester. Although such legislation has not yet publicly surfaced, it is a real possibility. We vehemently oppose such a move. The Wisconsin Legislature should be strengthening our abortion ban, not watering it down! State Representative Janel Brandtjen will help hold the line in the Wisconsin Senate, always working for the total protection of every preborn baby. She is the ONLY candidate in this primary race we trust to uphold and strengthen our current law abortion ban. We are extremely proud to endorse her!

40 DAYS FOR LIFE SPRING CAMPAIGN BEGINS THIS WEDNESDAY!
Since their founding in 2007, 40 Days for Life campaigns have saved 22,829 babies through prayer, fasting, and peaceful vigil outside of local abortion facilities. While abortion is illegal here in Wisconsin, abortion-bound women continue to visit local Planned Parenthood facilities and community "health" centers to obtain contraception and information on the procurement of abortion. Our work is not done!

We invite you to commit to prayer time on the sidewalks outside these facilities during this Spring campaign, February 22-April 2. Bring your friends and family, or call us if you'd like a member of our Pro-Life Wisconsin staff to join you. If you or your campaign is in need of signs, we can ship you one or as many as you need. Please go to a campaign near you and get involved. Current cities include Green Bay, Madison, Milwaukee, Sheboygan, and Waukesha.

—Pro-Life WI
ALSO:
A Wisconsin Supreme Court race holds high stakes for abortion rights and the 2024 election.
Pentagon Announces Policy Changes to Turn DoD Into 'Abortion Travel Agency.'
The abortion pill, which accounts for more than half of US abortions, never should have been approved.
'Abortion Distortion': Pro-Lifers Wonder Why an Unborn Child Is a Murder Victim in Stabbing Death but a Non-Person in Abortion.
Some Christian Colleges Have Ties to Planned Parenthood: Study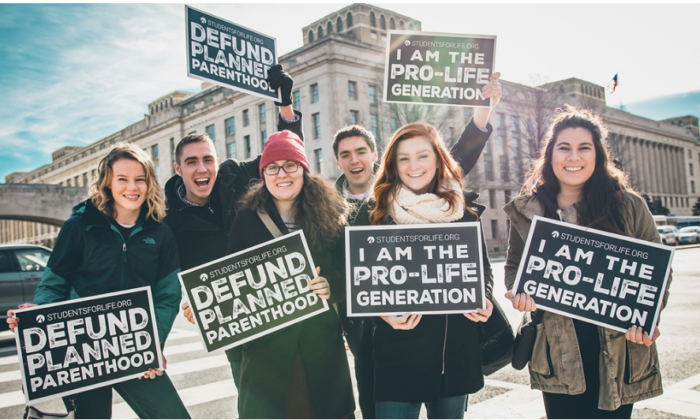 Students For Life of America, which represent prolife college students, is conducting an on-going study of Christian colleges with ties to Planned Parenthood (Courtesy of Students For Life of America SFLA)
The Epoch Times, February 7, 2023
Nearly 10 percent of Christian colleges in the United States maintain ties with Planned Parenthood including several Catholic universities, according to an ongoing investigation by a national student organization.
According to Students for Life of America (SFLA), 68 of the 784 colleges affiliated with a Christian church, including Catholic and conservative Baptist denominations, in the United States continue to maintain some type of relationship with Planned Parenthood, even after the group released its initial report back in 2021.
SFLA President Kristan Hawkins told The Epoch Times in a statement: "We're holding our schools accountable to cut ties with America's greediest and most dangerous abortion vendor and will especially do so in a Post-Roe America where we know college students remain susceptible to the lies of Planned Parenthood."
The Epoch Times reached out to several of the colleges identified in the SFLA report. The only one to provide a response was Baylor University.
"As a Christian university, Baylor respects the sanctity of life. We do not allow for the institutional promotion of abortion or abortion-related services on our campus," Lori Fogleman, vice president of media and public relations at Baylor, told The Epoch Times. "Additionally, Baylor representatives frequently tour and support Care Net Pregnancy Center both financially and through volunteer work as part of the University's community outreach efforts."
Following the release of the SFLA report, the Texas college—which identifies itself as a Baptist university—Bears for Life, a pro-life group made up of Baylor students, launched an aggressive campaign against the administration including campus protests to end ties with Planned Parenthood.
The university's ties to Planned Parenthood date back to at least 2006 when it began distributing a handbook it provided to students listing the abortion group's Teen Education Program as an intern opportunity.
Bears For Life and SFLA also censured the college for listing a job opening for a community health educator with Planned Parenthood on the school's social work website and offering a class that used a textbook that referred to abortion as "safer than childbirth."
As part of its ongoing investigation, SLFA recently released a separate list titled "11 Worst Performing Christian Schools that Failed to Promote Life."
SLFA graded the colleges and universities based on the level of their connections to the abortion groups, with an "F" indicating deep ties to the abortion group.
Those given an "F" included Duke University, which is affiliated with the United Methodist Church; Virginia's Rhodes College, linked to the Presbyterian Church; and Augsburg University, a Lutheran college in Minnesota.
Duke was cited for continuing to provide internships and fellowships with Planned Parenthood and for promoting chemical abortion pills through its Obstetrics and Gynecology School of Medicine.
Rhodes earned its low grade for continuing to refer students to Planned Parenthood and also for encouraging engagement with the organization.
Augsburg University was cited by the group for "explicitly" promoting Planned Parenthood, in the report. The university's website includes a direct link to Planned Parenthood clinics.
Notre Dame, probably one of the most notable Catholic universities in the country, was among the colleges given an "A+" by SFLA.
However, in a recent update to its report, the SFLA called out the "Fighting Irish" university for allowing two professors to continue to carry out their very pro-abortion views on campus. One of them, Tamara Kay, has identified herself as an abortion activist and is said to promote abortion rights in her courses.
According to the student group Notre Dame Right To Life, Kay, a global affairs and sociology professor, has also openly promoted abortion bills on campus.
Neither the college nor Kay responded to inquiries about the controversy, which has been covered by the National Catholic Register. According to Notre Dame's newspaper Irish Rover, in defending herself against the backlash, Kay posted on social media that she was promoting her abortion views on Notre Dame campus as a "private citizen."
Initially, SLFA reported 22 of the 237 Catholic universities in the United States were connected to Planned Parenthood. They included Holy Cross, Regis College, and Marquette University.
However, that number has since dropped to eight.
In total, 40 colleges dropped their ties with Planned Parenthood following the release of the SFLA report, which had originally identified 108 Christian colleges with Planned Parenthood connections.
AND FINALLY, LOVIN' LIFE…
Preemie Given 10% Chance of Survival Defies the Odds and is Now 'a Genius' Who Outsmarts His Teachers (WATCH).
Thanks for reading!