From ESPN this (Thursday) morning:

Buffalo Bills safety Damar Hamlin safety has shown "remarkable improvement" over the past 24 hours, the team said, as he continues his recovery after going into cardiac arrest and collapsing on the field during Monday's game.
Hamlin's agent, Ronald Butler, told The Associated Press that Hamlin was awake and has been able to grip the hands of family members at his hospital bedside.
The Bills released an update on Hamlin's status from his doctors Thursday morning, noting that he remains critically ill but appears to be neurologically intact.
"His lungs continue to heal and he is making steady progress. We are grateful for the love and support we have received."
The phrase "neurologically intact" refers to a person who is "moving their extremities with some form of purpose, and if they're able to understand basic commands," a cardiologist who is not treating Hamlin told ESPN's Coley Harvey.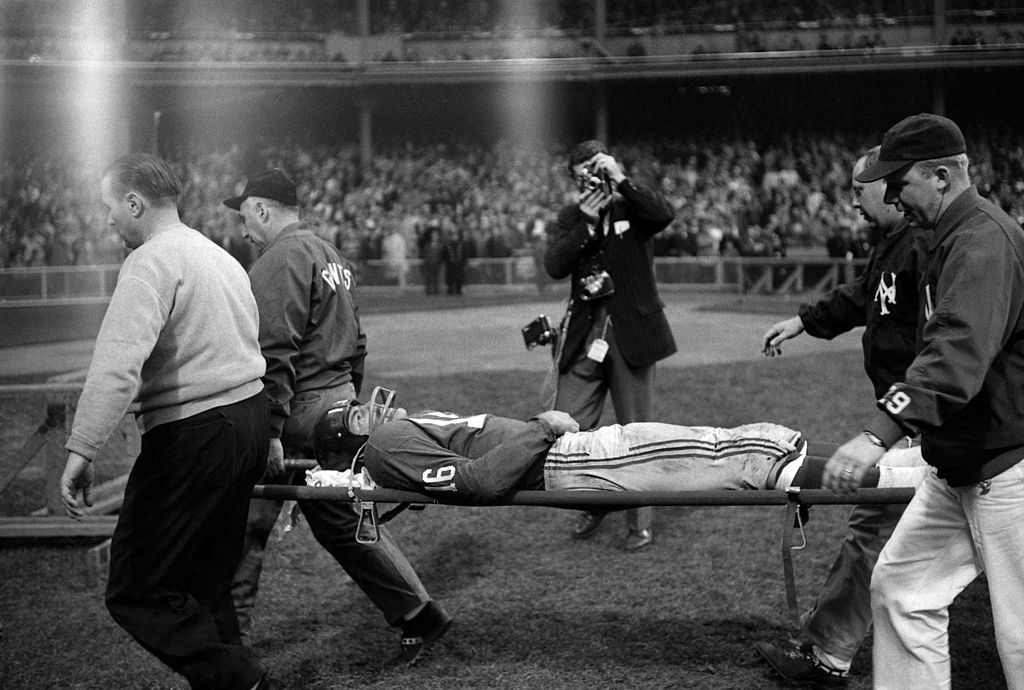 Frank Gifford is carried off the field on a stretcher after being hit by Eagles linebacker Chuck Bednarik in 1960. Photo: LIFE
Today's read is from Paul Newberry, the national sports columnist for The Associated Press. Here's an excerpt:

Naturally, when a traumatic event happens like the one that stopped Damar Hamlin's heart we're roused to ponder the value of a sport.
Some parents won't let their children play football anymore. Some fans say they can no longer bear to watch the physical toll these modern-day gladiators put themselves through for our enjoyment.
Both sentiments are understandable.
But anyone who suggests this is a precarious moment for America's No. 1 sport, that somehow we've crossed a Rubicon leading to its slow, inevitable downfall, simply hasn't been paying attention.

Read the entire column here.