THIS WEEKLY BLOG POSTED EVERY MONDAY PROMOTES A CULTURE OF LIFE
Don't miss our heartwarming closing story every week!:
From Pro-Life Wisconsin

Good news! There is still a limited number of spots available for the Pro-Life Wisconsin March for Life D.C. trip! Spread the word and invite your friends and family to join us!

Secure your ticket today to participate in the 50th annual March for Life D.C. and commemorate the fall of Roe v. Wade. Register here by January 6, 2023!

We will depart for Washington D.C. on Wednesday, January 18th, and return to Wisconsin on Sunday, January 22nd. The March For Life will be on Friday, January 20, 2023.

TRAVEL PACKAGE INCLUDES:

Bus fare and hotel stayComplimentary breakfast/daily social hour at the Embassy Suites Opportunity to pray outside Planned ParenthoodOptional visits to the MFL Expo and the Basilica of the Immaculate ConceptionParticipation in the 50th March for Life
Questions? Contact us at 262.796.1111 or info@ProLifeWI.org
PURCHASE YOUR CHOOSE LIFE WISCONSIN PLATE! SAVE LIVES AND HELP WOMEN
Since late October 2017, Choose Life license plates have been available to Wisconsin motorists, and every penny earned through the sale of the plates directly aids Wisconsin's incredible pregnancy resource centers and initiatives. With over 2,171 of these plates on cars in the Badger State, sales have resulted in over $210,993 granted to over twenty-five Wisconsin pregnancy resource centers in five years.

With a greater need to serve pregnant women in our state, be a part of the mission to save lives and aid women, get your Choose Life Wisconsin license plate today! For more information call Pro-Life Wisconsin at 262-796-1111 ext. 110.

For a list of pregnancy resource centers in Wisconsin, visit CrisisPregnancies.org
—Pro-life Wisconsin

From WRTL.
ALSO:
Saving babies through song: Christmas carols at abortion mills are changing mothers' hearts
Grieving Mom's 'Underwater Photos' Let Her See 18-Week Miscarried Baby With Amazing Clarity
BY Lousie Chambers, The Epoch Times, December 26, 2022
A mom who lost three babies to first-trimester miscarriage and struggled with the grief is sharing the unique "water bath" experience that let her family interact with her fourth miscarried child intimately and on their own terms.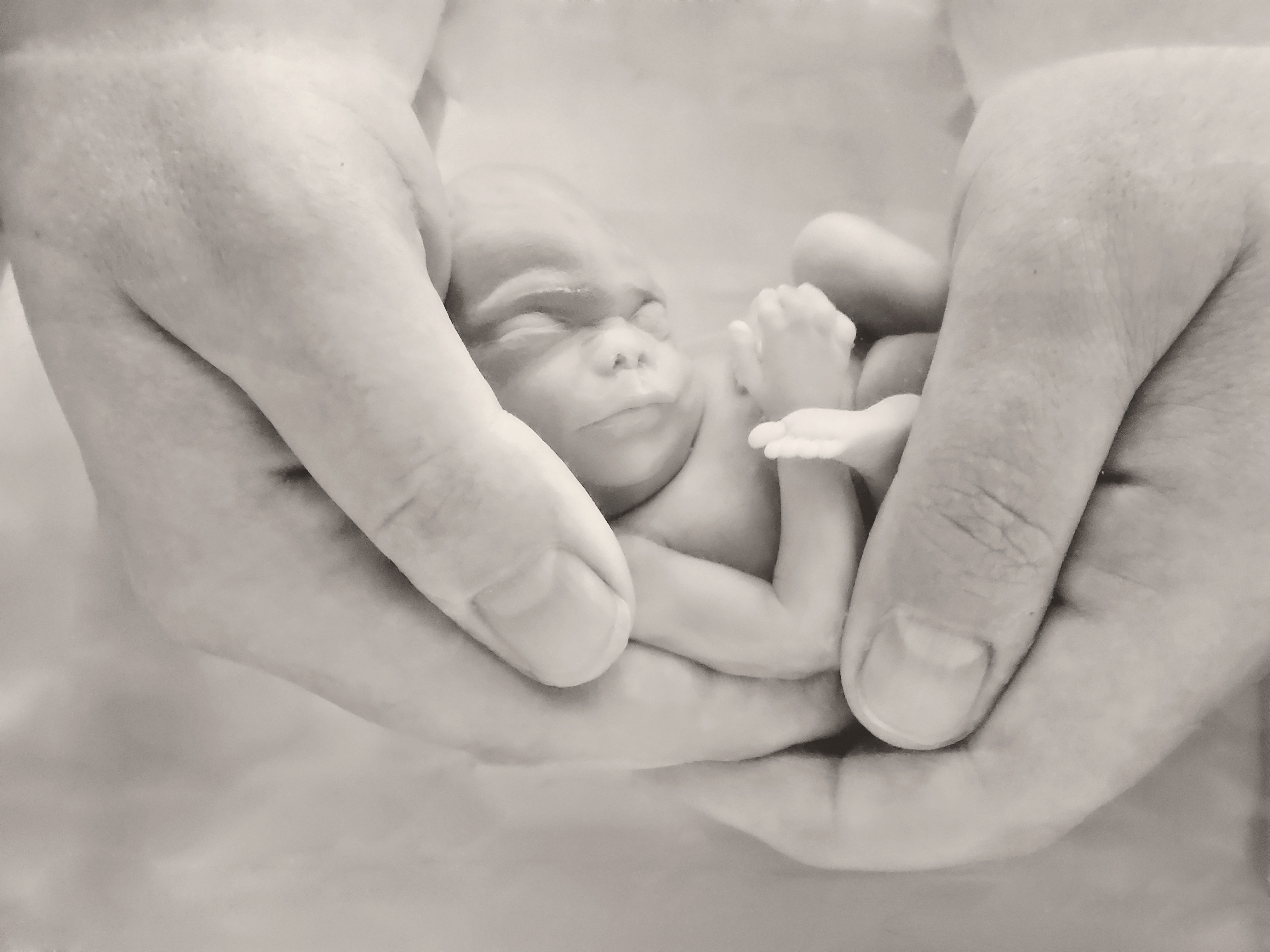 College sweethearts Christi Rawsii Nelson, a professional photographer, and her husband of 22 years, James, a systems analyst, live in rural Northern Indiana with their four biological and two adopted children–Anya, Danielle, Corban, Jadon, Jeuel, and Carmi–and four grandchildren.
Christi never imagined she would have a big family, adopt children, or homeschool them but is beyond grateful to God for her "crazy clan" of twelve.
Grasping for Proof
Christi told The Epoch Times: "Our first child was born five years after we were married. Young and naive, I never expected to have any problems after our first went well, so when we lost our second baby at 6 weeks, I grieved hard for a couple of months. I never saw any evidence of a baby, which left me grasping for proof that my baby existed.
"I decided I didn't want to get pregnant again until the due date had passed, so that gap of time would memorialize that little life. But the day after verbalizing that decision, I discovered I was already pregnant again."
Christi fell into a deep depression, expecting another miscarriage, but gave birth to a healthy baby boy. Her fourth pregnancy resulted in a healthy baby girl, the couple's first daughter, Jeuel.
The then-mom of four suffered from another early miscarriage during her fifth pregnancy, but this one was different.
"This time I actually saw my 9-week-old baby and held them in my hand, though I didn't know their gender," she said. "This was the heartbreaking moment that I realized how quickly a miscarried baby's body deteriorates in open air. After about half an hour, I couldn't tell that it was a baby anymore."
Christi and James welcomed a second daughter in 2016, then suffered another early miscarriage. Again Christi struggled with the loss, saying: "I put their little body in a plastic bag to try to delay the inevitable, but once again, after an hour, there was nothing to see. There were moments when I panicked because it felt almost as if they had never existed."
'God Led Us to the Solution'
Pregnant for the eighth time in her mid-40s, Christi felt safe when she made it to her second trimester. A blood test at 8 weeks confirmed the baby was a girl. Christi and James named their daughter Noa, meaning "movement" in Hebrew.
Christi had never lost a baby in the second trimester, nor experienced two losses in a row. At 17 weeks, Christi felt a strong kick that was then followed by a lot of movement.
Before her 20-week appointment, Christi tried a Doppler ultrasound scan but was unable to find a heartbeat.
"I shrugged it off and told myself there was a learning curve with these tools. I was glad I only had to wait one day for the midwife to use her 'real' doppler and reassure me Noa was fine," Christi said.
The next day, Christi was confident and thus went for her 20-week appointment by herself. As she climbed onto the table for the test, she was calm and excited to hear her baby's heartbeat. However, after trying for ten minutes the midwife was unable to find a heartbeat. Christi then asked her to try and schedule an ultrasound with a doctor across town.
However, Christi remained calm and optimistic, confident that everything was going to be okay.
James met Christi at the clinic, and the doctor quickly reassured them. However, two minutes later the doctor was still scanning and not speaking.
"The doctor really wanted to give us good news. After a year of reflection on this pivotal moment, I have to resolve to at least appreciate her for that," Christi said. "I looked at the screen and I saw the shape of my baby, but no movement and no numbers. I questioned her about it and she broke the news to me that there actually was no heartbeat."
The doctor confirmed that Noa had passed away and Christi crumbled. Holding it together until she and James reached the parking lot, Christi dissolved into her husband's arms. James's words empowered her: "We don't need to go to the hospital right now, it's not an emergency."
Although her heart felt like it was an emergency she quickly realized that her husband was right and that even after two days Noa would still be gone. They had time to go back home and plan.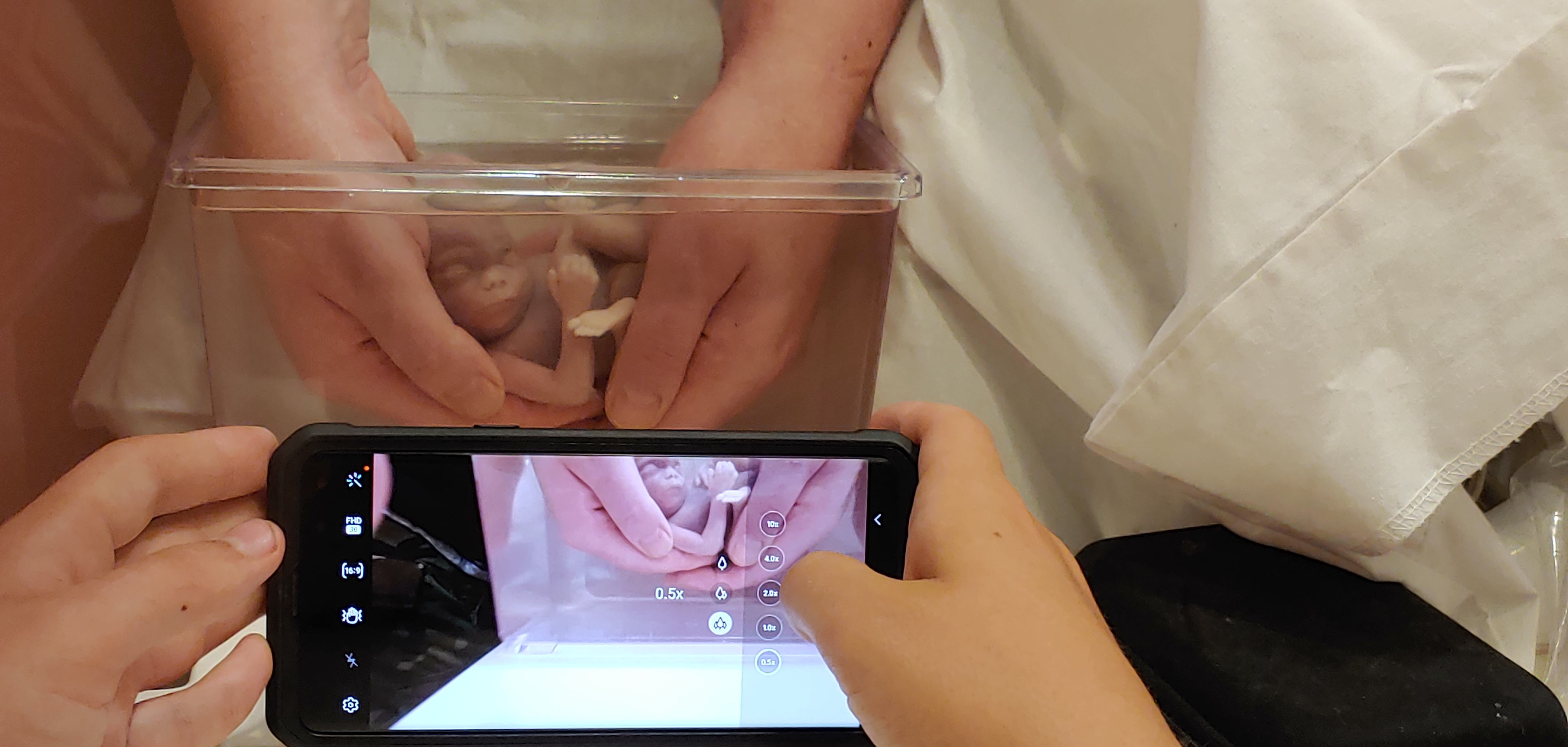 Knowing already that she wanted to deliver Noa naturally, Christi panicked as none of her local hospitals would oversee the induction of a baby that had passed in utero.
"I was not okay with a D&C [dilation and curettage], which would remove my baby in pieces and throw her in the trash before I could ever see her beautiful face," Christi said. "I was prepared to go against all medical advice and birth at home, at high risk to myself, to be able to see and hold my baby.
"We prayed and had many people praying for us. Without a doubt, I know God led us to the solution: Dr. Christopher Stroud in Fort Wayne. He agreed to induce me at Dupont Hospital. After two days of high-adrenaline self-advocating, I was finally able to exhale and process what was about to happen."
The Water Bath
Christi began to research stillbirth and wanted to be prepared for what was going to unfold. Her birth photographer, Heathyr Harkless of House of Hopes, also connected her with a former client, a mother who had memorialized her lost baby with photos for a memory box.
While grateful for the fellow mom's vulnerable sharing, Christi was concerned. "It helped so much to know what was ahead, but the pictures made me sad," she said. "It didn't look anything like a living baby … I was feeling deep angst that my baby would look like that, and that was how I would have to remember her."
The night before leaving for the hospital, Christi bolted awake, reminded of a story she had read online about a woman who placed her 8-week-old miscarried baby in a glass of water to see her better. Christi then wondered if she could place Noa in a water bath to preserve her tiny features.
"I remembered wishing I had done that with my early miscarriages, but the idea of doing this with a 20-week baby gave me serious anxiety," Christi said. "Would people in the hospital think I was deranged? Mentally unstable? I had haunting images of Dr. Gosling's aborted babies in jars, and I didn't want to do anything that resembled that horrific scene."
After much thought, Christi decided she needed this experience for closure. She secured the support of her nurses, midwives, and the photographer, Harkless, and also sourced the "perfect little clear tank" for Noa's water bath photoshoot.
Christi and James's friends and family, as well as church, and homeschool communities, sent meals and money for hospital bills. When Noa came into the world late at night on Oct. 1, 2021, they drove Christi and James's children to Dupont to meet their baby sister.
God's Design
Amid the chaos of the delivery room, Christi held Noa for the first time describing her as "so perfect and intact." But doctors soon whisked Noa away to address Christi's retained placenta and it was at least 30 minutes before she was reunited with Noa.
Christi said: "I teared up immediately because she looked completely different than when she was first born. Her tiny body had flattened and collapsed, and her skin was dry and red. I thought we had missed our opportunity to take good pictures underwater, but I was determined to try it anyways."
Christi described lowering her baby girl into the tank of saline water as "surprisingly cathartic … it felt like I was returning her to a transparent womb," she said. "She immediately regained her three-dimensional shape, and I could see all the details of her beautiful face.
"Her tiny little fingers each had fingernails. Her toes were perfectly formed. I was able to admire her, hold her hands, and marvel at God's design just like I did with all her living brothers and sisters … she was not a clump of cells or a pile of tissue. She was a perfectly-formed, tiny, beautiful human child."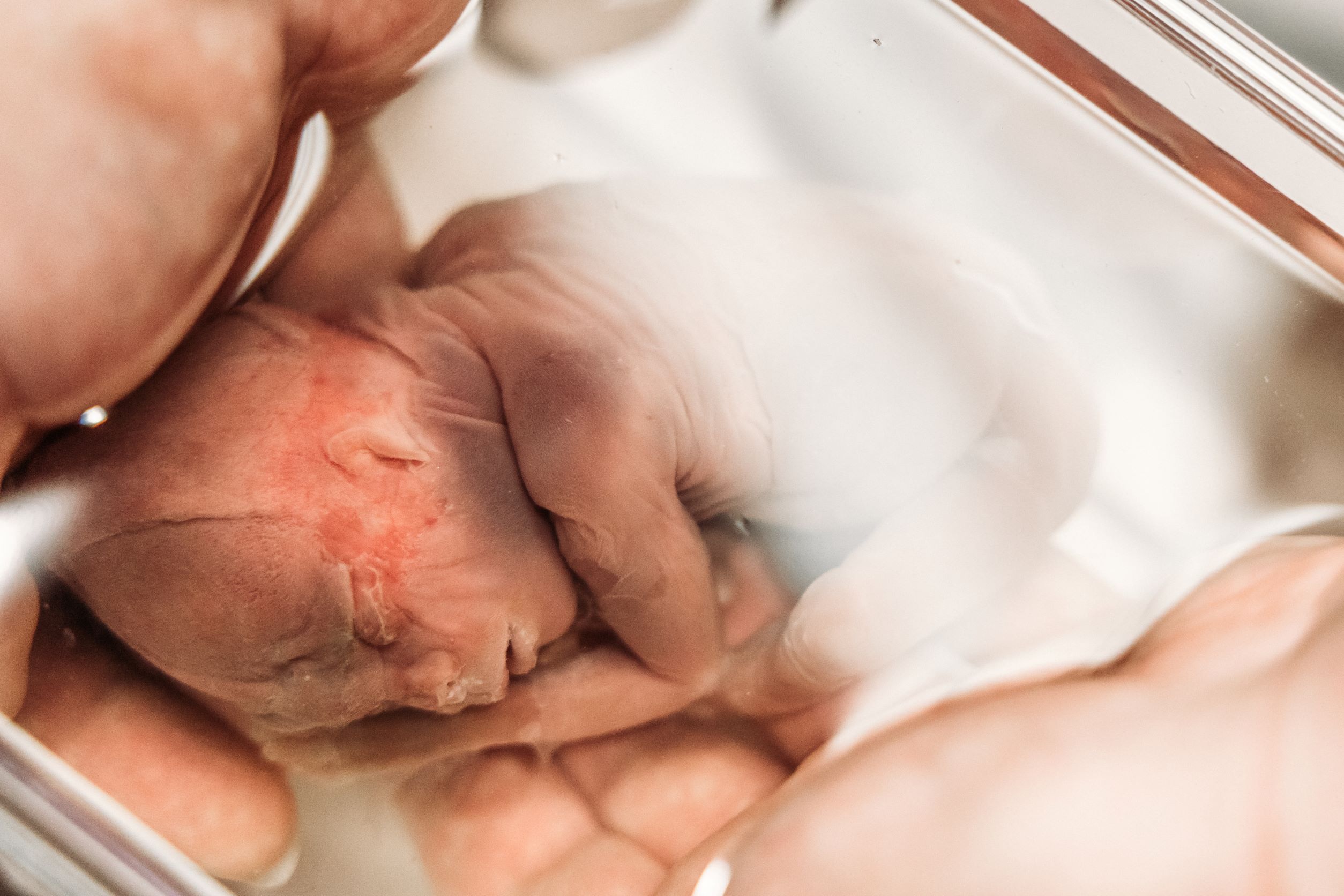 Christi's favorite photo of Noa is one in which the baby is cradled in her hands, taken by her 17-year-old son with his cell phone.
Because Noa's gestational age at the time of death was 18 weeks, Christi and James were allowed to take her home and bury her in the backyard. This gave each of the family members control over the grieving process, getting to spend two days with Noa.
"It was incredible to have the gift of time," Christi said. "It felt natural and organic."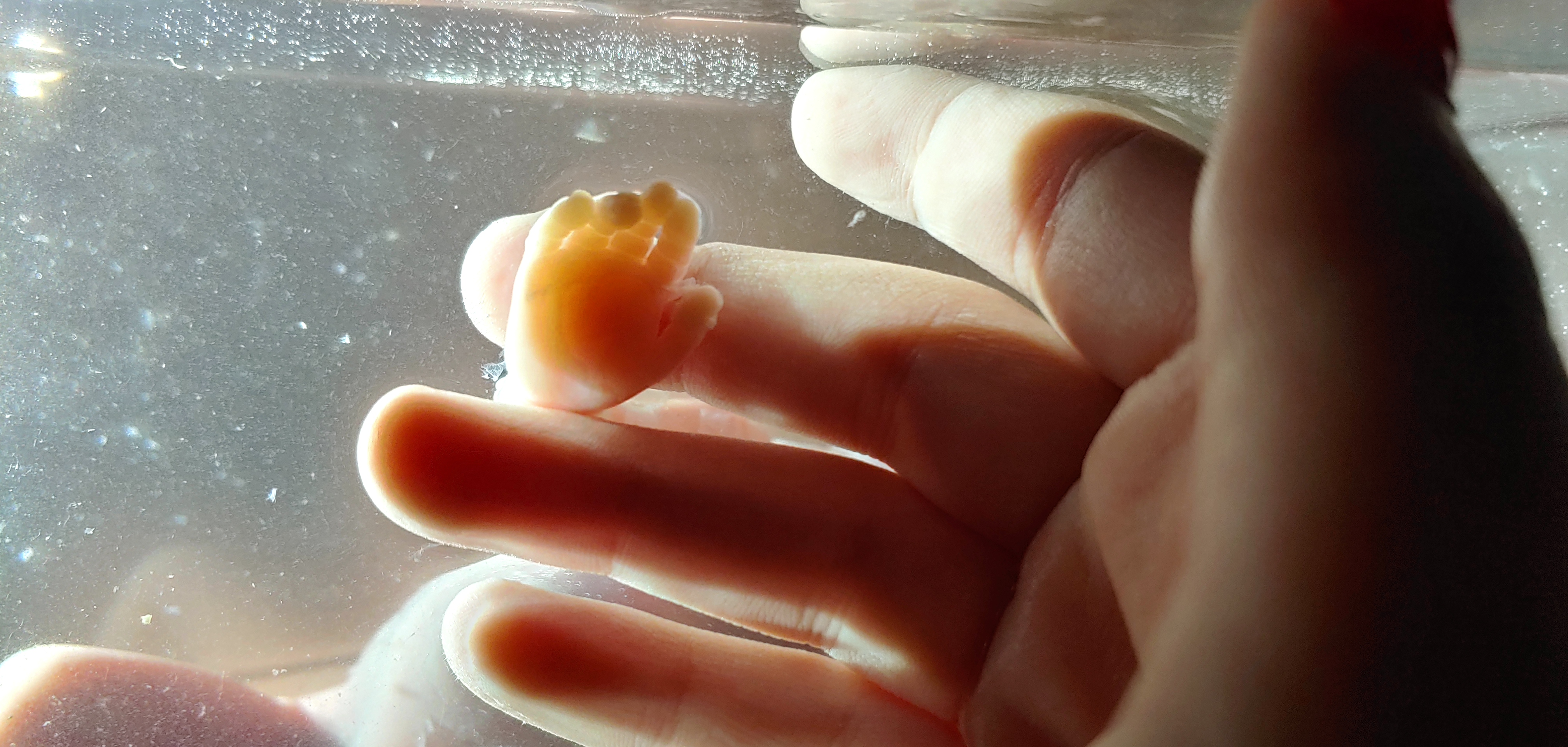 Advocate for Yourself
The family laid Noa to rest on a rainy day.
"It felt like God was weeping with us," Christi said. "We dressed her and placed her in a little handmade nest a friend crocheted for us. My husband made a wooden cross, and we wrote her name and our final words to her on it. It's a deep comfort to know that we will see her in Heaven one day."
Since sharing her story, Christi has heard from many women who lost babies in their second and third trimesters and were not able to hold their babies. She said: "Processing grief is a very personal journey, and I'm not trying to say that this approach is right for everyone, but I think this experience should be available to everyone … I can't imagine knowing what I needed to process and heal, and having that withheld from me by people who thought they knew better."
For anyone who has faced this tragic situation, Christi urges: "Advocate for yourself. Ask for what you need. Know your options. Take as much time as you need. Find a photographer who will take water bath pictures, or at the very least, take them yourself."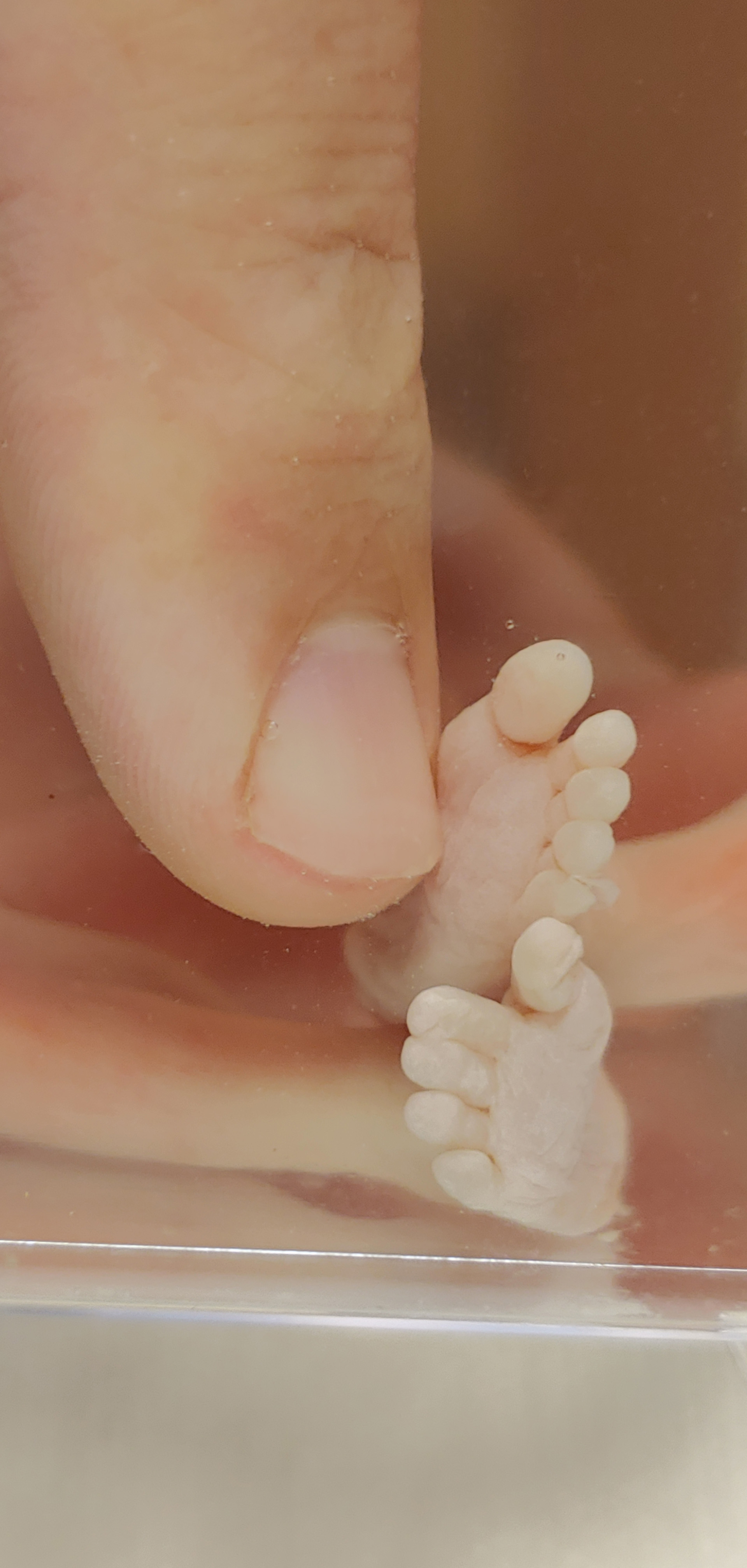 Christi hopes one day to provide education and training materials to hospitals, doctors, and midwives on water bath photography for miscarried and stillborn babies.
In sharing Noa's pictures online, Christi has received a wealth of online support from people across the country and even from those in other countries letting her know that her story has impacted them in meaningful ways.
"It feels like Noa's name, 'movement,' has a deep purpose," she said.
VIDEO: A 20-year-old mother placed her son for adoption. His new family refused to leave her behind….
AND FINALLY, LOVIN' LIFE…

VIDEO: A story about orphaned children that's actually inspiring and uplifting…

Thanks for reading and watching!