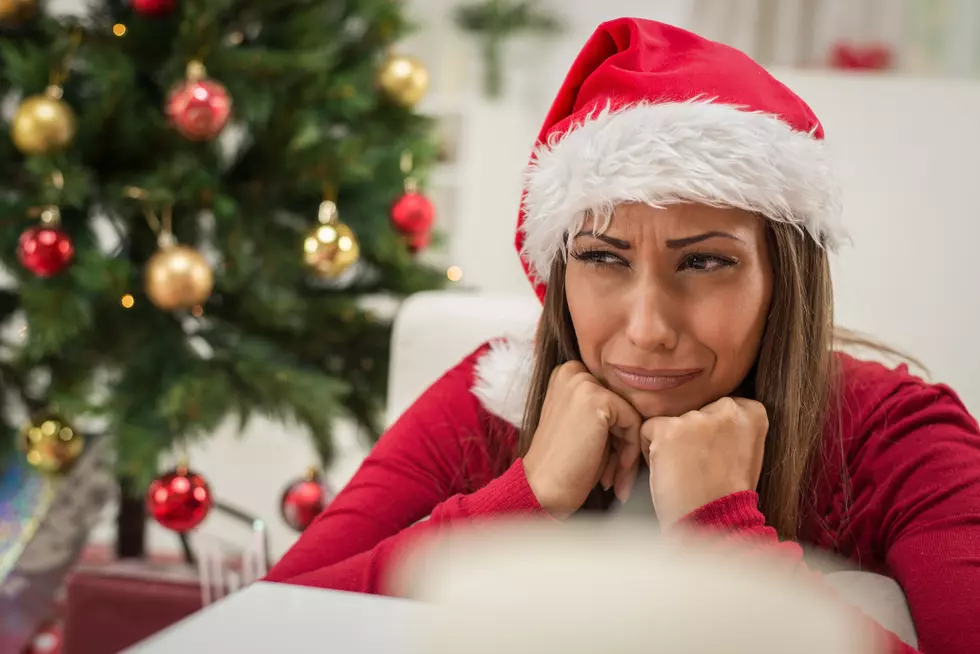 When you woke up this morning (Dec. 26) and thought the Christmas was over, you were mistaken.

On December 25, Christmas Day ushers in 12 days of celebration, ending only on January 6 with the feast of the Epiphany.

That means more Christmas symbols, decorations, music, parties, gift exchanges. Any of which could make an unhappy person even more miserable.

Gregory Jantz, PhD, the founder and director of the mental-health clinic The Center: A Place of Hope in Edmonds, Wash. writes:

A study by the National Alliance on Mental Illness found that 64 percent of people with existing emotional struggles (such as depression and anxiety) report that the holidays make their conditions worse.

In other words, life isn't a Hallmark movie, is it?
Who hasn't had "real life" intrude at Christmastime? If you've lived any length of time, you've undoubtedly had holidays when you experienced heartache, loneliness, grief, or disappointment. Perhaps you were grieving the recent death of a loved one, longing for someone away at war, lamenting a broken relationship, scraping by amid financial hardship, or battling illness in your own life or the life of someone you loved.
During the trying times in our lives, the holidays can feel like a season to endure rather than enjoy.

More from Jantz in a bit.

Every year about this time I think of a few reports I did when I worked at WUWM Milwaukee Public Radio. Come December serious news could slow down, but you always had holiday-themed stories to turn to (e.g. Are poinsettias poisonous to eat?).

One year I came across an ad in the newspaper about an upcoming discussion on the Christmas blues. Don't remember where it took place or who one of the featured speakers was (a psychiatrist/psychologist with an office on Milwaukee's SW side). But I recorded his presentation and he was down to earth, highly relatable, very interesting and knowledgable.

A memorable sound bite was his direct advice that it's ok to say NO at Christmastime. Don't want to go to Uncle Herman and Aunt Edna's boring holiday bash? Tell them NO, you're not coming. Same goes for any other event that has piled up on your calendar.

The following December I called the 'expert,' explained I saw him in-person and was impressed, and wanted to do a follow-up interview. At first he was reluctant but after reassuring him this wasn't anywhere near a 60 Minutes experience we had a very good conversation on tape via telephone.

If your Christmas is a festive one, Vijay Jayaraj, a Research Associate at the CO2 Coalition, Arlington, VA, suggests you help those who are in need:
This season, lend a helping hand to those around you, both the known and the unknown. But also pray for them to find the bread and water that will truly satisfy them. Pray for your neighbor, your friend, your relatives, your colleagues, and your leaders. And don't let opportunities to tell them the good news of Jesus' life, death, and resurrection to save sinners slip by unused!
Pray for the displaced people in the war-torn regions of Africa, the Middle East, and Asia. Pray for the young generation whose lives and future are under constant attack from cultural conflicts. Pray for the economic system and the need for sound policies that bring about growth in people's lives.
Pray for more than a billion people in our world who still use wood, cow dung, and coal for their daily cooking and heating needs. Pray for billions across Africa and Asia who still cannot access electricity on demand but instead live in abject energy poverty. Pray for wisdom among leaders in the developing world to use their time and energy to bring development to their countries.
Be assured, the Lord hears your prayers.

And what about…you? Finally, back to Gregory Jantz and his expertise. You, yes you can find joy if you're down:

Give yourself permission to not feel merry. If you're not feeling cheerful this season, there's no need to pretend that you are. When you're going through a tough time, chiding yourself for not feeling celebratory is one of the least helpful things you can do. Your experience is your own, and you don't need to live up to any preconceived ideas.
Give yourself permission to feel joy. Sometimes when we're going through hard times, we hesitate to admit to ourselves when we feel stirrings of happiness or joy, as if admitting their presence diminishes the significance of our pain. But joy and sadness aren't mutually exclusive—they can exist together in the season. Giving yourself permission to acknowledge joy when you feel it is an important step out of the dark place and into a brighter place.
Maintain activities that replenish you. If you're not careful, experiencing hardship can preoccupy you to the extent that you forget the activities that used to bring you peace and joy. A big part of healthy self-care is continuing the endeavors that invigorate you and make you smile. Take a moment to identify at least five activities that bring you happiness, such as meeting a friend for lunch, going for a bike ride, or playing a round of golf. Then begin scheduling these activities and following through.
Avoid unhealthy escapes. When we're struggling emotionally, it's tempting to turn to excessive eating, spending, or substance abuse. That's because we want to do something to change our mood. Of course, the list of unhelpful and unhealthy escapes could go on and on. Negative escapes only spread the negativity throughout your entire life.
Escape in healthy ways. Thankfully, not all escapes are negative or destructive. In fact, taking a mental and emotional break from the source of pain is a powerful way to improve how you cope, transform your perspective, and help you identify long-term solutions. An escape could be as simple as spending an hour with an enjoyable book by your fireplace or as elaborate as planning your next vacation.
Take good care of your body. One of the best things you can do to handle the hardships of life is to fortify your health and body. Eating right, getting enough sleep, and exercising regularly relieve feelings of anxiety, improve your mood, and energize your body, brain, and emotions.
Stay connected to the people closest to you. When you're dealing with depression, anxiety, or other struggles, the tendency is to isolate yourself from other people. But isolation only compounds any painful emotions that you're already experiencing. Reach out to people in your life who bring you happiness and offer you support. Studies have shown that social support can provide a key source of emotional energy and ongoing resilience. In the journey of life, your friends offer support during hard times, share laughter during good times, and believe the best about you at all times.