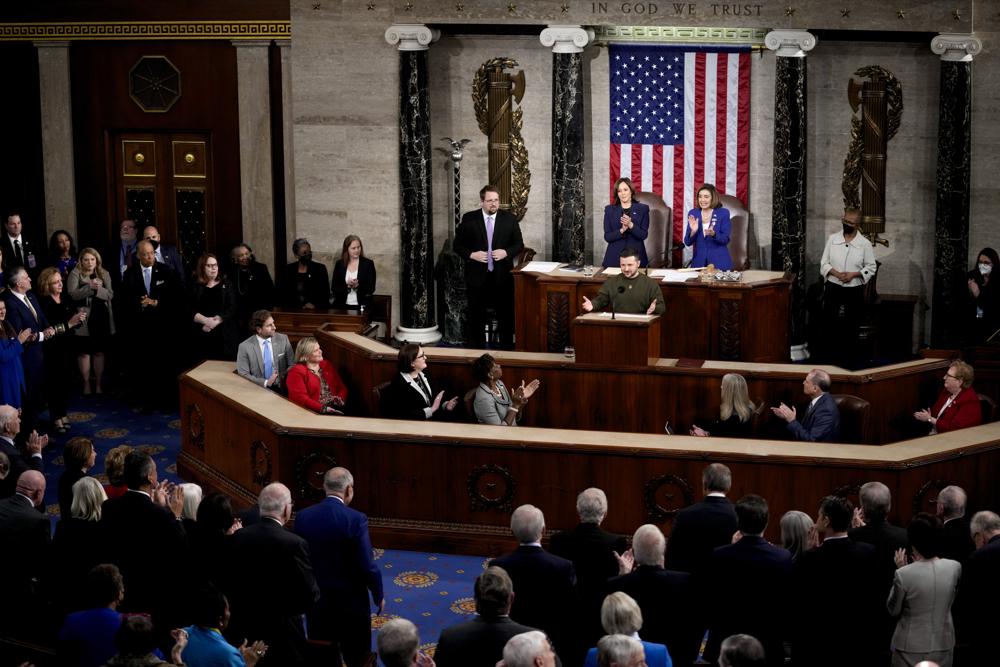 Ukrainian President Volodymyr Zelenskyy addresses a joint meeting of Congress on Capitol Hill in Washington, Wednesday, Dec. 21, 2022. (AP Photo/Carolyn Kaster)
I'd say he's greedy and the sincerity of his gratitude is questionable.
Ukrainian President Volodymyr Zelensky addressed Congress on Wednesday in his first visit to Washington since Russia's invasion. Zelensky said US assistance for Ukraine is not charity but rather an investment in democracy and security. Earlier, US Secretary of State Antony Blinken announced the United States would provide another $1.85 billion in military aid for Ukraine including highly advanced Patriot air defense system to help it ward off barrages of Russian missiles.
In a video released by his office, Zelensky was handed a signed Ukrainian flag and alluded to delivering it to U.S. leaders. "We are grateful for their support, but it is not enough," he said. "It is a hint — it is not enough."

I feel the need to issue a few disclaimers.

I support American assistance to Ukraine.

However, I support a reasonable amount of assistance.

Just how much do Zelensky and members of Congress believe is enough?

Jordan Boyd of The Federalist wrote this before Zelensky's visit:
It may be Zelensky's first time leaving Ukraine since the war with Russia began, but it's not his first time appearing before an American audience to beg for more money. And it certainly won't be his last. Already, Zelensky is prepared to use his congressional address to complain that the beaucoup bucks the U.S. has thrown at Ukraine in the last 10 months — more than $100 billion total if the omnibus passes — is still "not enough."
Despite the financial strain Ukraine has put on the United States, the swamp is ready to welcome Zelensky with open arms. You wouldn't know it from corporate media coverage, but that's problematic. Here's why.

Boyd offers plenty in his column.