THERE ARE THOUSANDS AND THOUSANDS OF FOOD BLOGS, BUT ONLY ONE CULINARY NO-NO!
Let's make this really easy. At least I think it's not rocket science.

Suppose you and your significant other go out for a casual dinner. The final bill arrives and the total is $75.00. What tip should you leave?

Before the answer I would suggest that the majority of folks in the restaurant you dined at have absolutely no clue about the proper way to leave a gratuity. No idea whatsoever. So the wait staff suffers.

What's the deal? Let's consult with bankrate.com:

The size of a restaurant gratuity depends on how well you are served, including whether your order is correct and your server checks on you after you receive your food. Even if the service is bad, it's recommended you leave something. Check your tab carefully because some places add a gratuity to the bill. You may or may not want to supplement that.
For the wait staff at sit-down restaurants, the tip should be 15 to 20 percent of the pretax bill.

Got that?

15-20%.

In the above example, if that was me, the tip would have been $15.00, if not more depending. However, not only are diners in the dark about tipping not everyone is a math major. So here's an idea. Why not just get rid of tipping? How about restaurants just include the tip on the bill to make matter super simple?

Why not Tracy Saelinger wrote in 2013:

Imagine that the next time you went out for a nice meal, the tip line had disappeared from the bottom of the receipt. Admit it, after some initial puzzlement, you'd probably feel a sense of relief—and that's exactly what happened to diners at a high-end sushi restaurant in New York City, Sushi Yasuda, which recently eliminated tipping and integrated the cost of the service into the food, in an effort to give diners more of a true Japanese dining experience.
Having dined in Tokyo, I first applauded the idea—eating out in Japan, or paying the bill anyway, is a refreshing experience for an American. The bill is what it is—no math, no guilt about wondering if the waiter has to split his tips, or if he'll lose a cut to the credit card company. And there are no games, like in Europe, where you think there's no tipping, but the guide books tell you that you're supposed to round up and leave your change. Tipping is so unwelcome in Japan, some servers even find it offensive.
So what if more American restaurants followed suit and started to pay waiters and waitresses a salary? 
That was 2013. More recently and not surprisingly the concept caught on in California, San Francisco to be exact, at restaurants like Zuni on Market Street.
At because it was California and so novel it went over well, right?

Not so fast.

Zuni began to catch Hell back in summer. From the waitstaff. Inside Hook reports:

Servers complain they're now the ones finding it hard to make ends meet — and clamoring for a return to the tip-outs of yore.
Lowell Clark has been a front-of-house worker for close to 30 years and currently serves as one of three captains at Hayes Valley's acclaimed Nightbird…while Clark understands the logic behind no-tipping policies — and has even worked in restaurants where they have been adopted — he's not a fan. Not only, he says, do such models mean servers make less than they once did, but they also miss out on the sense of reward for going above and beyond.
"There's something that you feel inside," he says, "whenever someone is rewarding you for the time that you spent and the things that you did and the person that you are, and how that added to their experience." Without the opportunity of earning more for a job well done, servers could find their motivation mitigated.
"I think when you take away the possibility of reward, then you diminish that level of pressure," he says. "And I feel like having a little bit of that pressure. It elevates the diner's experience.

And let's go back to Tracy Saelinger, who was warning about the problems with no-tipping back in 2013:
Funny enough, studies show that all-inclusive restaurants—where 15-percent service costs are built in to the menu pricing—are perceived by diners to be higher-priced, says Mike Lynn, a professor of consumer behavior and marketing at the Cornell University School of Hotel Administration. "It's true even with 20-percent tippers, even though the all-inclusive restaurant would have been cheaper for them," he said. "Diners don't like being forced to do anything."
And think about it: With tipping, diners are paying different amounts for the exact same meal, Lynn points out—which means more generous customers are being penalized. A recent survey even found that 63 percent of Americans felt pressure to tip even when the service was bad.
So, score one for restaurants. But customers benefit from tipping, too, through the old rewards-and-motivation system. "More competent servers want to work for tips," Lynn says, whereas the "slackers" tend to prefer the flat-salary system.
Take away tipping and you run the risk of taking away good service.

Ideally we keep tipping, and consumers finally learn how to tip correctly and fairly.

CULINARY NO-NO BONUSES

Crumbl is in a cookie war
I don't care what the price of beef is…NO WAY!
Cost of Candy Soars by Record 13.1 Percent Before Halloween
By Bryan Jung, The Epoch Times
October 14, 2022
Candy prices in the United States are soaring right before Halloween due to rising inflation.
American consumers are expected to spend a record $10.14 billion on Halloween this year, up from $8.05 billion in 2021, according to the National Retail Federation.
Trick-or-treating and Halloween parties are making a comeback after the pandemic curtailed such festivities.
"Americans plan to spend more than ever to make this Halloween a memorable one," said NRF president and CEO Matthew Shay.
The average consumer is expected to spend $102.74 on costumes, candy, decorations, and greeting cards, according to the NRF's annual survey, conducted by research firm Prosper Insights & Analytics.
At least $3 billion will be spent on candy, reported Fox Business.
However, prices for the popular Halloween treats, jumped 13.1 percent in September from last year, according to the government report, putting a dent in many celebratory plans.
Meanwhile, millions of Halloween shoppers are buying up candy well in advance, because of the supply issues and rapidly rising costs.
The NRF survey found that 45 percent of Halloween buyers shopped early in September, while 39 percent planned to make their purchases. during the first two weeks of October.
Inflation Hits Trick-Or-Treaters
Average inflation rates were up by an annual basis by 8.2 percent last month, as consumer prices hit a 40-year high, according to the latest inflation data from the Bureau of Labor Statistics.
The Consumer Price Index (CPI) in September, rose 0.4 percent, while the core CPI surged 0.6 percent.
The core consumer price index, which excludes food and energy, is up 6.6 percent from a year ago, at the highest level since 1982.
Food prices, including candy, have increased by 0.8 percent, while the cost of food at home is up 0.7 percent.
Prices have also risen in all six major grocery store food categories.
"As the COVID pandemic has shifted to the background, inflation has become public enemy number-one. Awaiting the monthly update on prices at the retail level, it appears the year-over-year change in the CPI will remain elevated through the end of the year," Bankrate.com senior economic analyst, Mark Hamrick told Fox Business.
"There has been relief from high gasoline prices which tend to aggravate consumers the most, but elevated food and shelter prices appear to be sticking around for a while as unwanted visitors."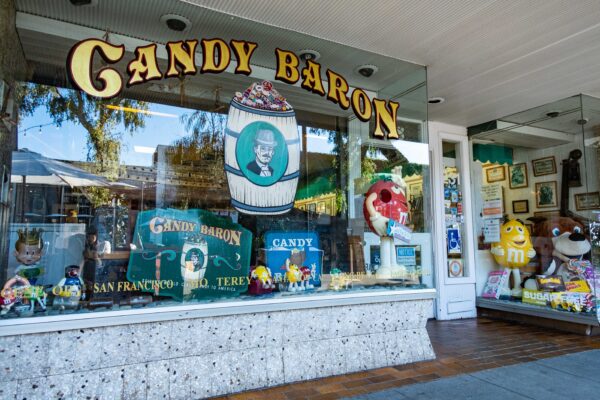 Cocoa and Sugar Shortages
One of the reasons behind the rise in candy prices is the rising cost of one key ingredient, sugar.
Refined U.S. sugar prices skyrocketed this year after drought slammed the beet-sugar crops used to make sugar in states up north.
Cocoa prices also took a hit in recent months, partly because of rising operational costs for chocolate makers.
The price surges for cocoa and sugar come just as the candy industry recovers from the supply chain chaos caused by the pandemic.
Another blow to the chocolate industry is the war in Ukraine, which affected cocoa producers, due to a lack of fertilizer.
Cocoa-producing countries are heavily dependent on fertilizer to grow the precious beans, due to the poor quality of the soil in those regions, according to Comunicaffe International, which covers the chocolate industry.
Fertilizer prices, which have been soaring in recent years, will likely worsen due to the ongoing Russia-Ukraine conflict.
Russia is one of the largest global exporters of important ingredients used to make fertilizer, such as nitrogen, phosphate, and potassium.
International sanctions on Russia are hurting global cocoa production by hampering the sale of fertilizer required to grow cocoa beans.
In addition, rising freight charges due to energy shortages are also having an effect on prices.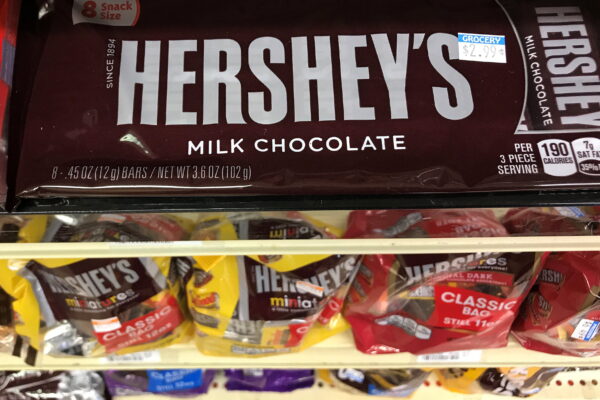 Hershey admitted back in August that it was unable to meet the demand for Halloween.
The Pennsylvania-based chocolate producer, hiked its prices 14 percent back in June, while its Swiss-based rival, Nestle increased its U.S. candy prices by 9.8 percent in July.
Many food companies are also reducing the size of their products to keep price rises from consumers, in what is referred to as "shrinkflation."
Packages are being made smaller, while the price of the foodstuffs remains relatively the same.

ICYMI, Culinary no-no #749, Baseball clubhouses have gone healthy