Every Friday night we smooth our way into the weekend with music, the universal language. These selections demonstrate that despite what is being passed off as art today, there is plenty of really good music available. Come along and enjoy.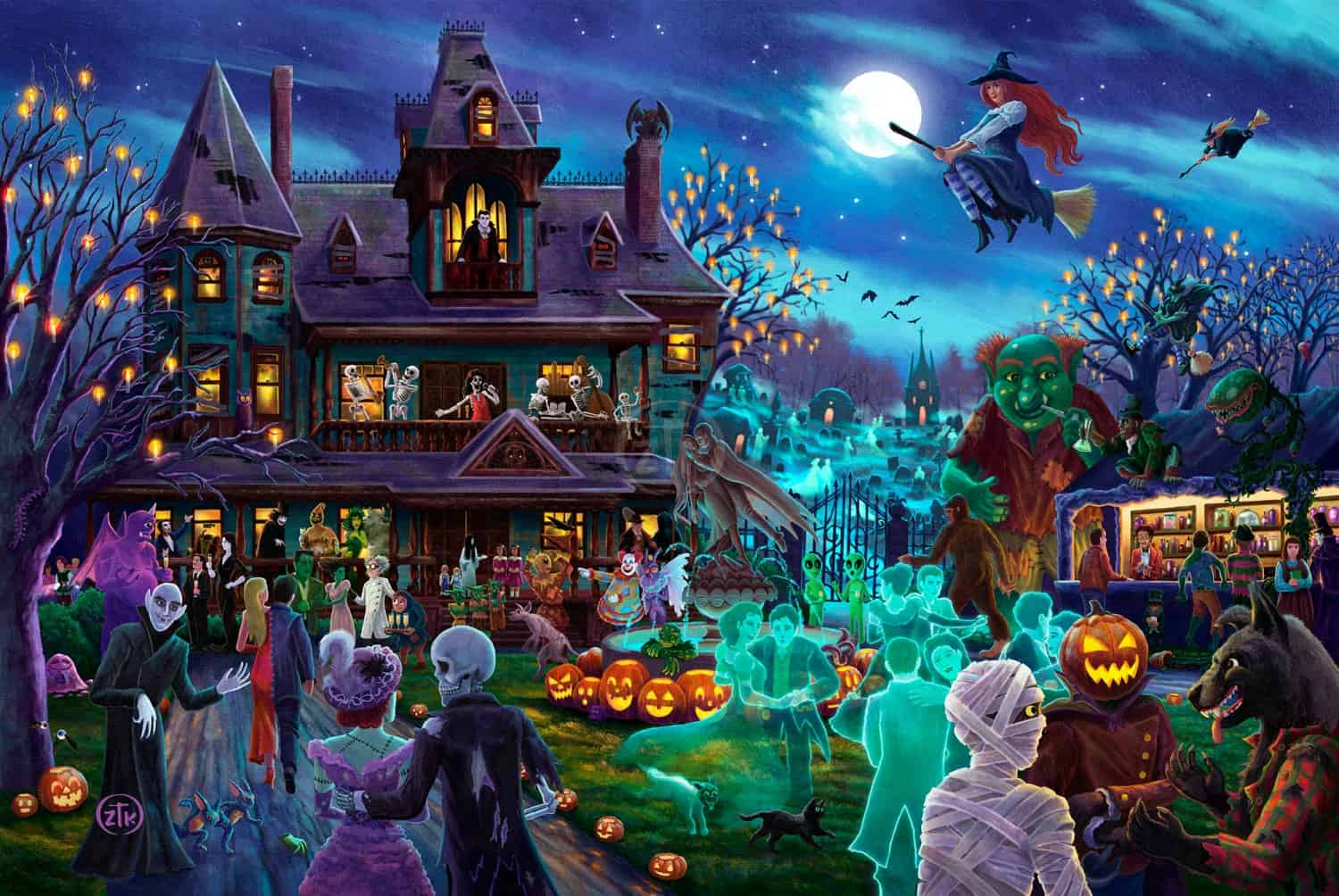 The scariest month of the year has arrived. Many styles of music offer Halloween fun that gets spookier as the season rolls along. This week, Halloween musical fare on the lighter side. Let's get started.

This popular TV series aired from September 1964 to March 1972 on ABC.
Did you know the TV theme has lyrics?
In 2002, "Bewitched" was ranked #50 on "TV Guide's 50 Greatest TV shows of All Time."

The 1950's unveiled a wave of "cheap teen movies" designed for the drive-in market, called "exploitative, cheap fare created especially for [young people] in a newly-established teen/drive-in genre" by film historian Tim Dirks.

Actor Steve McQueen got his career started in one.
The film's campy theme song was written by Burt Bacharach and Mark David (NOT Hal David, Bacharach's famous partner).
Beware of the blob, it creeps
And leaps and glides and slides
Across the floor
Right through the door
And all around the wall
A splotch, a blotch
Be careful of the blob
The late conductor Erich Kunzel was Cincinnati's answer to the Boston Pops.
At Walt Disney World in Florida the Hollywood Studios has a unique restaurant called the Sci-Fi Dine-In Theater. From the theme park's description:
Pull up to a car-shaped booth or table and chow down at our "drive-in" playing thrilling, chilling sci-fi scenes.
It's always showtime at the Sci-Fi Dine-In Theater Restaurant, where you'll find scrumptious items on the menu and scary clips on the screen: attacking aliens, marauding mummies, rampaging robots and more.
It's a hoot.

How about some Mannheim Steamroller?
Excuse me, Kev, but isn't that the Christmas group?

Yes it is. They've sold more Christmas music than anybody.

BUT… they've also recorded some Halloween material.
Bobby (Boris) Pickett, whose Boris Karloff impression propelled the Halloween novelty song "Monster Mash" to the top of the charts in 1962, making him one of pop music's most enduring one-hit wonders, died in Los Angeles in 2007 of leukemia at the age of 69.
Mr. Pickett's multimillion-selling single hit the charts three times: on its original release in 1962, when it reached No. 1, and in 1970 and 1973.
The song was backed by a band christened the Crypt-Kickers and a little-known piano player at the time named Leon Russell. Four major labels rejected the song before Gary Paxton, lead singer on the Hollywood Argyles' hit "Alley Oop," released "Monster Mash" on his own.
Pickett remained in demand for Halloween performances and continued singing the song through his final concert date. In one memorable show, in 1973, his bus broke down ….outside Frankenstein, Mo.
For more than 50 years families have gathered around the television to watch the Peanuts gang debate whether or not the Great Pumpkin actually exists, only for poor Linus to fall asleep in the pumpkin patch, never to learn the truth.
But if you hope to continue the tradition of watching "It's the Great Pumpkin, Charlie Brown" with your family this year, you'll need to have a subscription to a particular streaming service.
Apple TV+ acquired the rights to "It's the Great Pumpkin Charlie Brown" (along with "A Charlie Brown Thanksgiving" and "A Charlei Brown Christmas") in 2020.
After some backlash Apple TV+ agreed to allow PBS to air the specials in 2020 and 2021. However, that does not seem to be the case this year.
"Regretfully, PBS does not have the rights to distribute the Peanuts specials this year," @PBSKIDS replied. "We'll all have to watch for the Great Pumpkin in a different pumpkin patch this Halloween."
So, unless something changes, or you have the special on DVD, VHS or another recorded format that you can play, you'll need to be subscribed to Apple TV+ to catch the special this Halloween season. There is currently a seven-day free trial for the streaming service. After the trial, the price is $4.99 a month.
That's it for this week.

Goodnight.

Sleep well.

Have a great weekend.

We close with a medley of music from a 1966 film that is vintage Don Knotts who stars as a timid typesetter who hasn't a ghost of a chance of becoming a reporter – until he decides to solve a murder mystery and ends up spending a fright-filled night in a haunted house. Luther Heggs (Knotts) visits an old estate at the witching hour of midnight. Certain he's seen a ghost, Luther writes a story which makes front page news – and brings on a libel suit from the mansion's owner. It's up to him and his devoted girlfriend (Joan Staley) to clear his name and uncover the mystery of the hauntings – and the true murderer – in this timeless comedy classic.