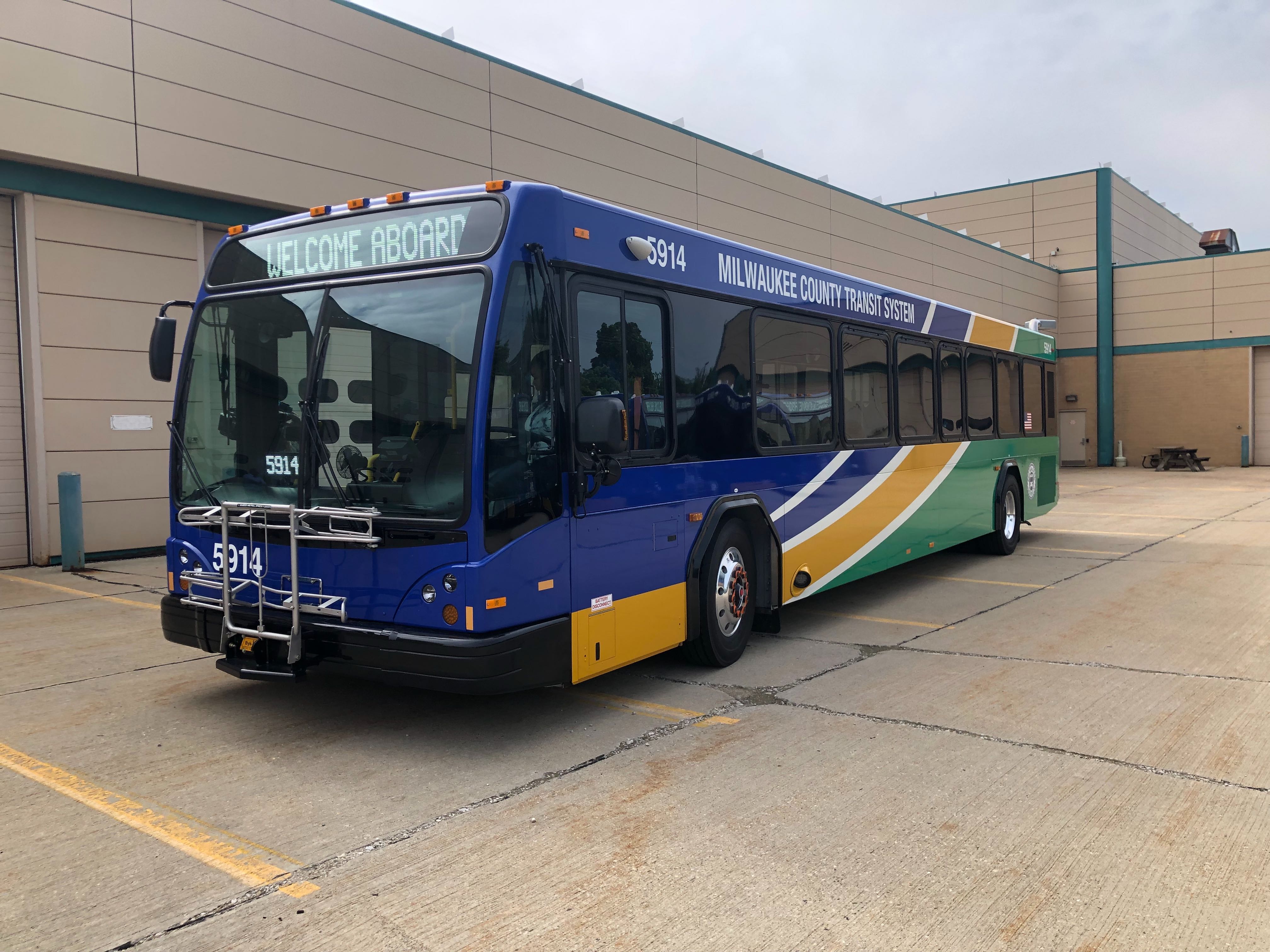 The Milwaukee County Board's Transportation and Transit Committee has voted to provide no-cost bus service and paratransit trips to polling places on November 8, 2022, and allocate $63,000 to cover the costs.

The resolution approved by the committee states:
WHEREAS, inscribed on the eastern façade of the Milwaukee County Courthouse are words, "Vox populi vox Dei", Latin for "The voice of the people is the voice of God"; and
WHEREAS, Founding Father Thomas Paine once wrote, "The right of voting for representatives is the primary right by which other rights are protected"; and
WHEREAS, Milwaukee County is often behind other Wisconsin counties in turnout of eligible and registered voters, as evidenced by the 2020 turnout of registered voters:
Dane County: 89.3%
Milwaukee County: 83.67%
Ozaukee County: 92.55%
Washington County: 94.66%; and
WHEREAS, for many people, transportation to their polling place can be an impediment to voting, effectively disenfranchising them from the electoral process; and
WHEREAS, the estimated cost to provide transit and paratransit service at no cost to the passengers on Election Day is estimated to be $63,000; and
WHEREAS, Milwaukee County wishes to display the importance of voting and encourage all citizens to fulfil their civic duty of voting unencumbered by allowing no-cost access to public transit, and providing no-cost paratransit trips to a person's polling place on Election Day; now, therefore,
BE IT RESOLVED, Milwaukee County hereby supports and encourages all eligible electors to vote on Election Day on November 8, 2022, and authorizes bus services and paratransit rides at no cost to passengers to a person's polling place; and authorizes bus services and paratransit rides at no cost to passengers to a person's polling place.
Milwaukee County Supervisor Patti Logsdon who represents part of Franklin objected.

"If somebody wants to go somewhere on a Milwaukee County bus and they do not have the funds for it, any of us can get on a bus on any day and get a free ride. They will not kick you off. I don't believe we have to make a resolution."

A county official who appeared at the committee meeting this week said Logsdon was correct.

"They do have this privilege already," Logsdon added. "We are supposed to be stewards of our constituents' taxpayers' money and we're willing to take away revenues that we have coming in. We're in dire straits in Milwaukee County. We can't keep spending money."

Logsdon noted she has talked to state legislators about providing greater financial assistance to Milwaukee County.
"And this is exactly what they respond to me As soon as these supervisors stop spending money that you don't have to spend, we'll think about it."
The Transportation and Transit Committee voted 4-1 to approve the bus rides on Election Day with Logsdon voting no. the full county board takes up the matter in a few weeks.

Free bus rides for votes. Reminds me a bit of the old "smokes for votes" scandal in Milwaukee.

In November of 2020 Dan O'Donnell of NewsTalk 1130 WISN wrote:

In the final days of the 2000 presidential campaign, longtime Democrat donor Connie Milstein traveled from her home in New York to Milwaukee while working as the Chairwoman of the Democratic National Committee's Major Supporters.
Her mission was to register as many voters as she could…any way she could.
On Saturday, November 6th—three days before Election Day—she and some employees went to the Milwaukee Rescue Mission to get homeless men to vote absentee.

If they did, she would give them packs of cigarettes.
WISN-TV interviewed Milstein, who admitted that "we've been pretty busy, going to the local shelters."
Patrick Vandenburgh, the executive director of one of those three shelters, told investigators that Milstein and six other Gore volunteers approached the men, who initially did not want to register.
They changed their minds when the Gore team held up a pack of cigarettes. Milstein's team drove them to City Hall, where they picked up absentee ballots and voted.
The scandal became known as "Smokes for Votes" and was an obvious attempt at bribing voters, but Milwaukee County District Attorney E. Michael McCann—a Democrat—was reluctant to prosecute such a high-ranking DNC official.
Even though the evidence was overwhelming that the Gore campaign was engaged in a vote fraud scheme, McCann brought no criminal charges and Democratic Attorney General Jim Doyle (who would be elected Governor two years later) refused to investigate any further.
The following May, Milstein agreed to pay a $5,000 civil forfeiture.