Every Friday night we smooth our way into the weekend with music, the universal language. These selections demonstrate that despite what is being passed off as art today, there is plenty of really good music available. Come along and enjoy.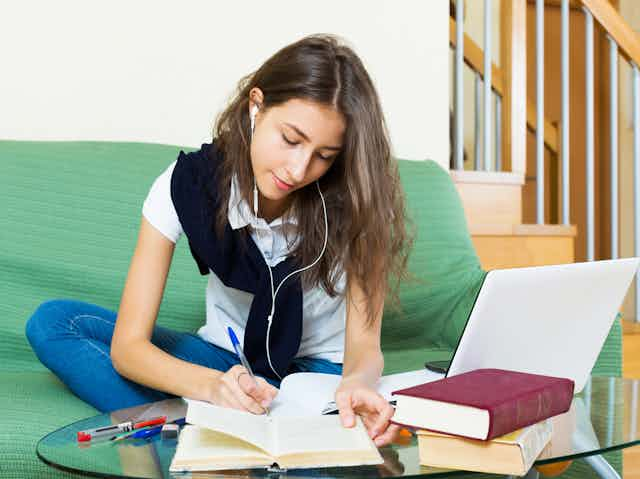 School students are back at the books these days. That means hours of studying. To help them get through the exercise many will turn to music. But what kind?
A recent survey of 2,000 Americans conducted by OnePoll on behalf of CSU Global looked at the tie between music and study habits and found those who played music were likelier to have a GPA above 3.2 (84% vs. 78%).

This week's feature, the best music for better grades. We'll examine the top five genres.

Results of the survey show that half of respondents recall regularly listening to music while studying (49%), and 60% said they were able to study better with sound on in the background.

What do people recommend for a productive study session?

#5

26% said Oldies. For today's students that would mean 80's, 90's, etc. For me…
That's from Side B of 1981's The Long Play Album/Stars On Long Play/Stars On 45 album that reached #9 on the U.S. charts. The hit single from the album by the Dutch soundalike studio group was medley dominated by Beatle Songs.
Of those that do listen to music while studying, 80% agree that it is therapeutic and 75% said it helped them absorb information.

NUMBER 4!

26% said Rock.
In 1972 bassist John Lodge of The Moody Blues wrote a song about how, at the time, people reached out to rock stars for answers to the world's problems. Lodge's response? I have no answers.
This comes as no surprise. Younger students are more likely to multi-task while jamming. Fifty-eight percent of 18-25-year-olds noted they listened to music while studying, compared to only 41% of 58-76-year-old respondents.

"Listening to music while studying can be an extremely helpful tool for some students in improving their focus," said Dr. Christina Agvent, program director of teaching and learning at CSU Global. "I encourage all to explore different genres or other sounds to discover what may be the best fit for them in aiding their educational experience."

#3

28% said Country.
Kostas Lazarides wrote this next song with Harlan Howard.
"All I remember is that I was getting together with Harlan to write the next (day). … It seems to me that this was going to be our first encounter ever writing together," said Lazarides.

"We had talked about it prior to that, and we set up this particular date. I would be coming to Nashville from Montana and hanging out a month, two months at a time. I'd be staying at Shoney's (Inn) on Demonbreun at that time. And what a carnie that was! That was a festival going on there every day in the parking lot with all the tourists and all. I was going to be writing with Harlan at 9 or 9:30 the next morning, which is on the face of it, just that alone writing at 9 or 9:30 with anybody, sounds really dumb to me.
"So, we ended at maybe 10:30 or so. And after(ward) I put it down on my little cassette recorder. Then he and I proceeded to go over to Toucan Bar, and then I was just so burned out, I just kind of crawled back over to Shoney's and called it a day. Actually, I called it a day and night and a day again. I must've been tired.
"The song then got into the hands of the pluggers. I told the guys in the room there, and so did Harlan, that we needed to get the song over to Patty Loveless. We both agreed that it would be the perfect song for her. They didn't want the song. They thought it was a ditty. I thought to myself, "This can't be happening. If this is a 'ditty,' then what is this town made of?" Because ditties can still be great songs. I don't know what a ditty is to begin with.
"This was about two or three months after the song came into existence, (Patty's camp) kept rejecting it for those two or three months. Then as soon as that camp discovered that Deborah Allen recorded it for the movie ("The Thing Called Love") and that she was going to release it as a single."

The song went to #1 on the country chart.
Is that not classic country?

God love Patty Loveless!

Back to the survey.

Music listeners felt they had an easier time taking tests (64% vs. 45%) and felt more prepared for class regularly (80% vs. 66%).
While the average person spent five and a half hours studying every week, those who enjoyed music were more likely to spend upwards of seven hours a week.

#2

28% said R & B.

November 19, 1967…
This concept of music while studying applies beyond the classroom.
Currently, two in three Americans listen to music while working. Most of those respondents feel more productive at work when listening to music (89%), and said that it makes them look forward to working more (84%).
That's it for this week.

Goodnight.

Sleep well.

Have a great weekend.

#1

31% said Classical.
You remember her, don't you?
Bo Derek starred in the 1979 romantic comedy "10" as she frolicked on the beach in that famous wet, flesh-colored swimsuit.
Folks who had never heard of Maurice Ravel's "Bolero" that was used in the film became fans overnight. Ravel's most noted composition came about in 1928 when he agreed to write a piece for a friend, Russian dancer and actress Ida Rubinstein.
While Ravel was vacationing in Saint-Jean-de-Luz he was about to go for a swim, but first summoned a friend over to a piano and played what would eventually become Bolero with one finger. Ravel asked his friend, "Don't you think that has an insistent quality? I'm going to try to repeat it a number of times without any development, gradually increasing the orchestra as best I can."
Insistent is right. The snare-drum pounds relentlessly. The solitary theme starts slowly, but gradually keeps building, building. And then the final explosive crescendo.
Other genres that made the list:

Gospel
Jazz
Hip hop
Pop/Top 100
Instrumental soundtracks