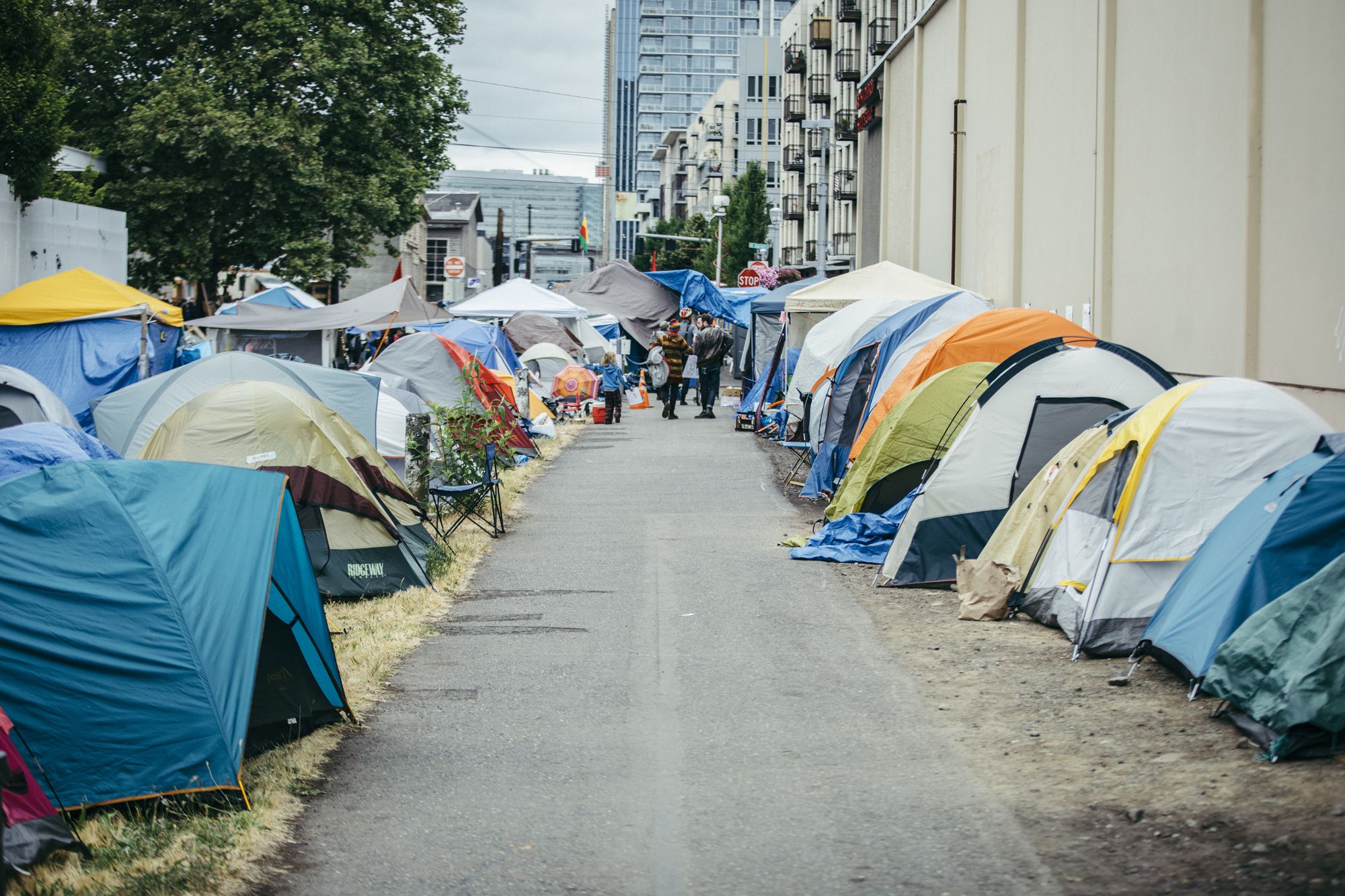 The long-running deterioration of the quality of life in big cities run by blue leaders is well-documented.

Take Portland which some say is the next Detroit.
"Guys, I found another needle!" shouted a woman wearing an "Oregon Women for Trump" T-shirt. She picked up the syringe with her grabber and held it in front of her cellphone for a photo.
She was one of 50 people searching for trash Jan. 25 in a football field-sized grassy lot adjacent to the Days Inn in Salem. The scent of fried chicken from a nearby Denny's hung in the air.
From afar, the group looked as if it might be performing court-mandated community service. In fact, it was part of a campaign to prove homeless camping had turned Oregon into a garbage dump.
—wweek.com, January 29, 2020 at 5:32 am PST
A couple of weeks ago, Mike Holzgang sat down for lunch with a client he was showing downtown Portland office space.
"There's no way in hell we're renting here," the client told Holzgang, a commercial real estate broker for Colliers.
As they entered the building Holzgang was showing, the client explained, somebody reached out from a tent on the sidewalk and tried to grab the client's ankle. That was a deal breaker.
—wweek.com, February 17, 2021 

"Portland is broken," (U.S. Rep. Earl Blumenauer) said in a statement in February announcing his reelection bid. In a recent phone call, Blumenauer laid out his reasoning.
"We haven't done everything right, but anybody who watched the trajectory of Portland, I think, realized that we earned a reputation as a community that was growing and thriving and was a magnet," he said, speaking of the city's recent history.
Now, though, Blumenauer bikes through the city and sees piles of garbage and people unable to cope with their afflictions. He hears about sharply rising gun violence. His car's catalytic converter, like many others, was ripped out by thieves.
"Collectively I am concerned. Collectively it feels like it's broken. Collectively it seems like we have challenges unlike any we have ever faced."
Portland agrees.
A rock-bottom 8% of voters say Portland is headed in the right direction, down from 38% before the pandemic, and percentages that routinely hit the high 50s and mid 60s earlier this century.
 "I've been on the scene since '77," said Adam Davis, a pollster and executive director of the organization. "I've never seen anything like this. Seriously."
OPB.com, May 13, 2022

Said one cop in the beleaguered city of Portland, Oregon, which also happens to be home to antifa: "The only differences between the [Portland Police Bureau] and the Titanic? Deck chairs and a band."
The Patriot Post, July 25, 2022

The city knows of 776 high-risk campsites across Portland and families are beyond frustrated.

Watch two excellent pieces produced by KGW8 News in Portland a couple of weeks ago.

Leftist policies and leadership in action.