The Barking Lot is a regular weekly feature of This Just In…Originally written by both my lovely wife, Jennifer and me, this blog brings you the latest news about our furry friends including articles, columns, photos and videos. Enjoy!
THE WEEKEND DOG-WALKING FORECAST: We grade the weather outlook for taking your pet outdoors.
TODAY: Mainly sunny. High of 76. "A"

SUNDAY: Generally sunny despite a few afternoon clouds. High of 84. "A"
Time now for DOGS IN THE NEWS, canines that made headlines the past week.
Highland Park Tragedy: Community Finds Solace With Help of Therapy Dogs.
'A compassionate friend': Nonprofit founder killed in crash leaves legacy beyond work.
Wisconsin DNR issues warning after dog killed by wolves.
Tennessee Dog Set on Fire Receives Support from Around the World After Becoming a TikTok Star.
A blind golden retriever missing for weeks is found after its family gave up hope.
I'm a personal trainer and running like a dog made me crazy ripped.

VIDEO: Meet Dexter. He's an inspiration.
'Perfect Match': Dog Given Up for Being Deaf Finds Forever Home With Hearing Impaired Man
By Louise Chambers, The Epoch Times, July 8, 2022

A deaf dog who was given up to a Florida shelter by a family who could no longer handle his needs has found the perfect forever home with a hearing-impaired former professor.

Fourteen-month-old Labahoula Champ was given up to the Humane Society of Tampa Bay, who shared his story on Facebook.
"Champ's family surrendered him because he was deaf and they couldn't provide the care he needed," they explained. "Champ is now adopted by Davelis Goutoufas, who is deaf too!"
Photos of Goutoufas meeting Champ at the Florida shelter show the pup and grinning professor sharing cuddles, and Champ earning some treats from his new owner.
Goutoufas, a former adjunct professor of American Sign Language (ASL) who visited the shelter on a whim to see what dogs were there, was charmed by Champ. He told Fox 13 News, "As I went into his cage, he was super friendly to me. I pet him, and then as I was walking out, he was going forward to me and barked softly, like he was trying to communicate, 'Please pick me.'"
Witnessing this, Goutoufas felt compelled to walk back to his cage and pet him again. According to Goutoufas, Champ was excited, and when the former professor walked, Champ went forward again and barked softly.
When an employee at the shelter told Goutoufass—who has had Labradors since college—that Champ was deaf, he knew right then that he had found the perfect dog.
With support from his daughter, who has studied ASL in college, Goutoufas made the adoption official, renaming his new dog Apollo in honor of his Greek heritage. "Words can't even describe their immediate bond," wrote shelter staffers, calling the union a "pawsitively perfect match."

Comments flooded in from hundreds of well-wishers, congratulating the Humane Society on their successful rehoming.
"OMG, my heart!!! I'm not crying, you're crying!" wrote one netizen. "I don't think I've heard of a more appropriate, more heartwarming adoption than this. God bless you both and enjoy your new family!"

"How wonderful for this dog and his new human. Both deaf, made for one another for sure," wrote another.
Since his adoption, Apollo is living an action-packed life filled with swimming, playing, boating, riding in golf carts, and plenty of love from his new owner's extended family. The ex-professor is also teaching Apollo—who already knew some commands in sign language—some more signs.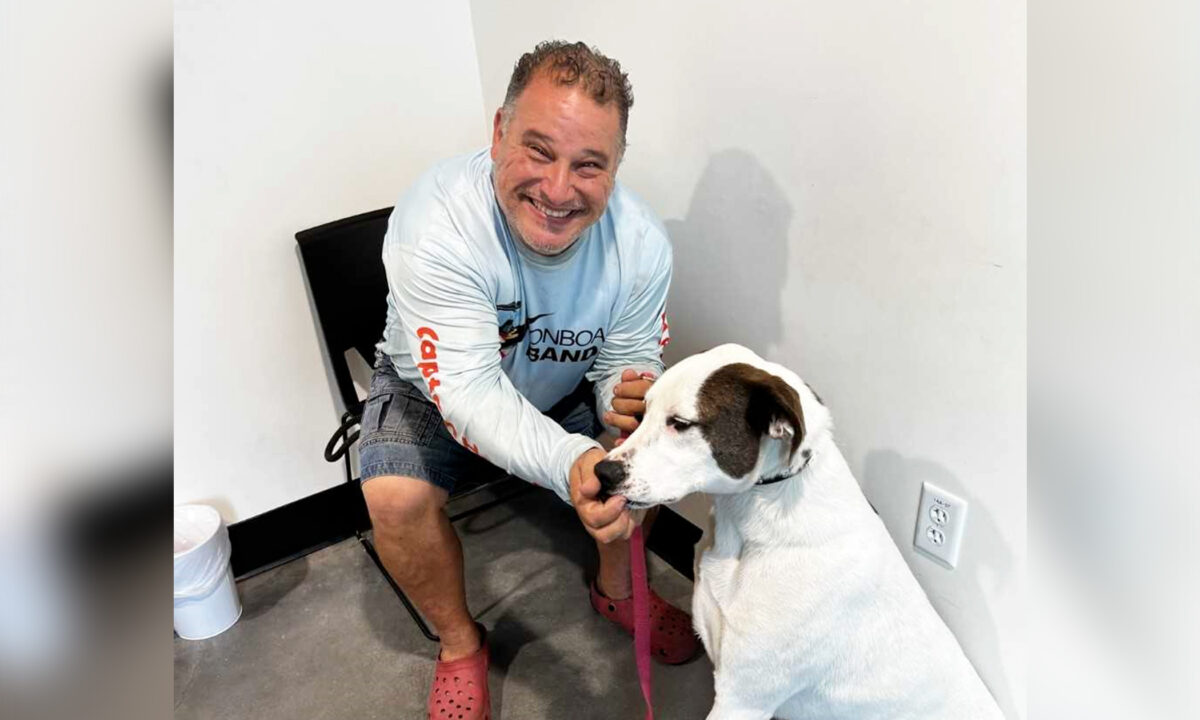 Woman gives dog sitter six 'ludicrous' rules to follow.

AND FINALLY, from The Barking Lot vault, when I filled in for Jennifer in May of 2009:
Question.

Do you like dog food?

Have you ever tried dog food?

What is this??!!

Fischer, have you gone nutso again??

Is this some kinda joke??!!

Mabel! MABEL!! Get in here!! You gotta see this!!

It's that Fischer loony!!

You know what he's up to now? He's tellin' people they should actually eat dog food!! No, I'm not pullin' your leg, Mabel, it's right here!!

HARRY, YOU IDIOT! HE'S ASKIN' IF YOU'VE EVER TRIED DA STUFF!!!

Yes, Mabel's right. I'm merely asking, rather nicely I might add, and this is not a joke, if you have ever eaten dog food. And if you did, would you even know it? And what does it taste like? Is it really nasty??

Now, please don't laugh. A rather sophisticated study says you wouldn't know the difference between Alpo and the freshest liverwurst from Usinger's.

And I do mean sophisticated. The study was done, by of all people, the American Association of Wine Economists (Why they're messin' around with dog food, I have no idea).

They found 18 willing participants to take part in a blind taste test. The volunteers were given five samples: duck liver mousse, pork liver pate, pureed liverwurst, Spam, and Newman's Own dog food. They knew that one of the five samples was, indeed, dog food.

All of the samples were processed, if you will, so they'd have the same consistency.

Why these people "volunteered" is beyond me. How the American Association of Wine Economists got them to volunteer is also a mystery.

I would like to think that my palate could distinguish the difference between pork liver pate and Mighty Dog. The "volunteers" could not.

According to the study results released Friday, only three of the 18 blinded taste testers could pick out the dog food. Eight participants believed the pureed liverwurst was the dog food, and four thought the Spam was the culprit. Two people identified the pork liver pate as dog food, and one identified the duck liver mousse as dog food.

"We have this idea in our head that dog food won't taste good and that we would be able to identify it, but it turns out that is not the case," said Robin Goldstein, a co-author of the study.

Again, what's the point? If anything, this is an indictment of the producers of pate. My goodness, if no one can tell the difference between duck liver mousse and Alpo, no wonder those highbrows at the American Association of Wine Economists have their pinkie out of joint.

Or could it be that dog food isn't all that bad after all?

Here's more from CBS News.
That's it for this week. Thanks for stopping by.
We'd really appreciate it if you forward this on to other dog lovers you know. Let them have some fun!
See ya, BARK, next Saturday!