Saturday is National Record Store Day.
Record Store Day was conceived in 2007 at a gathering of independent record store owners and employees as a way to celebrate and spread the word about the unique culture surrounding nearly 1400 independently owned record stores in the US and thousands of similar stores internationally. The first Record Store Day took place on April 19, 2008. Today there are Record Store Day participating stores on every continent except Antarctica.
Remember those old record stores?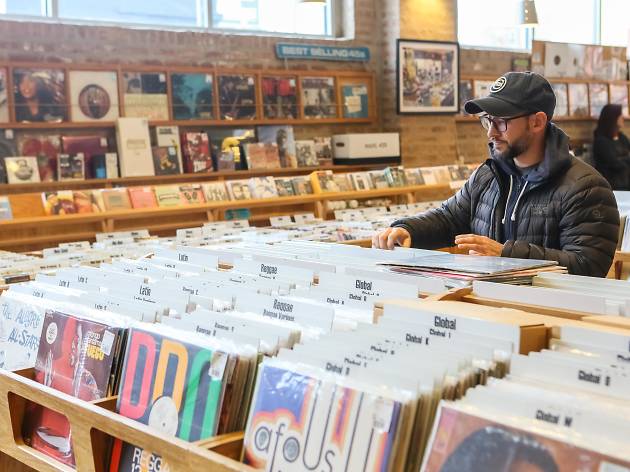 The first one I ever ventured into was Piasecki's on Mitchell Street on the south side of MIlwaukee. At Piasecki's I had one of the greatest experiences of my very young life at the time. My older brother took me, and to this day I'm not sure if he did it willingly or was instructed by mom.
I remember it like it was yesterday. The glass door opened, and 1, 2, 3 steps down to a long, long, narrow aisle of stacks and stacks of wax. My brother helped me find the single I was looking for. I walked up to the counter and took out what I believe was about 30 cents to pay Mr. Piasecki who sported an accountant's visor and a cigar. The aroma filled the store along with all that wonderful vinyl.
There were other cool places I would buy my 45s on Mitchell Street. In the basement of Woolworth's. At the top of one of the escalators at Schuster's. Further down the street at Sears. It didn't take long to figure out the day and time a new shipment would arrive.
Vinyl has enjoyed a bit of a comeback, but it's never been the same since the compact disc or CD took over. Small in size, convenient, easy to track, and better sound quality…these qualities made the CD invention of more than 35 years ago a wonder of technology.
The bad news is that the advent of the CD meant the virtual disappearance of a lost art, the great album covers. Those wonderful pictures and designs and occasionally photos or posters stuffed inside.
A fascinating pop culture debate would be what is the best album cover of all-time.
Now, to the very first 45 I ever purchased at Piasecki's when I was just a kid.

At the time the BBC aired a very popular TV show called "Juke Box Jury" that featured celebrity guests judging recent music releases. John Lennon was a guest judge on one show when he voted the record that was to be my first purchase a "miss" and that the artist was starting to sound "like Bing Crosby."

"Well, you know, I used to go mad on (the singer), like all the groups, but not now. I don't like this. And I hate songs with 'walk' and 'talk' in it – you know, those lyrics. She walks, she talks.' And I don't like the double beat. Doom-cha, doom-cha, that bit. It's awful."

Lennon turned out to be terribly wrong.
The 1963 record peaked at #3 on the Billboard chart and stayed there for another week before it began to fall. To #9, #17, #42, and eventually completely out of the top 100.
Never to be heard from again.

Right?