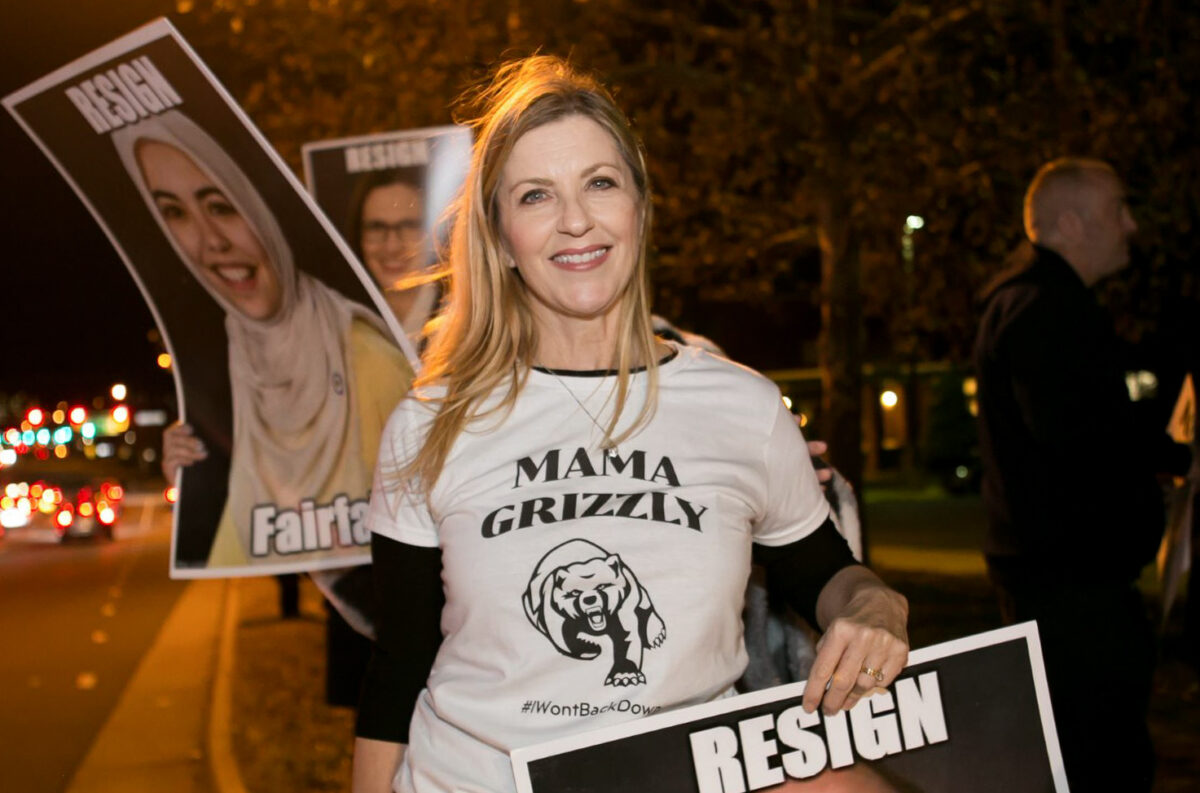 Previously on This Just In…

The update:
'My Duty as a Parent': Inside the Fight to Remove Sexualized Content From School Libraries
By Terri Wu, The Epoch Times
January 12, 2022
Something on television caught the attention of Stacy Langton, a mother of six living in northern Virginia, when she was cooking dinner for her family in mid-September 2021.
"Write a sex scene you wouldn't show your mom; write an X-rated Disney scenario," the TV news segment showed prompts given to students of a writing class at a public high school in Hudson, Ohio.
"What the heck is going on!" Langton said to herself.
All her children went to Catholic schools before high school, so she didn't have much experience with public schools. Her eldest son had just started 11th grade at a public high school in Fairfax County in August 2021. A year earlier, he had started at this same high school but switched to a private school partway through the year to avoid remote learning policies brought about by the pandemic.
Langton had hoped that 2021–22 would be his first normal high school year since the pandemic.
But what she saw on television was hardly normal. Alarmed, she started paying more attention to the public school systems and learned about the so-called porn books parents spoke about at school board meetings in other counties across the United States. From news about a school board meeting in Texas, Langton heard of the book "Lawn Boy" for the first time. Then she learned about "Gender Queer" through online videos of speeches at other school board meetings.
In these videos, parents who read excerpts of these two books said they were concerned about the obscene and pedophilic material readily available to their children in middle and high schools.
Langton wanted to verify these claims herself, so she decided to take action.
She asked her son to bring the school laptop and check the library catalog. "Boom, the books ["Gender Queer" and "Lawn Boy"] came right up," said Langton. She told her son, "Let's check these out tomorrow."
She read the two books cover to cover.
"I was wrecked for a day. I couldn't stop thinking about it," Langton told The Epoch Times.
"Gender Queer: A Memoir," a graphic novel with cartoon-style pictures, tells the story of nonbinary author Maia Kobabe from adolescence to adulthood. The book shows an image of a pedophilic act. "Lawn Boy," a young adult novel by Jonathan Evison, contains an explicit description of a sexual act between two minors. According to Evison, the scene was about an adult man recalling a sexual encounter when he was in fourth grade with another fourth grader.
Both books were chosen to receive the American Library Association's Alex Awards, which are given to 10 books annually with "special appeal to young adults ages 12 through 18."
"You're just sitting there going: What if your 12-year-old stumbles across this? You can't unsee it," she said, referring to the pictures in the cartoon-style graphic novel "Gender Queer: A Memoir."
Langton's six children, four boys and two girls, are aged 7 to 17, each two years apart. To prevent her younger children from accidental exposure to the books, she hid them in her car.
She decided to take the issue up with the Fairfax County School Board, as she found the books in the school library catalog of multiple high schools and secondary schools for grades 7 to 12.
On Sept. 23, 2021, she attended her first school board meeting. At the Fairfax County School Board meeting, she read excerpts from "Gender Queer" and "Lawn Boy."
Looking back now, Langton realized that she has been "naïve."
"I thought they [school board members] would say, 'Oh, no, this is terrible. Thank you for bringing this to our attention. And we'll look into this.'"
Instead, she was cut off.
"There are children in the audience," interrupted School Board Chair Stella Pekarsky. The meeting went into a recess shortly afterward.
The video of Langton's speech went viral, and in a few days, she was on Fox News' "Fox & Friends" program.
"It's almost like she [Pekarsky] was making my point for me," Langton said during the Sept. 26, 2021, interview.
To Langton, if the content wasn't appropriate to read at a school board meeting with children in the audience, how could it be available for children to read in school libraries?
"What I did at the school board meeting was literally one of the most humiliating things I've ever done in my life. That was awful," she told The Epoch Times. "Who wants to go and say what I said in a room full of strangers? So, that was not enjoyable. But it was necessary.
"I view it as my duty as a parent. I have a set of religious beliefs where I know I'm going to be judged by God for my actions or my inactions."
She filed a formal challenge of the two books on Sept. 23, 2021. The next day, Fairfax County Public Schools (FCPS) pulled them out of high school libraries and began a review process.
At the end of a two-month review process, two committees—made up of parents, students, and school officials—unanimously recommended that the books be returned to school libraries, saying that they didn't find any pedophilia and obscene material and that the books serve the needs of LGBTQ-plus (Lesbian, Gay, Bisexual, Transgender, Queer, and Others) students in search of diverse reading material they can relate to.
As a result of the review committee's recommendation and decision of Noel Klimenko, assistant superintendent of FCPS's Instructional Services Department, the books were returned to school libraries immediately after the Thanksgiving holiday.
Langton appealed the administration's decision on Dec. 16, 2021. FCPS Superintendent Scott Brabrand decided to uphold the decision in a letter to Langton dated Jan. 11. He reiterated the previous determination that two books did not contain pedophilic or obscene material, due to the "literary and scientific value" of "one person's journey with gender identity" presented in "Gender Queer," and the "accessible examination of race, class, socio-economic struggle, and sexual identity" by "Lawn Boy."
Langton may appeal to the Chair of the School Board, a decision which would be final. If Brabrand's decision is affirmed, the book may not be rechallenged until after three years.
Amy Jahr, a mother of four in neighboring Loudoun County, is further in her "Lawn Boy" challenge than Langton. On Dec. 13, 2021, she received the final decision of the Loudoun County School Board that affirmed Superintendent Scott Ziegler's earlier decision to allow "Lawn Boy" to remain in the county's public schools.
The decision was based on a memo dated Nov. 11, 2021, authored by Deputy Superintendent Ashley Ellis. According to the memo, the division review committee members—"composed of three central administators, two high school teachers, and two parents of high school students"—found the "sexual experimentation" between the two 10-year-old boys "wrong" but necessary to develop the main character, Mike, in the book.
The memo also noted the book's Alex Award from the Young Adult Library Association.
According to the county's policies (pdf), the book will not be eligible for another challenge until at least four years later on Dec. 13, 2025.
Jahr told The Epoch Times that the four years limit was by design. "That parent is going to be out of that school in four years."
Ellis told Jahr in a Dec. 15, 2021, email that the decision was final. In that email, she didn't address Jahr's question about the possibility of challenging the decision due to an alleged lack of transparency in the selection process of the division review committee members. Ellis didn't respond to an inquiry from The Epoch Times.
Parents in multiple states, including Florida, Texas, New Jersey, Rhode Island, and Washington, have challenged either "Gender Queer" or "Lawn Boy," or both. Kobabe, author of "Gender Queer," previously told NBC News that the content in the book might not be appropriate for elementary school students but was "integral" to the story and would have been necessary for a young person sharing the same challenges she went through.
Kobabe, in a statement to The Washington Post at the end of September 2021, said that growing up, she was "hungry for literally any type of queer representation."
In her opinion article published in the Post a month after Langton's challenge to "Gender Queer," Kobabe said that pornography was "a common accusation against work with themes of queer sexuality."
Evison, author of "Lawn Boy", has suggested that those who voiced objections to his book haven't read it. "If I had a statement, it would be 'Read the book or sit down,'" he told the Post in September 2021. "I feel like these people are frightened because they're losing the culture wars."
Books in Classrooms
Public school students have access to books in two locations: school libraries and in classrooms. For instance, in June 2019, Loudoun County Public Schools (LCPS) established the "diverse classroom libraries" initiative for K-12 English language arts classrooms. It aimed to improve students' "reading proficiency" by ensuring that "classroom and school libraries reflect our values and contribute to developing student identities."
In June and July 2019, the county spent more than $1,800,000 on books for the program for K-12 grades, according to purchase orders obtained via Freedom of Information Act requests.
LCPS announced that the book lists for elementary grades were "selected from the Teachers College Reading and Writing Project Diversity Book List, which was vetted by hundreds of teachers across the country." Meanwhile, LCPS staff curated the book lists for secondary school grades using education resource company Mackin's "identity inclusive texts rubric," a set of guidelines to ensure "marginalized" and "underrepresented" groups and identities are represented in reading materials.
The books were directly shipped to different schools across the county. Traditionally, bookshelves in classrooms didn't receive much funding from the school, and were usually left to the teacher and the parent-teacher association to stock, according to some Loudoun parents.
Yet, with nearly $2 million, LCPS furnished English classrooms with tens of thousands of books, the purchase orders show.
"It started that Labor Day weekend [in 2019]. I was coming home from a baseball tournament and saw a little clip from Loudoun County about the equity libraries coming into the classrooms," recalled Anne Miller, a Loudoun County mother of four and a former preschool teacher. Her youngest son had just started in fifth grade at a public school in the county in August 2019. His three siblings had all graduated from high school.
Immediately, she researched the books curated for fifth and sixth graders. Right away, she found a few books she deemed inappropriate for her son. On Sept. 10, 2019, Miller emailed her son's English teacher and school administrators to let them know that her son couldn't read any of the new books until she had vetted all of them.
The English teacher replied that she knew nothing about the incoming classroom libraries prior to Miller's inquiry, adding that the books hadn't been sent yet.
Miller reviewed more books as she waited to hear from the principal. Ultimately, she concluded that "the overarching theme of all of it was a Marxist agenda with overt and hidden sexual [messages], trying to normalize sexual behavior, pedophilia, and transgenderism."
The net effect of this "over-sexualization" is "to traumatize" the children, she added. Miller has experience in early childhood development, having previously taught in the Head Start Program, a federal government-funded preschool program for low-income families, for six years before resigning in 2020 to homeschool her son.
"When children process sexual content, it's traumatizing to their brains because they are not ready for it developmentally. Even the concepts of it are traumatizing to them," she said.
Thus, such traumatization would make it easier for those seeking to advance an agenda to mold or program childrens' minds, Miller added.
On Oct. 23, 2019, she asked the principal in an email to ensure that her son had no access to any books in the diverse classroom library. Five days later, the principal replied that there was nothing the school could do about her request. The books would be arriving during the week and would "mix right in" with the current catalog, the principal said, so it would be up to Miller's son to know which titles he could read or not read.
"At that point, it felt like a gut punch," Miller told The Epoch Times. "Oh my gosh, she's not going to protect my child," she recalled thinking.
Miller couldn't stop worrying about her fifth-grade son. "He shouldn't have to worry about picking a book off the shelf, reading it, and all of a sudden, being sexually aroused in the classroom. This is completely inappropriate."
She ended up pulling her son out of the school after the 2019–2020 school year when "it was becoming very clear that there was an indoctrination and an attempt to usurp parents of authority and undermine the nuclear family." Miller homeschooled him for his sixth and seventh grades.
Miller wants her now 13-year-old son to go back to school to be with his peers. But, to feel safe sending her son back to school, however, the entire LCPS leadership, including the superintendent and his staffers, would have to change, she said.
Optional or Not
As parents in Loudoun started hearing about the "diverse classroom libraries" toward the end of 2019, the schools closed for winter break. Then, a brand-new school board took office in January 2020. Then the pandemic hit, and students began remote learning in March.
As a result, some parents hoped that the books might not make it to the classroom. Jahr said she was one of them. Yet, "now we're back [to in-person learning], and these books are in our kids' classrooms."
While these books were supposed to be optional, sometimes they weren't.
One of such books, "Monday's Not Coming," is included in the diverse classroom libraries collection for all high school grades. The book is about the mysterious disappearance of a black teenager Monday Charles, and her best friend Claudia Coleman's journey of finding her. Authorities eventually discover that Monday's mother killed Monday and her little brother.
In April 2021, Jahr's daughter, then in ninth grade, got a six-week project for her English Honors class. The five books the students could choose for the reading assignment were: "The Hate U Give" by Angie Thomas, "On the Come Up" by Angie Thomas, "Darius the Great Is Not Okay" by Adib Khorram, "Monday's Not Coming" by Tiffany Jackson, and "All American Boys" by Jason Reynolds and Brendan Kiely.
Four out of five books explore themes related to racism, with some highlighting police brutality. "Monday's Not Coming" has scenes of a boy and a girl having sex on a teacher's desk. All except for "Darius the Great Is Not Okay" was on an "anti-racist" young adult reading list by Publisher's Weekly, a trade magazine.
In addition to "Lawn Boy," "Monday's Not Coming" was another book that had gone through the review process at LCPS, and was allowed to remain on bookshelves.
Again, Jahr worried about the influence of such a book on her daughter, "Oh, some guy wants to have sex with me, and I'm in high school, that's going to be OK. So yeah, I read about that book in ninth grade. We've got that book in class."
For the assignment, students were required to "summarize the reading, discuss significant moments, make connections, develop vocabulary, and analyze literary devices," according to the project's frequently asked questions.
Since students were doing hybrid learning back then, the book club discussions were conducted in virtual breakout rooms even though some students attended school in person on the meeting days. Such discussions had occurred without the presence of a teacher until Jahr requested it.
Students formed "literature circle groups" based on the books they chose. In her op-ed published in local media outlet Loudoun Now, Jahr said students wouldn't come across "the graphic sexual content and child abuse/trauma passages" in "Monday's Not Coming" until halfway through the six-week project. Even though school administrators emphasized that the book was optional, it would be challenging for students to pick another book and "play serious catchup and thus sacrificing their grade," she wrote.
"I learned that several teachers of the 9H [ninth grade Honors] English team did indeed read "Monday's Not Coming" and saw absolutely no concerning issues with it. None. For their 14-year-old students," Jahr wrote.
In addition, the list of the five books wasn't shared with parents ahead of time, according to Jahr. Instead, students made their choices from reading summaries and positive reviews on Goodreads.com.
Jahr's daughter initially picked "All American Boys." After seeing the book "dropping the F-bomb not just a few times but 41 times," Jahr asked the teacher to provide an alternative to the five books. So the girl finished her reading assignment with a new addition, "An Invisible Thread" by Alex Tresniowski and Laura Schroff. The story is about an unexpected friendship between a white sales executive and a panhandling young black boy in New York City.
Jahr wants to tackle this issue by implementing content guidelines, similar to how movies are rated, to help determine whether a book should be used in a class project or available in schools. Books for K-12 are currently leveled based on reading technicalities such as vocabulary and sentence lengths, which don't factor in content and themes.
Stacy Langton has a similar idea. She's advocating for a parental advisory label mechanism, similar to what's currently in place for the music and video gaming industries.
Fairfax and Loudoun County Public Schools did not respond to inquiries from The Epoch Times by press time.
A Successful Book Challenge
While Langton and Jahr haven't succeeded in their book challenges in northern Virginia, Rachel Dekubber in west Michigan's Mona Shores School District has, to some extent.
"Obviously, a lot is happening in our country. I want to know how much (if any) of that will reach our district," Dekubber wrote in an email to Mona Shores' curriculum director Andrew Hogston in early June 2021.
Concerned with what she watched on national TV news, she asked, "Will anything regarding Black Lives Matter/George Floyd/ the color of our skin, racism, or critical race theory be taught or brought to Mona Shores in any capacity?"
Hogston replied on June 14, 2021, with an assuring message, "Definitively, I can tell you that none of those topics are part of our Social Studies curriculum/resources.
"It has been a challenging time, to say the least. Politically and socially, many of the talking points are leveraged to discredit or disparage. The media presents that 'things' that are happening in California, Chicago, or New York are the way that all districts and schools throughout the country are conducting themselves. This could not be farther from the truth and is not reflective of the values of our school community."
Given the exchange, she was surprised when the first day of her son's eighth grade came around in September 2021 and he told her about an extensive section of LGBTQ books in his English classroom.
The next day, she emailed the English teacher asking for the list of the book titles but was unable to get it. So she contacted school administrators for answers. In an email on Sept. 10, 2021, Hogston told Dekubber that the book titles didn't fall under the state's disclosure requirements because the teacher privately funded the books with GoFundMe donations.
"As a district we will not be providing a list of books in teachers' classrooms as they change constantly in order to provide variety and choice for students. In addition, we are not restricting the books available in our teacher's classroom libraries," he wrote.
But Dekubber was undeterred. Set on obtaining the list of books sitting in her son's classroom, she visited the school with two other parents on Oct. 20, 2021. Staffers refused to allow them to enter classrooms without an appointment, so she made an appointment for the next day and returned.
The appointment was for half an hour, but Dekubber was only allowed about 10 minutes to peruse the books in the classroom. She said she saw several rows of bookshelves and estimated a total of about 8 to 10 bookshelves there, with each section tagged with a label such as "political," "LGBTQ," and others. The political and LGBTQ genres had more books than other genres.
Due to the time constraints, she filmed about "a little less than half" of the books and made a spreadsheet of the titles, which captured more than 60 LGBTQ books out of nearly 110 books she captured in her video. Most of the political books were about systemic racism, according to her research.
On Oct. 21, 2021, in an email response to Dekubber's inquiry about the district's policy of teachers bringing outside materials into the classrooms, superintendent O'Brien informed her that "all books in classrooms are reviewed by teacher teams in order to ensure they meet the standards defined by the Michigan Standards for ELA [English Language Arts]." However, she has yet to find out the specifics about the "teacher teams'" review process. The Michigan Standards, which focus on language technicalities, provide little guidance on appropriate content and themes.
"Until this year, I had no idea what was going on at the school. I'm a single parent, and I work. I never really thought our school district would go this route. And so I never really looked into it," Dekubber told The Epoch Times.
"But the reason I spoke out is that there are a lot of parents who had no idea about the types of books that are in the classroom. They didn't know that teachers can bring in whatever books they feel like bringing in," she added. "So, I really wanted to bring awareness and put the school in the hot seat so that we could get some sort of change."
Inspired by mothers in other school districts, Natalie Fodrocy, a mother in the school district, read aloud excerpts of the book "All Boys Aren't Blue"—a book in the English classroom that her daughter and Dekubber's son both use—at the school board meeting on Nov. 15. She read the passages about sex scenes between a 13-year-old boy and his 18-year-old male cousin. The book is author George M. Johnson's memoir about growing up as a queer black boy.
"I am sickened to think that there are books like this in any classroom of a middle school for any child to read," Fodrocy said.
Superintendent O'Brien agreed that the book didn't belong in the school. "The passage was inappropriate and graphic in nature," he wrote in an email communique to the school district on Nov. 17.
"The book was on one of our middle school classroom shelves. It should not have been on our shelves, and it was immediately removed."
He said that it was important for schools to have inclusive literature representing all students, but "books containing graphic material, like those that we heard from Monday evening, are a different issue."
The superintendent added that they were currently assessing the appropriateness of the books and had identified additional books "needing further review to be sure they are appropriate for the grade level in which they are available."
Responding to another parent's inquiry about when the classroom booklists will be made available to parents, O'Brien wrote on Dec. 7, 2021, that "the summer is the earliest this will happen." When asked by The Epoch Times about its release date, O'Brien referred to a Nov. 18, 2021, email to parents in the school district.
"It is clear that our screening process is not as thorough as we need it to be. It was an honest mistake, we have owned it as a District, and we will do better in the future," the superintendent wrote in the email.
Dekubber grew up in and graduated from Mona Shores, which houses four elementary schools, one middle school, and one high school. She had always thought of the area as a small town, "a safe environment from the outside world, where our kids could just be kids."
However, "everything has changed, now it feels like I'm sending my child to a leftist training camp where politics, racism, gender identity, and sexuality are the main topics of conversation."
Dekubber described her school district demographic as "equal conservative and liberal." The mother said she wasn't against the LGBTQ community. "I respect everybody's choice to live their lives, but I also want the school to respect mine and how I'm raising my child. Not all parents want their children reading sexually explicit material or questioning their sexuality and gender identity at such a young age."
"It should be the parents who decide when to talk to their children about sex and different sexual orientations."
Sexualization 'Normalized'
The books containing sexual content that parents are battling with aren't limited to "Gender Queer," "Lawn Boy," "Monday's Not Coming," and "All Boys Aren't Blue." And for some observers, the trend has been years in the making.
Meg Kilgannon, a senior fellow with the Family Research Council, a Christian advocacy group, said that she noticed sexually explicit materials in school libraries as early as 2010. A few parents noticed, but many people didn't pay much attention previously because they didn't believe that anybody would put such material in front of children, she said.
Now, "it's just been advertised, elevated, and forced on children because of the Diversity, Equity, and Inclusion (DEI)," Kilgannon told The Epoch Times. She said that the promotion of inclusion of identity groups, in effect, gave administrators "a shield from responsibility."
A few boxes checked on the diversity and equity checklist shouldn't remove the need to screen for themes or content "just because it's about a particular group of people," she added. "That's really dangerous and insulting to the groups of people that you claim the inclusion represents."
Natassia Grover, a stay-at-home mother and parent activist in Loudoun County, co-founded the nonprofit organization Parent and Child Loudoun (PACL) in 2018 to address concerns about the early sexualization of children.
She emphasized the concept of gender identity, one of the DEI categories, as particularly problematic because it opens the door to talk about sex with children at an early age.
"To talk about gender identity is to talk about the sexual body being disconnected from the sexual mind, and that the mind determines reality," Grover said.
The Loudoun mother noticed the diverse classroom libraries in August 2019, saying she had already been acquainted with some of the book titles because she was familiar with the LGBTQ world.
So she enlisted the help of a few parents and together reviewed and documented more than 100 books that they deemed as inappropriate, with content ranging from promoting Christians as bigots to normalizing early sex, promiscuity, and transgenderism.
Grover said she wasn't just concerned with pornographic content. "The little kids are being groomed. And they are being groomed with books like 'My Princess Boy.' It's not explicit, but the ideas are being planted," she told The Epoch Times.
"My Princess Boy," a picture book aimed at children aged 4 to 8, depicts a boy who wears pink dresses at his school. It normalizes transgenderism, according to Grover.
"The seeds are being planted to prepare them for books like 'Other Boy' in middle school, where it's introducing the idea of being born in the wrong body and getting testosterone injections at age 12," she said.
Both books are listed in the Loudoun County diverse classroom library collections for elementary and middle schools, respectively. Before the books arrived in classrooms in fall 2019, Grover said she asked her then-seventh-grade daughter Jolene to check out "Other Boy" from her middle school library. After reading it cover to cover, the mother then wrote a detailed review of the book on the PACL website.
"They're grooming and preparing these kids at a very early age to embrace the whole transgender ideology and sexual freedom ideology," Grover told The Epoch Times.
As criticism raised by Grover, Dekubber, Jahr, Langton, and other parents across the country has grown louder, those on the other side of the debate have labeled their efforts as censorship.
The National Coalition Against Censorship (NCAC), an advocacy group formed by activists affiliated with the American Civil Liberties Union (ACLU), in December 2021 issued a "coalition statement on the attack on books in schools." It called the ongoing book challenges "censorship" and "a partisan political battle fought in school board meetings and state legislatures."
"The undersigned organizations and individuals are deeply concerned about this sudden rise in censorship and its impact on education, the rights of students, and freedom of expression," the statement continued.
ACLU, the American Library Association, and many LGBTQ rights groups such as Human Rights Campaign and GLAAD, are among the undersigned. Many publishers, bookstores, and individuals also joined the statement. "Gender Queer" author Maia Kobabe co-signed the statement as well.
Parents Are Viewed as 'Oppressors'
Carla, a licensed professional counselor specializing in adolescents, young adults, and women, who has her own business in northern Virginia, has seen first-hand the changes to the issues presented by her clients in the past few years. Carla is a pseudonym to protect her identity and business practice.
"It's becoming increasingly difficult, if not impossible, for parents to protect their children from the school's indoctrination as parents' roles have been switched from protector to bully, thanks to social media influences such as TikTok, Instagram, etc.," she told The Epoch Times.
"The way that gender ideology [works] is that bullies are forever circling transgender and LGBTQ students. They're bullied if they're not affirmed by using their pronouns or belief in their own identity. So the schools step in, create safe zones, and spend many instructional hours on fending off anti-LGBTQ bullies."
Carla opened her own business in 2021. Before that, she worked as a counselor for four years at a big practice in northern Virginia. She said the expectation of the counseling field was for counselors to accept the clients' new identity and help them explore it. But this, she said, was in "direct opposition" to her Christian faith that contains teachings about "not causing children to stumble or do harm."
Around the end of 2017, she noticed a significant shift in her adolescent and young adult clients. "It went from anxiety, depression, anxiety, depression, one client after another, to gender identity, one after another," she said. "I saw six clients in a day. I would say five out of six of them was gender identity and confusion, where it used to be just anxiety and depression."
According to Carla, her clients are on social media for seven or eight hours a day, and then in school for another seven hours. "Social media and peer influences in the school are all talking about and glamorizing the LGBTQ community. So, the bully is mom and dad. The bully is the kid that doesn't believe in that and keeps quiet. So, they're the bully."
Now with her own practice, Carla said she would refer about a quarter of her clients to other counselors for a further journey in gender transition. The remaining 75 percent stay with her.
When asked if any of her young clients chose to reverse course, Carla said: "None of them are brave enough to say, 'Oh my gosh, I'm totally influenced by everything around me,' because they are children. And it's such a strong message that they're given. It's such a strong message."
However, some of the clients have become more "open-minded about their identity and have put it on pause to put a label on themselves." As a result, they tend to see a reduction in the severity of anxiety and depression, she added.
Dr. Michelle Cretella, executive director of the American College of Pediatricians, a national organization of pediatricians, said she has warned parents about "transgender ideology" since 2016. Cretella had worked for 15 years as a pediatrician specializing in behavioral health.
To her, reading gender-bending books to preschoolers and elementary students is "psychological abuse."
She said that children were just figuring out their correct sex at 3 years old. "It's not until age 7 that most kids will understand that a girl grows into a woman and will always be that female sex her entire life," she said, adding that it's the same for boys.
According to her, exposing young children to transgender ideology disrupts their reality testing, a process in which children develop their cognitive framework to react to such biological realities.
The doctor said that the difference between "LGB" and "TQ" was that "TQ" groups is an ideology that sends children "automatically sent down the path of puberty blockers, cross-sex hormones, plus or minus surgeries. Once you are on that path, you are talking about permanent, irreversible changes and harm. And the greatest harm from the combination of the puberty blockers and the cross-sex hormone is infertility, lifelong sterilization."
The World Professional Association for Transgender Health (WPATH) didn't respond to The Epoch Times' inquiry for comments. WPATH is an "interdisciplinary professional and educational organization devoted to transgender health," according to its website.
To Grover, the issue is more serious than a few "porn books."
"They are trying to awaken kids sexually. I think that's what people don't understand," she said. "They want to awaken kids sexually, and they want to awaken them early. And then they want to teach them about consent and normalize the idea of child sexual consent."
When Grover confronted a school board member on Facebook with the question, "Why are you promoting queer theory to kids?" the member thought she used "queer" in a derogatory sense. Grover then realized that even the school board member voting for the inclusion of the books didn't know the term, she said.
Queer Theory
Queer theory is a field of critical theory that emerged in the early 1990s that seeks to deconstruct and challenge society's definitions of sexuality and gender. Its progenitor, critical theory, is a quasi-Marxist mode of analysis developed by the Frankfurt School in the early 20th Century that critiques social, cultural, and economic institutions with the aim of transforming society as a whole.
James Lindsay, a leading analyst on critical theory, summarized queer theory in one sentence as "the assault on that which is considered normative."
"Queer theory's basic proposition is that anything normal creates oppression. The idea of normal itself creates oppression," Lindsay, who authored the book "Cynical Theories: How Activist Scholarship Made Everything about Race, Gender​, and Identity―and Why This Harms Everybody" told The Epoch Times.
"So anything normal—whether that's morally normal, or on average more common, they use both meanings at the same time—is bad and has to be challenged."
In this light, queer theorists see the innocence of children "as a fundamental problem that has to be overcome in order to achieve their liberation, to achieve sexual liberation of children, to achieve gender liberation, to achieve a brave racial liberation," Lindsay said in his podcast "Groomer Schools 1: The Long Cultural Marxist History of Sex Education."
"It's an agenda to sever the link between generations," he said. "The idea is to get the children to believe that their parents can't possibly understand them. You didn't go through these struggles: nonbinary wasn't a thing you had to deal with, or trans identity wasn't even allowed back then. So, you don't understand us. And you just have an old-fashioned notion of identity that was actually just oppressive."
According to Lindsay, the second piece of this agenda is to "destabilize the current generation to make them revolutionaries." Marxists realized that the working class wasn't a good base for revolution. Workers wanted a better life, which led to social reforms but not revolution.
"So they transitioned in the 1960s to identity politics because if you can get to the level of somebody's identity and make them feel like they personally cannot fit into the society as an identity issue, then you have a radical base that can't be fixed. There's no reform, for example, especially in queer theory; there's no reform you can make that makes queer acceptance real."
He described critical race theory—which views society through the lens of racial oppression and therefore advocates revolutions—and queer theory as "the left and right hand of the same monster," although "critical race theory is mainstreamed a couple of stages further down than queer theory."
In contrast with critical race theory, which says that a white child has no place in society except for being an oppressor, queer theory offers a way out—by embracing its gender identity ideology, according to Lindsay. He likened this to the Chinese Communist Party's designation of "black" and "red" categories of political identity groups during the tumultuous Cultural Revolution during the 1960s and 1970s.
The lowest "black" class included "bourgeoise" and landlords and were condemned by the Party as "anti-revolutionaries," that is, class enemies. Poor farmers, workers, and revolutionary soldiers were in the "red" class and were favored by the ruling communist regime.
To earn a decent spot in society, a person born into the black category had to find a way to join the red classes. For instance, at times this could be achieved by joining the Red Guards, radicalized high school and university students that roved around the country persecuting anyone deemed as a class enemy.
"I see the exact parallel to the Maoist strategy taking place to destabilize the current generation to make them revolutionaries," Lindsay said.
He explained in a recent podcast "The Creation of an American Red Guard" in the "Goomer Schools" series: "The goal is to use your children as the tools that are going to destabilize society. And that's why we have groomer schools."
And in response to this, an "army of parents" self-organized to protect their children, said Anne Miller of Loudoun County.
"It has been a blessing to link arms with people across this county, state, and nation who have prayed, written letters, signed petitions, collected signatures, donated their time, money, and resources, attended meetings, rallies, school board meetings, court hearings, fundraising events, researched, submitted FOIA requests and have showed up, stood up, and spoken up," Miller said.
"We the people, a beautifully diverse group of people here in Loudoun and across this nation, have put aside all differences of opinion and linked arms to rally around one imperative:
'You may not harm our children!'"