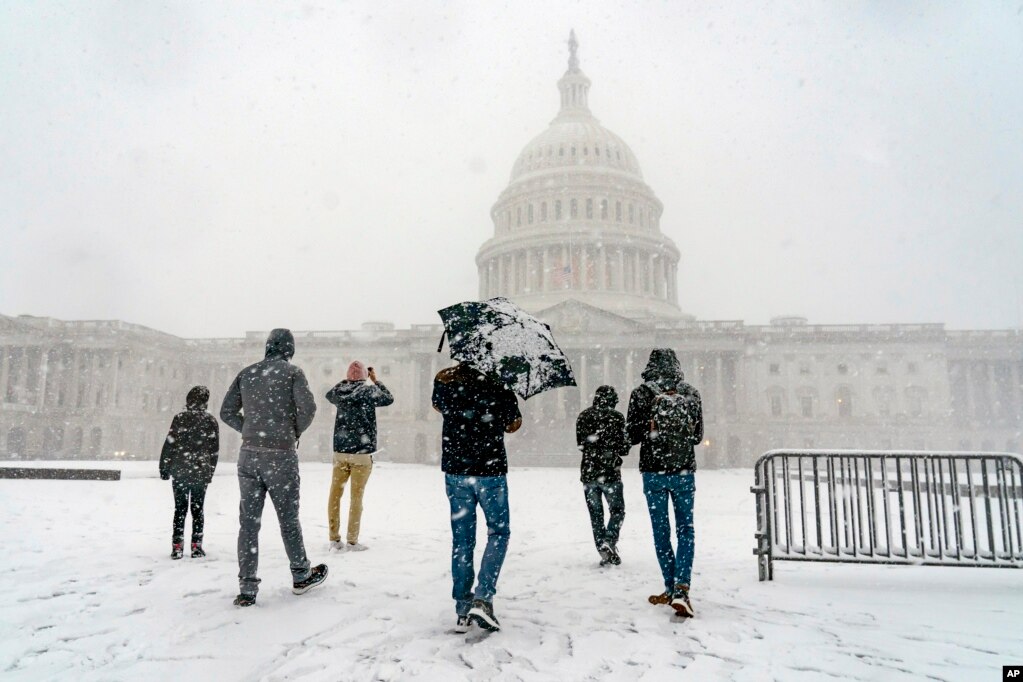 A pictorial week-in-review posted every Sunday.

1) U.S. Park Police patrol the National Mall in Washington. Thursday marked the first anniversary of the Capitol protest. Photo: AP

2) The U.S. Capitol is visible behind a snow bank following a storm, on Capitol Hill in Washington. Photo: Reuters

3) Press Secretary Jen Psaki holds a media briefing with a reduced number of members of the press due to the Omicron variant of coronavirus at the White House in Washington, January 4, 2022. Photo: REUTERS/Evelyn Hockstein

4) Fulton County Public Schools teacher Ebony Williams kisses her 5th-grade son Kareem Williams before she heads to the dining room to teach an online class during a virtual learning day at their residence in Milton, Georgia, January 4, after students have gone remote for a week as cases of the Omicron coronavirus variant continue to surge. Photo: REUTERS/Alyssa Pointer

5) A statue stands amidst the remains of homes destroyed by the Marshall Fire in Louisville, Colorado, December 31, 2021.  Photo: REUTERS/Alyson McClaran

6) A motorcyclist and passenger cover themselves with a plastic sheet to protect from rain at a highway, in Islamabad, Pakistan. Photo: AP

7) Pope Francis kisses a statue of the Christ child as he celebrates the Epiphany mass in St Peter's Basilica in Rome. Photograph: Angelo Carconi/EPA

8) A woman bows to a giant nativity snow dome, near a church during Orthodox Christmas celebrations, in St. Petersburg, Russia. Photo: AP

9) People take pictures in the sunflower installation at the Van Gogh Alive digital art exhibition in Beijing, China. Photograph: Qiao Jian/VCG/Getty Images

10) A male sea lion Leo writes the word of tiger in Chinese character at a New Year's attraction to celebrate the Year of the Tiger at the Hakkeijima Sea Paradise aquarium in Yokohama. Photograph: Yoshio Tsunoda/Aflo/Rex/Shutterstock

11) The head of a 211kg bluefin tuna that was auctioned for about ¥16.9m ($145,290) is displayed at a sushi restaurant in Tokyo after the first tuna auction of the new year. Photograph: Issei Kato/Reuters

12) A child carries confetti as revelers gather during New Year's Eve celebrations in Times Square in Manhattan, New York, January 1. Photo: REUTERS/Dieu-Nalio Chery

13) People gather to watch fireworks explode over Copacabana beach during New Year celebrations in Rio de Janeiro, Brazil January 1. Photo: REUTERS/Ricardo Moraes

14) Actor, director and civil rights activist Sidney Poitier has died at the age of 94. Poitier, who took on many challenging and groundbreaking roles, was the first Black person to receive a best actor Oscar. He's pictured here with Katharine Houghton, Katharine Hepburn and Spencer Tracy in "Guess Who's Coming to Dinner" in 1967. Photograph: Everett Collection/Rex Features

15) Fans enjoying (?) the Packers-Vikings game last Sunday at chilly Lambeau Field. The Pack won easily, 37-10. Photo: vikings.com

16) ICYMI, last week's special end of the year edition.