Let's see. There was Advent. Christmas. The Epiphany.

And this Sunday on the Catholic calendar…
The Feast of the Baptism of the Lord.

John the Baptist lived in the early first century AD. A Preacher, prophet and second cousin of Jesus, John used baptism in his ministry. He even baptized Jesus.

According to the Bible, before Jesus began his earthly ministry, John the Baptist was God's appointed messenger. John had been traveling around, announcing the coming of the Messiah to the people throughout the regions of Jerusalem and Judea. 
Until this time, Jesus had spent most of his earthly life in quiet obscurity. Suddenly, he appeared on the scene, walking up to John in the River Jordan. He came to John to be baptized. At first, John wasn't sure, but eventually consented.

After Jesus was baptized, as he came up from the water, the heavens opened and he saw the Holy Spirit descending on him like a dove. God spoke from heaven saying, "This is my beloved Son, with whom I am well pleased."
John always emphasized that the Messiah was coming, and the Messiah was Jesus. To prepare for God's judgment, John urged people to repent and be baptized.
One of my favorite groups, "Blood, Sweat and Tears" had a gigantic self-titled album released in late 1968. It went multi-platinum four times.
There's no way they could get any bigger and they never did, even though they've been successful ever since.
From their gold album, "B S & T 4″ an unusual mix of jazz, rock, and Biblical tale.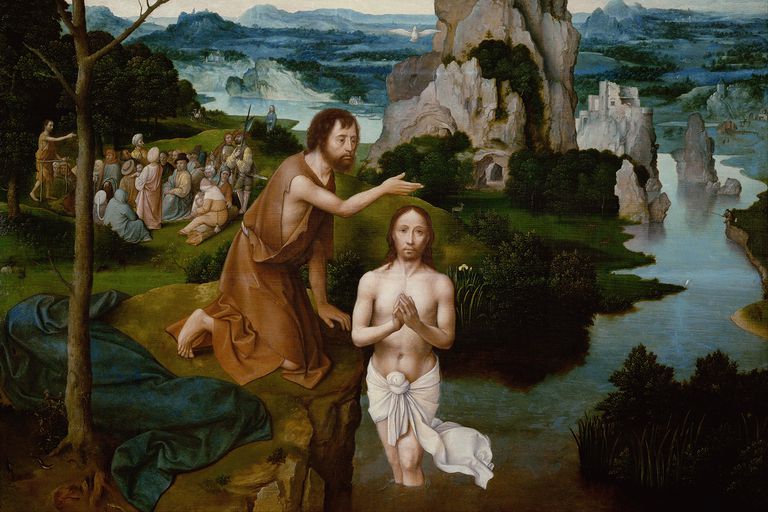 John the Baptist was considered by the people to be a great prophet. They flocked to hear him speak and baptize.
He would be imprisoned by Herod about the time Jesus began his ministry. The ruler of Galilee, Herod took John into custody as a favor to his wife Herodias (the former wife of Herod's brother Philip). Herod wanted to kill John because he said Herod couldn't marry Herodias, that it was against God's law. But fearing a riot if the popular prophet was killed, Herod kept John locked up.
At a birthday party for Herod, Herodias' young daughter, Salome performed an erotic dance for the inebriated Herod who had vowed to give her anything she wanted if she would perform. Salome, upon her mother's urging, demanded the head of John be brought to her on a platter. Regretting his promise, Herod still didn't want to go back on it, so he ordered John be beheaded.
Disciples informed Jesus of John's death. Soon, Jesus would also be arrested. Roman Governor Pontius Pilate handed him over to be crucified.