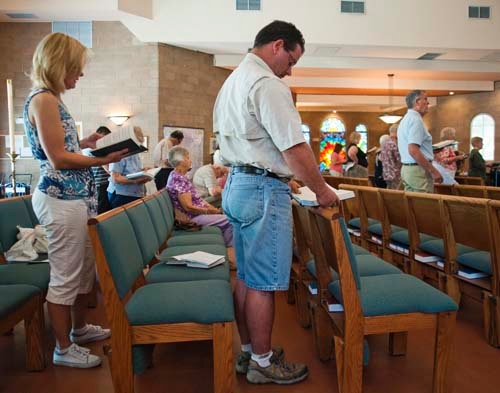 The date is November 19, 2017, at St. Anthony's Church in Milwaukee where I usher every Sunday.

Kyla and I are standing by one of the altars in the back of church. Hard to tell, but I'm wearing a tie the week before Thanksgiving that has turkeys on it. The tie belonged to my late cousin Bob MacKenzie. His wife, my cousin Claire gave me the tie and many others of Bob's after he passed. I'll be wearing it again at Mass today.
Here's another, also taken at St. Anthony's, date unknown. I'm with retired history professor and author Thomas C. Reeves who lives in SE WI. Note the matching neckwear.
Unless it's summer I always wear coat and tie to Mass. That leads us on this Sunday to today's read from Danny Tyree. Here's a brief excerpt:
Good taste and self-respect should reign supreme, but some traditionalists do take it to an extreme.
On the other hand, some daredevils dress in a way that just invites panic attacks.

Read the entire column here. And BTW, though attire should be respectable, my answer to the above question is no.

Related reading.