The 2021 National League Division Series (NLDS) between the Milwaukee Brewers and Atlanta Braves will be the first-ever postseason meeting between these two franchises. Milwaukee finished the season with the better record of these two division champs (95-67), clinching the NL Central nearly a week before the Atlanta Braves (88-73) wrapped up the NL East.
Thus, Milwaukee has home-field advantage in this best-of-five series. What a matchup: an intimidating and slugging Braves lineup against a Brewers pitching staff that's amongst the best in baseball.

How do I feel about the Braves, more than 50 years after they rode out of town?

Here's a blog I wrote last October: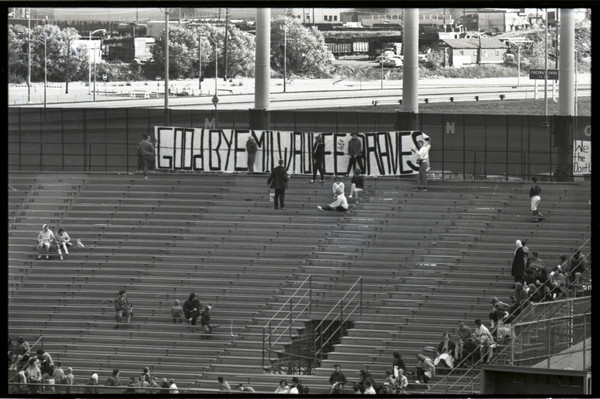 Milwaukee baseball fans were sucker punched in 1965. Their beloved Braves played their final season here and moved to Atlanta the following year.

My father was an usher at Milwaukee County Stadium every season the Braves played there. He'd work his regular job all day for the Post Office, wolf down dinner at home, and then rush to the ballpark to return home much later in the evening.

I rarely saw my father cry, maybe a handful of times, if not, even fewer. One of those times was when he and I drove to the stadium in September of 1965. Dad would occasionally sneak me under the turnstile to see a ballgame which wasn't a problem because attendance wasn't good at that time.

As we turned right on National Avenue onto the drive into County Stadium it was clear Dad was unhappy and I asked him what was wrong. Dad was succinct and to the point when he replied that the Braves wouldn't be around anymore.
Henry Aaron of the Braves was a boyhood hero of mine. So even with the Braves now calling the South their home I still followed them. They still had 'Hammerin' Hank." And Eddie Mathews. And Rico Carty who one year flirted with hitting .400. I cheered for players, not as much the Atlanta team.

Then we got the Brewers. What little allegiance I had with the Braves disappeared quickly, and I developed a disdain for the team that dumped our city, breaking the hearts of so many loyal and loving fans.

In the early to mid 1990's when I worked in the news department at WTMJ Radio the station's program director Steve Wexler gave me an additional duty to go along with my news gathering obligations. Every day for WTMJ's highly rated morning drive show I was to produce and voice a "radio column," a radio equivalent of a newspaper op-ed piece.

During one of those on-air columns, and I don't remember the context, I talked sports. And it might have been the Atlanta Braves. Or the Chicago Cubs. To me they're interchangeable.
I mentioned that I hated the Braves. Or the Cubs. Didn't matter. I said I hated one or both. Probably was the Braves and I included everything you've just read. Probably Ted Turner and that annoying tomahawk chop, too.

About a week later I got a handwritten letter from a listener. The woman disclosed that she had always listened to when I previously worked at WUWM Milwaukee Radio, and she found me to likable and admirable. That's why she was so disappointed for me to express hatred…on the radio. The letter writer was a Catholic nun.

How did I respond? I sent off a letter of my own and discussed it in another "radio column." When I said I hated the Braves, sorry Sister, I did mean it, but from a sports perspective. Certainly I wasn't wishing their next plane trip would crash. However I'd root for the Russians before I'd ever stomach backing the Braves.