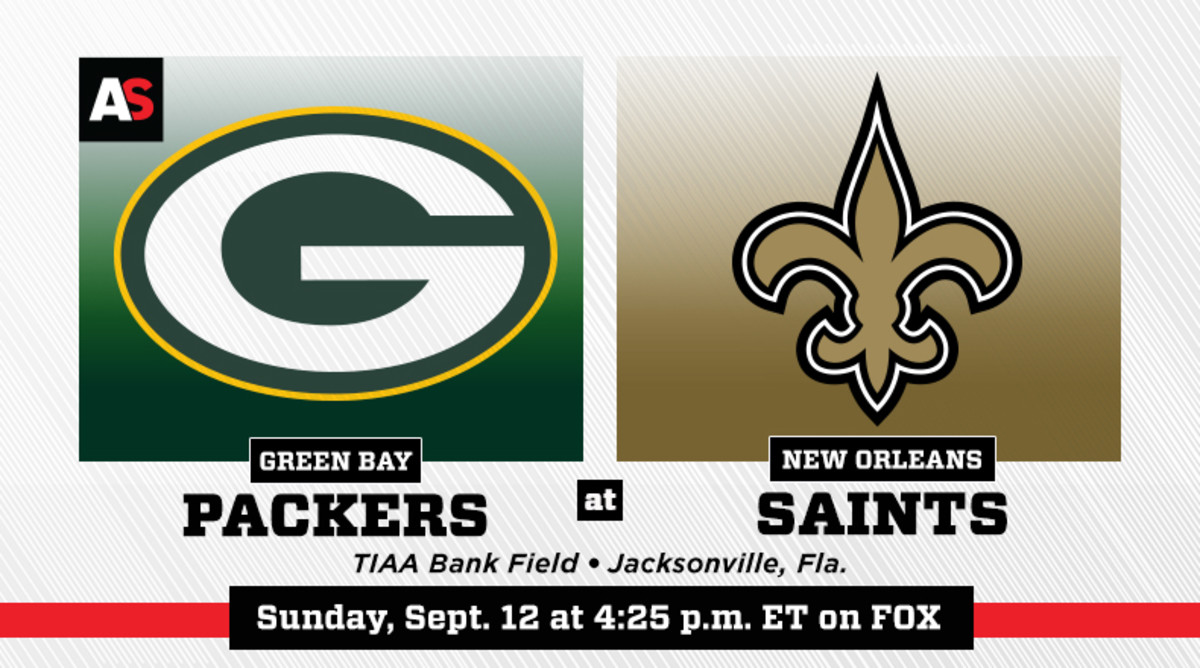 The opponent is New Orleans.

The game begins at 3:25.

FOX is doing the broadcast.

We are stuck with announcers Joe Buck and Troy Aikman.

New Orleans is not the home site, thanks to Hurricane Ida.
John Breech of CBS Sports has the following thoughts:

Saints coach Sean Payton got married during the offseason, which is the opposite of Aaron Rodgers, who basically spent four months trying to divorce the Packers. It's now kind of fitting that this game is being played in Jacksonville since both newlyweds and divorcees tend flock to Florida. 
If you're wondering why this game is being played in Jacksonville, it's because the Saints hand-picked the location after Hurricane Ida forced the game to be moved out of New Orleans. The Saints did some serious homework before making the decision on where to move the game. The game could have been moved to Tampa or Miami or Jacksonville, but the Saints settled on north Florida for five main reasons:
1. Money. Out of those three cities, Jacksonville is the most expensive for Packers fans to get to
2. Don't want to deal with Buccaneers fans cheering against them. The Saints didn't want to play in a division rival's city and possibly have to deal with a stadium-full of Buccaneers fans cheering for the Packers.
3. Didn't want Packers fans getting a weekend vacation. The Saints thought Packers fans would flock to South Beach for a weekend vacation, so they ruled out a game at Hard Rock Stadium.
4. Rodgers has struggled in Florida. Rodgers has played just seven career games in the state, going 3-4 with a QB rating of 78.1.
5. Florida has insane humidity. If you've ever been to Florida in September, you may have noticed that the air is so thick that you feel like you're going to suffocate anytime you breath. The Saints feel like they have an advantage in high humidity since they practice in that kind of weather in New Orleans.
If Payton spent was as detailed picking the location of his wedding as he was picking the location of this game, then I'm guessing he ended up having the most successful wedding in history.
Of course, the one problem for the Saints is that they went through all the trouble of picking a new location for the game, but I don't think it's going to help. Rodgers is at his best when he plays with a chip on his shoulder and I'm pretty sure he dumped an entire bag of chips on his shoulder during his spat with the Packers this offseason. The one thing throwing a wrench into this game is Jameis Winston. I have no idea if 30-interception Jameis is going to show up this season or if Sean Payton is going to turn him into a powered-up version of Drew Brees, which is completely possible. I mean, Jameis threw for 5,109 yards in 2019 and he did that even though he couldn't even see the field. Jameis finally got LASIK recently and if he out-duels Aaron Rodgers on Sunday, Winston's LASIK surgeon better get the game ball.

Breech's pick: Packers 31, Saints 24