THERE ARE THOUSANDS AND THOUSANDS OF FOOD BLOGS, BUT ONLY ONE CULINARY NO-NO!
NOTE: This week's feature contains material from a previous no-no.

My wife is the wine lover in our household. A connoisseur, oenophile, slave to the grape.
She even owns this Christine Alexander top:
Jennifer's female friends also have a unanimous admiration for wine. They get absolutely gleeful on Facebook when they share memes and what not about their favorite adult beverage.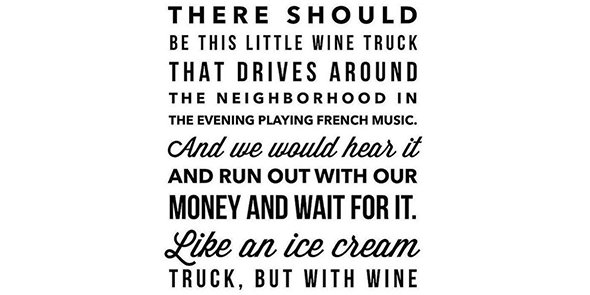 So Jennifer is the wine person in our family as opposed to this brandy/bourbon fellow. And even Jennifer will tell you she's no highbrow. However, she can just by tasting determine which bottle purchased at Sendik's was $10.99 as opposed to the one at $21.99.
I've written about Disney World in the past that can boast terrific fine dining like this Triple A Five Diamond Award Winner.
Forbes writes "As soon as the doors swing open, the frenzy of the Grand Floridian disappears and, in a typical magical Disney fashion, you're transported into a fantasy world. In this case, you'll find yourself in a luxurious dining room, where a harpist is playing and tables are outfitted with Frette linens, Riedel crystal and Christofle silver."
Jennifer and I have dined there a few times and the experience has been perfect on every occasion. Multiple courses are offered with a highly recommended option of a wine pairing with each course. Thank goodness.
You get a souvenir menu to take home reminding me that when we dined on November 9, 2007, I had ordered Napoleon of Veal Tenderloin with Tomato-Fennel Jus and Artichokes. Without the expertly-chosen wine pairings, there is no way in Hell I would have comprehended that the ideal way to partake in that succulent veal was to have a pour of Carol Shelton Rocky Reserve Zinfandel, Dry Creek Valley, 2004.
For the first time since 1994, wine consumption by volume dropped in 2019. During the chaotic year of 2020 more people were drinking due to the pandemic. Still, there's some winning back the public in order, and people like me (Wine For Dummies) are critically important.
Dorothy J. Gaiter and John Brecher conceived and wrote The Wall Street Journal's wine column, "Tastings," from 1998 to 2010. The two urgently wrote in the Grape Collective in 2020:
We are at a flex point in wine, wine appreciation and wine education. The people who make it and sell it and serve it are struggling for their very survival. It's terrifying for them and we feel for them. However, if there were ever a time for hard truths to be reckoned with, for introspection, re-evaluation and perhaps renewal, that time is now.
So what's the problem?
Gaiter and Brecher point to…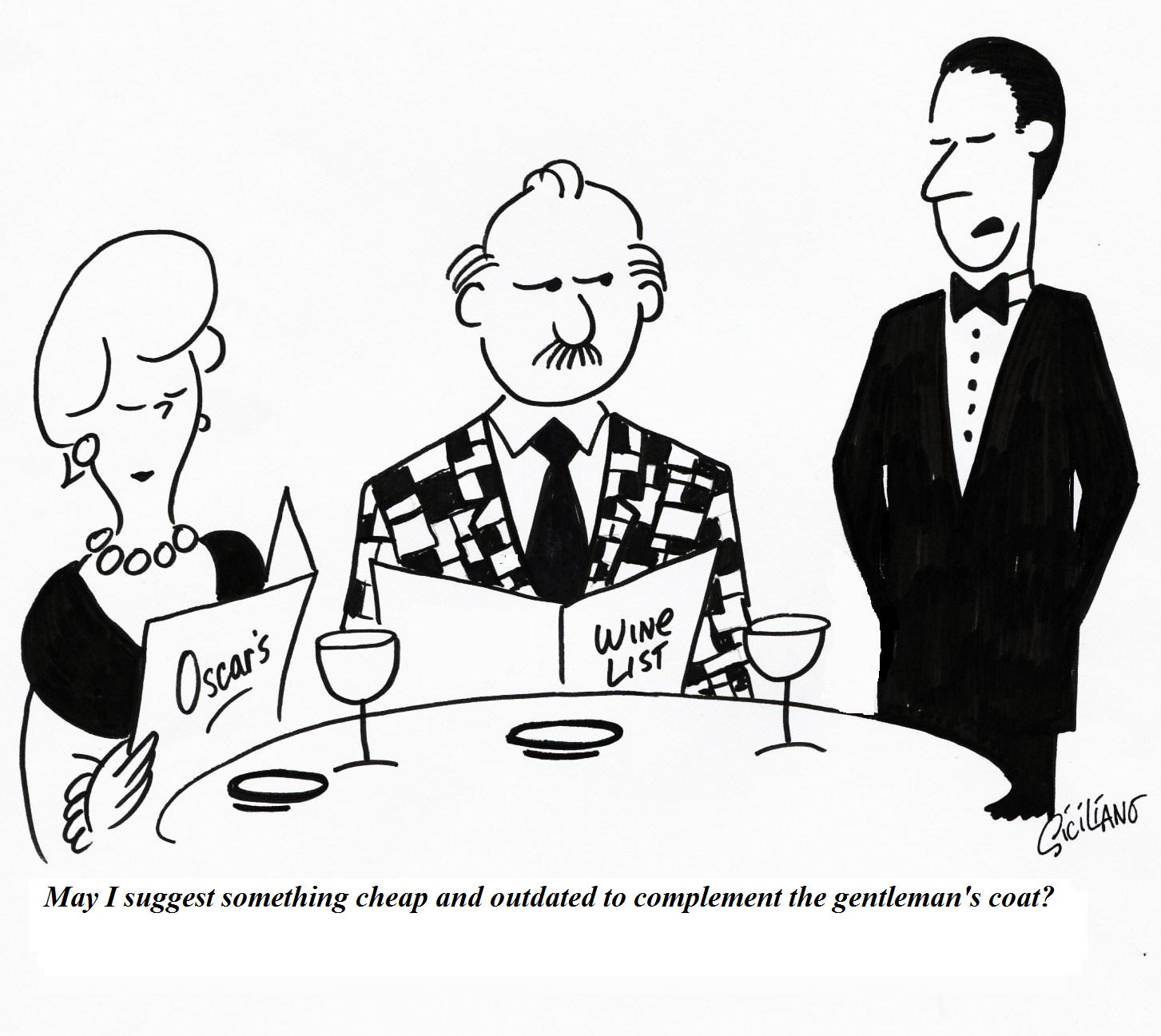 The snooty waiter or sommelier.
When they were first getting into securing greater knowledge and understanding about wine back in the 70's Gaiter and Brecher say "sommeliers at many fine restaurants were White French men, or at least White males who pretended to be French. With tastevins around their necks, their job was to make customers feel stupid, spend more than they planned and drink French wine."
They submit "these professionals are supposed to be selling wine to people in restaurants and retail stores by engaging with them."
But they assert this often is not the case.
"And it's not just expensive, clubby places. At a Manhattan fish restaurant called Crave Bar three years ago, we ordered a delicious and unusual Savoie and the waiter made fun of us for ordering the cheapest wine on the list. Then the sommelier came over with the bottle, made fun of us, poured it and left, never to return."
The industry they claim has allowed itself to slide back into a time of "snobbery, one-upmanship, pretentiousness and exclusivity. If a sommelier doesn't treat every customer with respect, the restaurant needs to find someone who does."
Ordering wine can be intimidating, downright frightening. Can it be done without appearing to be an absolute fool?

Times have changed at the house Mickey built. When Disney World first opened Walt insisted alcohol not be served at the Magic Kingdom. His edict at the park lasted long after he passed away until a few years ago when the restriction was lifted.

Wine is now everywhere at Disney, especially right now at EPCOT. Pairings? You can see they've got it all figured out.

But can even navigating this outdoor festival pose some challenges?

Check this out from the Fall 2021 edition of the Disney Rewards Insider:
So, if you have to, want to, go ahead. Break the rules.

RELATED READING
Culinary no-no #14
By Kevin Fischer
Sunday, Aug 26 2007, 08:01 AM
On the rare occasion I order red wine when my wife and I are out dining, I always jokingly ask her to pass the Sweet'N Low.

There's an episode of "Who's the Boss" where the late James Coco plays Tony Danza's father-in-law, Nick Milano. He's over one night for a huge Italian dinner Tony has prepared, and proceeds to empty a couple of packets of the artificial sweetener into his red wine as the studio audience groans. (Interesting sidenote: several web sites report the day after this episode aired, Coco died).

OK, I'm not a wine snob. My wife is the wine expert in the house. But even I know you don't put Sweet'N Low in red wine.

And you don't serve red wine chilled, right?

Wrong.

That old rule of thumb apparently is not set in stone.

Slate.com reports some of the best summer wines are chilled reds.

Mike Steinberger, Slate's wine columnist writes:

Admittedly, the idea of plunging a bottle of red wine into an ice bucket, or tossing it into the refrigerator, is counterintuitive and may even strike some people as vaguely sacrilegious: We generally think of red wines as beverages that exist to warm us up on winter nights, not cool us off on summer days. In fact, though, a chilled red offers all the thirst-quenching qualities of a good rosé and a lot more substance. It will also pair better with a cheeseburger, which is no minor consideration this time of year.

Like many Americans, I first encountered this seemingly heretical practice in France. As soon as the temperatures in Paris turn balmy, the bistros, brasseries, and cafes start putting a little chill into the carafes of vin rouge, at which point the wines assume a dual purpose: They complement your food and they refresh you.

The problem with chilling heavier, more structured wines is that it often makes the tannins more pronounced. True, it can also mask the alcohol just a bit, which is no bad thing in this era of Smirnoff-like Shirazes and Zinfandels, but along with the reduced heat, you might well suffer momentary lockjaw on account of the tannins. Even so, when I was in France's Rhone Valley during an epic heat wave several years ago, the Saint-Josephs I ordered (Saint-Josephs are wines from the northern Rhone composed either entirely or principally of Syrah) were all served chilled—and the added astringency was, I had to admit, a small price to pay for the refreshment.

Chilling wines does not mean freezing them. The ideal serving temperature is somewhere between 50 and 60 degrees Fahrenheit—which, as it happens, is the ideal storage temperature for wines (both reds and whites). Fifteen minutes in an ice bucket, or 15 to 30 minutes in the fridge, is usually all it takes to get a red wine to the optimal temperature and to put a strangely attractive sheen of condensation on the bottle. Anything longer is going to mute the fruit and accentuate the structure. The goal is to cool the wine down just enough to make it revitalizing, not to turn it into sludge.

Here is the entire column.

So, go ahead and cool down that red wine. Just 86 the Sweet'N Low.
CULINARY NO-NO BONUSES

What Does It Really Mean When a Man Cooks Dinner for His Date?
ALSO, SEEN TODAY ON A LOCAL FRANKLIN FB PAGE:

My husband thinks I'm nuts cause I want to have chili for dinner. Is it only supposed to be for winter? I mean we do eat all of our food hot right?? There is a supposed cold front coming

Some of the responses:
I was craving pea soup last week. So yea I can relate
My family has been requesting my homemade chicken soup and I keep saying no
I ain't trying to eat hot soup when it's 90 degrees

but isn't all the food you eat hot?
yes but it's different like you have a hot bowl of soup or chili in the fall/winter to warm your body. My body is warm enough without all that hot liquid
We just had chili last week. Love it. It was cooler weather though 115
Crazy he would say that. Winter food I would think

well you can go hungry then. It's a healthy meal with good calories
says the man who eats the SOUP at Sol De Mexico!
I think its a winter meal, but we were both craving it, so i broke down and made it
I do Chilli October-April
We had soup last night it was fine
It's no different than eating any hot food
I like chili any time of year. Also a soup lover!
Are we sure he thinks you're nuts just because of chili or ???
My answer: Had chili dogs this past week. Was craving them. I did NOT check the calendar first.