Every Friday night we smooth our way into the weekend with music, the universal language. These selections demonstrate that despite what is being passed off as art today, there is plenty of really good music available. Come along and enjoy.
Next Thursday, August 12th, is National Vinyl Record Day. That's not to be confused with National Record Store Day that was celebrated this year back on June 12th.

National Vinyl Record Day encourages listening to all kinds of music on vinyl records. Gary Freiberg of Los Osos, California founded National Vinyl Record Day commemorating the day Thomas Edison invented the phonograph in 1877. Freiberg encourages everyone to remember fond memories and the good things in life, especially vinyl records.

Let's do it. Let's do it (Remember those words, by the way).

Time to get started.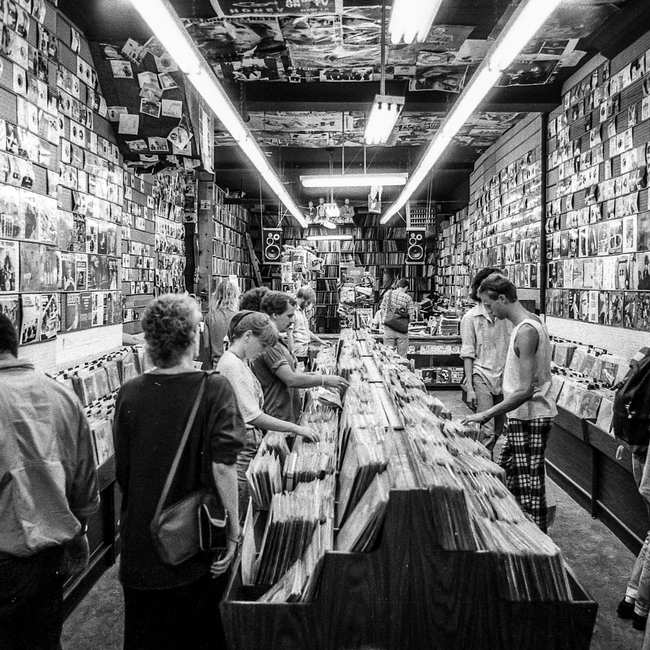 Remember those old record stores?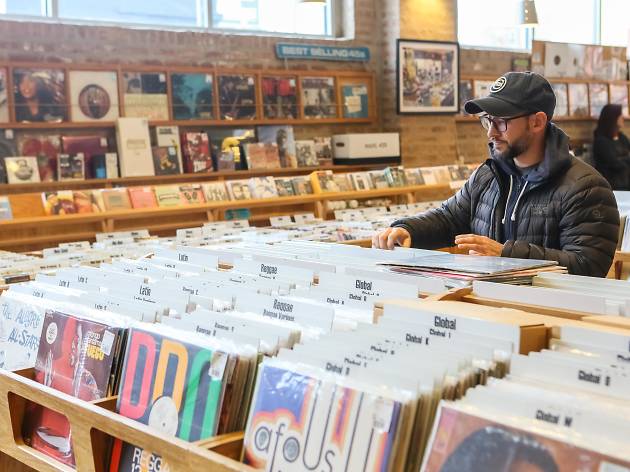 The first one I ever ventured into was Piasecki's on Mitchell Street on the south side of MIlwaukee. At Piasecki's I had one of the greatest experiences of my very young life at the time. My older brother Greg took me, and to this day I'm not sure if he did it willingly or was instructed by mom.
I remember it like it was yesterday. The glass door opened, and 1, 2, 3 steps down to a long, long, narrow aisle of stacks and stacks of wax. My brother helped me find this record. I walked up to the counter and took out what I believe was about 30 cents to pay Mr. Piasecki who sported an accountant's visor and a cigar. The aroma filled the store along with all that wonderful vinyl.

The very first 45 I ever purchased peaked at #3 on the Billboard chart on August 10, 1963, stayed there for another week, then began to fall. To #9, #17, #42, and when the September 14, 1963 chart was released, the Elvis hit was knocked completely out of the top 100.

Never to be heard from again.

Right.
There were other cool places I would buy my 45s on Mitchell Street. In the basement of Woolworth's. At the top of one of the escalators at Schuster's. Further down the street at Sears. It didn't take long to figure out the day and time a new shipment would arrive.

Trivia time. What is the longest title of any single to make the Hot 100?
Back in 1981 a mega-medley was rapidly moving up the Billboard Hot 100 chart, placing in at #5. One month later it was #1.
The mysterious Dutch group "Stars on 45" scored big with the "Stars on 45 Medley." That was actually quite short for the record's official title of 41 words.


Dutch musicians Bas Muys, Okkie Huysdens, and Hans Vermeulen had an uncanny ability to emulate other singers, predominantly the Beatles on this single. Snippets of famous songs were perfectly mixed together.
What was the inspiration behind the medley?
A man named Michel Ali reportedly stopped in at a Montreal club where a DJ named Michel Gendreau was working and and showed him a tape that had a mix of popular disco songs, Beatles hits and other old songs. The quality of the tape was sub-par. So Gendreau and an editor named Paul Richer reworked the medley.
Admitting it was risky, they decided the medley would not be all disco. They'd toss in some 60's classics. Again,a gamble because at that time clubs didn't spin Beatles records.
Eventually a producer at a Dutch record company put together a similar version, and the 4-minute single enjoyed success, first in the Netherlands, then the UK, and then America.
Other performers tried to capitalize: Chas & Dave with their selection of old-time music hall and London songs, "Stars Over 45," Ivor Biggun with "Bras on 45," and Weird Al Yankovic with his medley "Polkas on 45."

Vinyl has enjoyed a comeback, but it's never been the same since the compact disc or CD took over. Small in size, convenient, easy to track, and better sound quality…these qualities made the CD invention decades ago a wonder of technology.
The bad news is that the advent of the CD meant the virtual disappearance of a lost art, the great album covers. Those wonderful pictures and designs and occasionally photos or posters stuffed inside.
A fascinating pop culture debate would be what is the best album cover of all-time.
Back In 1975, the Ohio Players recorded their smash album, "Honey." Known for their provocative album covers, this was a clear example…
"Honey" packed an urban legend that still creates a buzz today.
It was rumored that during the recording of one of the LP's top tracks, "Love Rollercoaster," a woman was stabbed to death, with her screams audible in the background.

What is the best album cover of all-time?

If you pose the question to Dolores Erickson, she'd answer in a heartbeat with no doubts whatsoever as to her choice: Whipped Cream & Other Delights by Herb Alpert & the Tijuana Brass.

She calls it, "the world's most famous album cover," and she may be right.

Mind you, Erickson is far from objective.

Erickson happens to be the woman on the cover.
 The Seattle Times reported in 2005:

Erickson was friends with Alpert and Jerry Moss, cofounders of A&M Records. So she was a natural when photographer Jerry Whorf, who had shot the Nat King Cole album, got the assignment for "Whipped Cream." They had Erickson flown out from New York for the shoot in Whorf's Los Angeles studio.

"I thought, 'Just another job,' " Erickson recalled.

Whorf draped a sheet over her lower body (she was three months pregnant) and slathered her mostly with shaving cream. Actual whipped cream was used only on her head.

Erickson got about $1,500 for the day's work, typical of what she was earning in those days.

Whorf gave her the outtakes, in which the shaving cream had dripped to reveal a little too much flesh.

"My husband was very conservative. I tore one up. It was too much." She saved the other outtake, which she now sells for $50, autographed.

"Whipped Cream" sold more than half a million copies, was in the top 10 for 61 weeks and won four Grammy awards (though not for best album cover).
"My first reaction was, 'Holy s***, man. Too racy,'" said Herb Alpert. "Obviously now it would hardly register, but at the time I thought, 'Wow, that's a little much.' And I didn't know, quite frankly, whether it reflected the album — the music I was doing at the time. But we decided to go with it. Obviously that was fortuitous."
A few years back there was even a re-issued re-mix of the album for its 40th anniversary with a new cover (and model).


Alpert and Erickson are both 86 years old.

By the way "Whipped Cream" was in my father's record collection. But he didn't buy it. Mom did for him.

That's what I call cool.

That's it for this week.

Goodnight.

Sleep well.

Have a great weekend.

One of the most famous album covers features a cover collage including 57 photographs and nine waxworks that depict a diversity of famous people, including actors, sportsmen, scientists.

Here's all kinds of great tidbits about the album.