THERE ARE THOUSANDS AND THOUSANDS OF FOOD BLOGS, BUT ONLY ONE CULINARY NO-NO!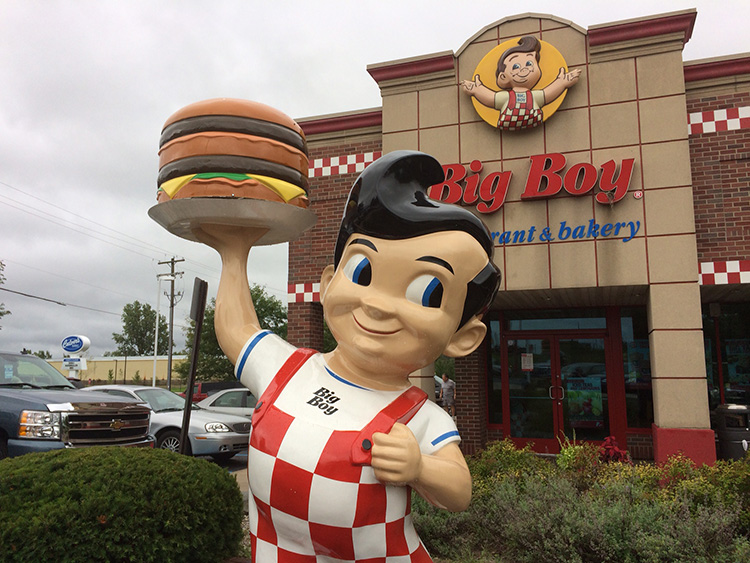 There's quite a culinary buzz going on in SE Wisconsin.

A BIG buzz.

BOY is there a buzz.

Let's get right to it.

Memories abound about Big Boy.

Standing tall for years at the corner of 5th and Wisconsin in downtown Milwaukee Big Boy created all kinds of excitement when it hit 13th and Mitchell on the city's near south side. Ate there often with friends and my parents. perfect location, just across from the Modjeska Theater when happening Mitchell Street was called "The Downtown of Milwaukee's South Side."

Why "Big Boy"?

According to Retro Planet:

The name "Big Boy" came about when Bob Wian (founder) had a chubby young boy come into his restaurant one day (called Bob's Pantry at the time). "He was about six and rolls of fat protruded where his shirt and pants were designed to meet. I was so amused by the youngster—jolly, healthy-looking and obviously a lover of good things to eat, I called him Big Boy." Wian decided to name his new hamburger Big Boy, after the boy. Due to the burger's success, he was inspired to rename his diner "Bob's Big Boy".

Wian's franchise grew to the point it seemed popular Big Boy restaurants were everywhere. And then after a successful run they began to disappear. Disappointingly the corner of 13th and Mitchell changed.

So the prospect of a Big Boy rebirth is definitely exciting. Can't wait to sink my teeth into one of those double decker beauties that have been copied far and wide. But the original was always the best.

Having said that, take my advice.
When Big Boy opens on Wednesday (the opening was delayed one week) don't go. That's right.

DO NOT EAT AT BIG BOY!

Not Wednesday. Not Thursday. Not next week. Maybe not even in two weeks.

I can hear the gasps through my computer. Utter sacrilege.

Why, Kev, why?

What kind of community/business promoter am I if I'm urging readers, and this is no joke, not to patronize a place I've dying to visit? It's really quite simple and it has nothing to do with new place opening to much ballyhoo being too crowded.

Big Boy, through no fault of its own, is like any other comparable restaurant. It can't help itself. Through no fault of its own, Big Boy will have all kinds of kinks and bugs to work out, being a spanking brand new place.

Go there on opening day or week and you might have a delightful experience. The odds are better you'll encounter service delays, botched up orders, questions that employees can't answer, confusion, apologies. It goes with the territory. Problem is it could lead to an unfair assessment on your part preventing a return visit. Now how's that for good business?

The late Milwaukee Journal Sentinel dining critic Dennis Getto used to say that you should wait 4-6 weeks before venturing into a just-opened restaurant. Four to six weeks?  Won't that spell economic disaster? Not for a restaurnat with the popular history Big Boy enjoys. Stay away at first and you just might have a more pleasurable first trip there a whole lot more.

Hope I'm wrong. Best wishes to the little big guy!

CULINARY NO-NO BONUSES

'Please bear with us': Why some Milwaukee restaurants have shorter menus, longer wait times and higher prices
Supermarkets Are Stockpiling Inventory as Food Costs Rise

ICYMI, Culinary no-no #703