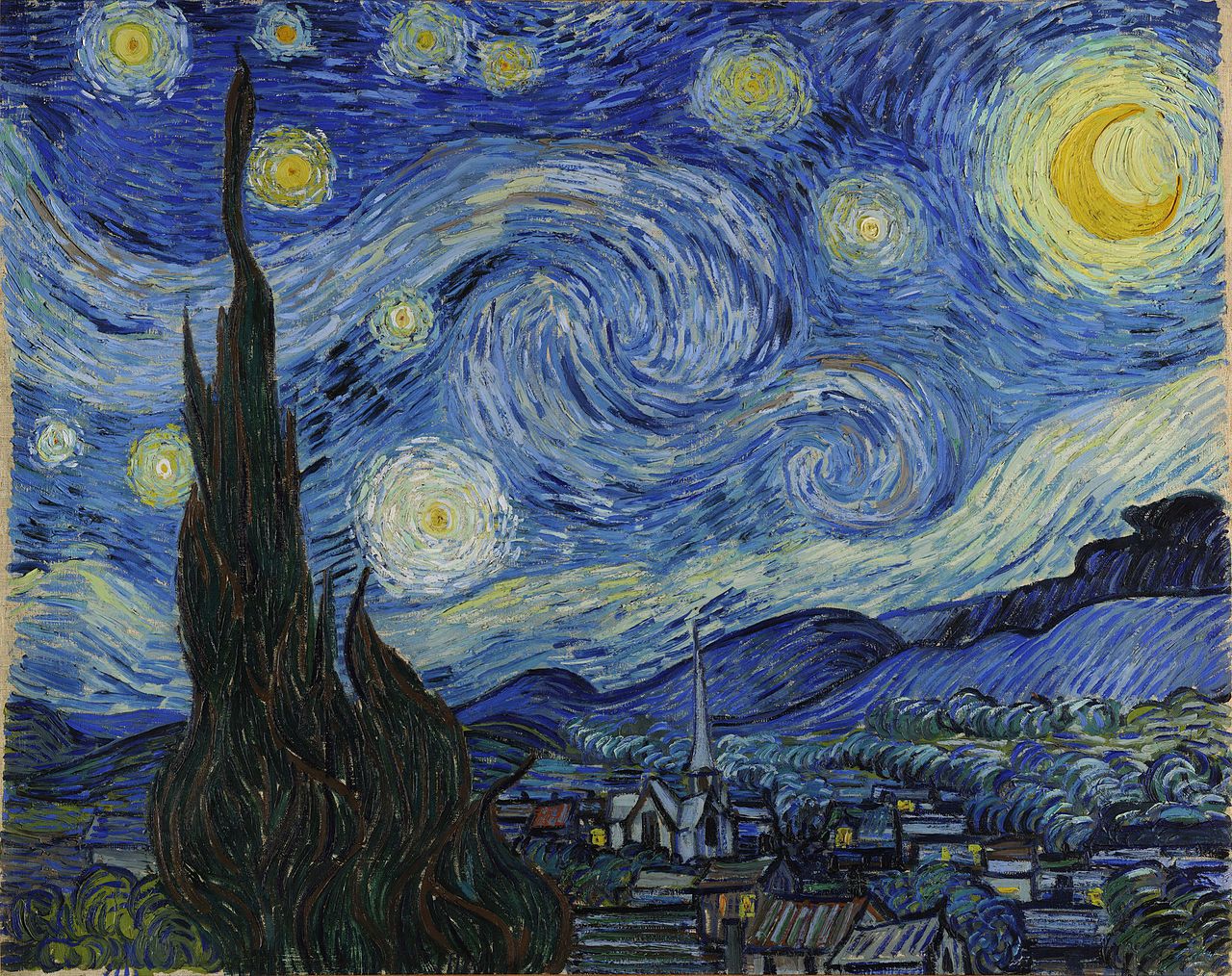 From vangoghgallery.com:

Vincent van Gogh, one of the most well-known post-impressionist artists, for whom color was the chief symbol of expression, was born in Groot-Zundert, Holland on March 30, 1853.

The son of a pastor, brought up in a religious and cultured atmosphere, Vincent was highly emotional, lacked self-confidence and struggled with his identity and with direction. He believed that his true calling was to preach the gospel; however, it took years for him to discover his calling as an artist. Between 1860 and 1880, when he finally decided to become an artist, van Gogh had already experienced two unsuitable and unhappy romances and had worked unsuccessfully as a clerk in a bookstore, an art salesman, and a preacher in the Borinage (a dreary mining district in Belgium) where he was dismissed for overzealousness.

In 1888, Van Gogh decided to go south to Arles where he hoped his friends would join him and help found a school of art. At The Yellow House, van Gogh hoped like-minded artists could create together. Gauguin did join him but with disastrous results. Van Gogh's nervous temperament made him a difficult companion and night-long discussions combined with painting all day undermined his health. Near the end of 1888, an incident led Gauguin to ultimately leave Arles. Van Gogh pursued him with an open razor, was stopped by Gauguin, but ended up cutting a portion of his own ear lobe off. Van Gogh then began to alternate between fits of madness and lucidity and was sent to the asylum in Saint-Remy for treatment.

In May of 1890, after a couple of years at the asylum, he seemed much better and went to live in Auvers-sur-Oise under the watchful eye of Dr. Gachet. Two months later, he died from what is believed to have been a self-inflicted gunshot wound "for the good of all." During his brief career, he did not experience much success, he sold only one painting, lived in poverty, malnourished and overworked. The money he had was supplied by his brother, Theo, and was used primarily for art supplies, coffee and cigarettes.

In spite of his lack of success during his lifetime, van Gogh's legacy lives on having left a lasting impact on the world of art. Van Gogh is now viewed as one of the most influential artists having helped lay the foundations of modern art.

Singer/songwriter Don McLean (American Pie) released a hit paying tribute to the painter in 1972.

"In the autumn of 1970 I had a job singing in the school system, playing my guitar in classrooms," McLean told the Daily Telegraph.

"I was sitting on the veranda one morning, reading a biography of Van Gogh, and suddenly I knew I had to write a song arguing that he wasn't crazy. He had an illness and so did his brother Theo. This makes it different, in my mind, to the garden variety of 'crazy' – because he was rejected by a woman [as was commonly thought]. So I sat down with a print of Starry Night and wrote the lyrics out on a paper bag.

"I was in a bad marriage that was torturing me. I was tortured. I wasn't as badly off as Vincent was, but I wasn't thrilled, let's put it that way.

"This song, and Van Gogh's painting, reflect what it's like to be misunderstood. Van Gogh painted 'Starry Night' after committing himself to an asylum in 1889. He wrote that night was 'more richly colored than the day,' but he couldn't go outside to see the stars when he was committed, so he painted the night sky from memory."

McLean talked about the song on the UK show Songbook.

"It was inspired by a book. And it said that it was written by Vincent's brother, Theo. And Theo also had this illness, the same one Van Gogh had. So what caused the idea to percolate in my head was, first of all, what a beautiful idea for a piece of music. Secondly, I could set the record straight, basically, he wasn't crazy. But then I thought, well, how do you do this? Again, I wanted to have each thing be different.

"I'm looking through the book and fiddling around and I saw the painting. I said, Wow, just tell the story using the color, the imagery, the movement, everything that's in the painting. Because that's him more than he is him.

"One thing I want to say is that music is like poetry in so many ways. You have wit and drama and humor and pathos and anger and all of these things create the subtle tools that an artist, a stage artist, a good one, uses. Sadly, this has really gone out of music completely. So it makes someone like me a relic, because I am doing things and people like me are doing things that utilize all the classic means of emotional expression."
Beyond Van Gogh opened in Milwaukee today. The walk-through exhibit showcases the masterpieces of the misunderstood artist. It also opened in Honolulu last week…
The SE Florida Daily News did a review:
In recent years the arts have taken on new platforms reaching out to audiences beyond chic travelers, snobby critics, and art nerds. You no longer have to visit world-class museums to experience creativity firsthand. Through digital art, projectors, and motion sensors, immersive experiences have conquered the modern art world.
The exhibition begins with a room full of references to the artist's well-known "Sunflowers" series.

After everyone takes a selfie or 20, visitors move through a different hall dedicated to a different recognizable piece. The famous starry night suffocates the small room, with mirrors and eye-catching neon signs as pioneers.

Then suddenly everything shifts and the viewer finds himself in a dark room with a projection onto a single door – an introduction to what lies behind it.
Reading and slowly scrolling through this section will make all the difference as you enter the next and final room of the exhibit.
Ambient music plays in this huge space while the viewer sees digitized movements of Van Gogh's works projected onto the walls and floors.

Tickets are available for Beyond Van Gogh that can be seen at the Wisconsin Center, 400 W Wisconsin Avenue and runs until September 21.
BONUS!
50 years ago on July 3, 1971, lead singer of the Doors, Jim Morrison was found dead in a bathtub in Paris where he had moved. No autopsy was performed. Cause of death to this day is disputed.

PHOTO: Torsten Marquardt of Germany pours some whiskey on the tomb of rock singer Jim Morrison at the Pere-Lachaise cemetery in Paris, Saturday, July 3, 2021. Photo: Associated Press