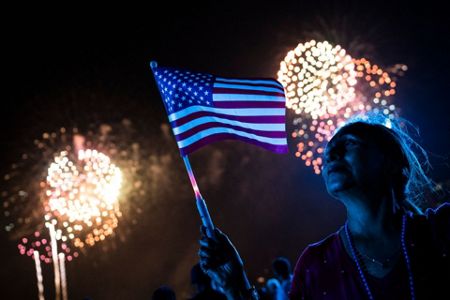 Spectators watch as fireworks are launched over the East River and the Empire State Building during the Macy's 4th of July Fireworks show, Sunday, July 4, in the Queens borough of New York. Photo: John Minchillo/AP

Prior to Independence Day I was very happy to see so many news articles and columns that praised the USA and others that observed Americans collectively desired to get out of the house and join their fellow citizens in partying on our nation's birthday.

The pulse of America has become more red, white, and blue. After hitting an all-time record low last year, a recent Gallup poll shows an increase in U.S. adults who take pride in being American.

The study, which was published on July 1, showed the combined number of "extremely proud" and "very proud" Americans at 69 percent, an increase from last year's 63 percent.

Bu while the country was about to burst in patriotic excitement, leftist and majorly tax-supported national Public Radio was tossing ice water on the sparklers.

One day after the stars and stripes Gallup poll was released NPR aired a segment on their Saturday newsmagazine "Weekend Edition" examining reaction to COVID vaccines in Missouri. Why the emphasis on the "Show Me" state? NPR reported that "just 56% of the adults there have started the vaccination process, and the southwestern part of the state is a COVID hot spot right now."

In an effort to spread gloom and doom Weekend Edition host Leila Fadel interviewed Erik Frederick, Chief Administrative Officer of Mercy Hospital in Springfield about the surge of COVID-19 patients in southwest Missouri. It was darn near a tear-fest. You'd have thought the two were in desperate need of a support group.

FADEL: So what's morale like, then, for the doctors, nurses and staff? The country is opening up. You're seeing people out and about again. I'm just curious if it feels lonely as you deal with being a COVID hot spot in this moment.
FREDERICK: I will tell you, I feel pretty lonely. Yes, I think that would be a sentiment you'd hear from a lot of people working in health care right now. You feel like you're kind of beating your head on that proverbial brick wall trying to tell people, understand what we're seeing. This is real. It's right here in front of us.
And, you know, my wife is a nurse. We work in health care for a very long time. And now we have to look at our kids and say, man, you know what? We're nervous about sending you to youth night at church, or, you know, we're being very careful about having large indoor gatherings and where we're going, and we've really scaled back again to where our weekends are largely at home now.
The masking, the distancing has sort of gone away, but in our part of the country, there's been very low adoption of the vaccine. And so we say, you know, from our perspective, and I know in speaking with some of our co-workers, it's just that frustration. It's here we go again.

FADEL: You know, July Fourth is coming. How concerned are you about the gatherings in your state this weekend?

FREDERICK: I'm very concerned, to be honest with you. I'm very concerned. There are things happening all over the community this weekend. As you know, it's Fourth of July weekend. Fortunately, unfortunately, we have a great forecast this weekend. The weather is going to be great. So families are going to want to get together, go to the fireworks. There's a big motorcycle event in town that they're anticipating about 5,000 motorcycle enthusiasts to come to town this weekend to celebrate.

Yes, God forbid people after being held hostage since March of 2020 would like to get on with their lives, enjoy nice weather, a grilled burger, fireworks, and an outdoor festival instead of pouting and hiding in their homes.

NPR. Your tax dollars at work.