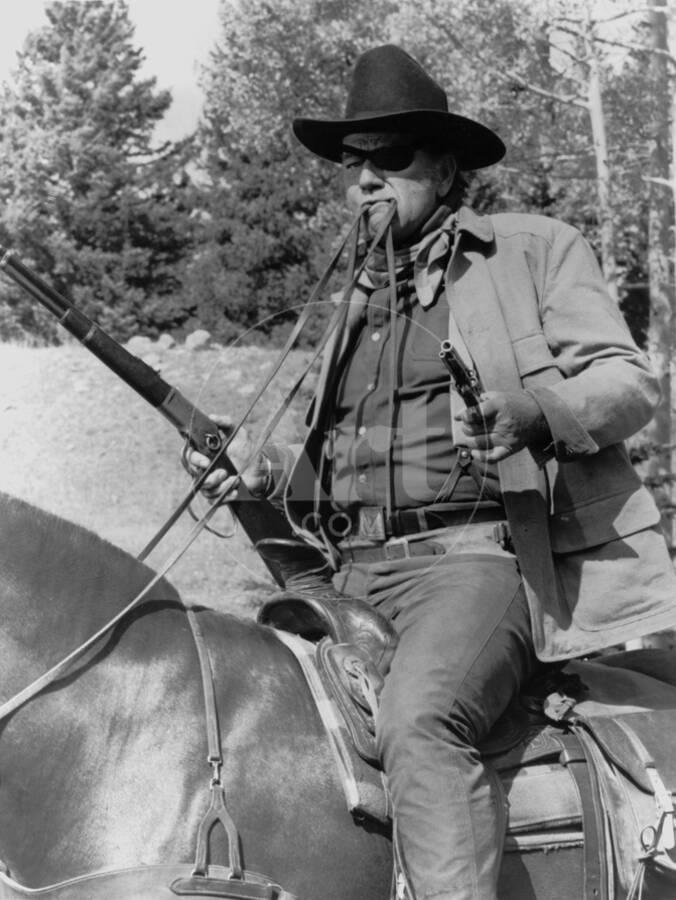 John Wayne was an outstanding American.

Rick Jewell is the Hugh M. Hefner Professor of American Film at the USC School of Cinematic Arts and an expert on westerns. He wrote:
John Wayne was an informed citizen, eager to share his opinions with the public at large. Being politically conservative, these opinions proved upsetting to many, especially during the turbulent 1960s and '70s. But even those who disagreed with the man generally respected him because it was obvious that he cared passionately about his country and its people.
When Wayne was gravely ill, Maureen O'Hara and a number of other celebrities petitioned Congress to award him the Congressional Gold Medal. O'Hara suggested that the award should simply read, "John Wayne, American." For once Congress did the sensible thing and followed her instructions.
The equation of John Wayne and America has subsequently been interpreted in a multitude of ways by those who admired him and those who did not. But no one can debate the fact that his life was the stuff of a Horatio Alger novel. Is it any wonder that he became, in his own words, "an old-fashioned, honest-to-goodness, flag-waving patriot?"

Wayne, of course, was an iconic movie figure. No one would ever confuse him as a recording star. Except for one brief chapter in his amazing career.

John Mitchum wrote poetry. He was the brother of Robert Mitchum. Robert appeared in a great western with Wayne.
Love that movie.

OK. Back to our story.
Wayne was so touched after reading John Mitchum's poetry he told Mitchum, "I've never recorded anything in my life, but I'm going to record an album of your poetry."

In an interview with the Associated Press Wayne said, "John Mitchum thinks like I think and writes like I wish I could" and he hoped his album would create "a little bit of rapport between everybody in our country."

Wayne's album of patriotic poems he recited was released in 1973.
In 1974 Wayne was nominated for a Grammy in the category Best Spoken Word Album along with:

Richard Harris: Jonathan Livingston Seagull

Billie Holiday: Songs and Conversations

Vincent Price: Witches, Ghosts, and Goblins

Kurt Vonnegut Jr.: Slaughterhouse Five
Harris won the Grammy.