Every Friday night we smooth our way into the weekend with music, the universal language. These selections demonstrate that despite what is being passed off as art today, there is plenty of really good music available. Come along and enjoy.

This year there will be 12 full moons, including three supermoons. A supermoon occurs when the moon is full and particularly close to Earth in its orbit.. More details coming up. This week, moon tunes. Let's get started.

The greatest and most popular big band leader ever was Glenn Miller. His signature sound was built around a clarinet in the lead, backed by several saxophones playing in harmony. Toss in trumpets and trombones and you had the recipe of Miller's tremendous success.

Of course he always opened his shows with his theme song. The Manhattan Jazz Orchestra strays from the Miller playbook, but their very nice adaptation is reverential and works quite well.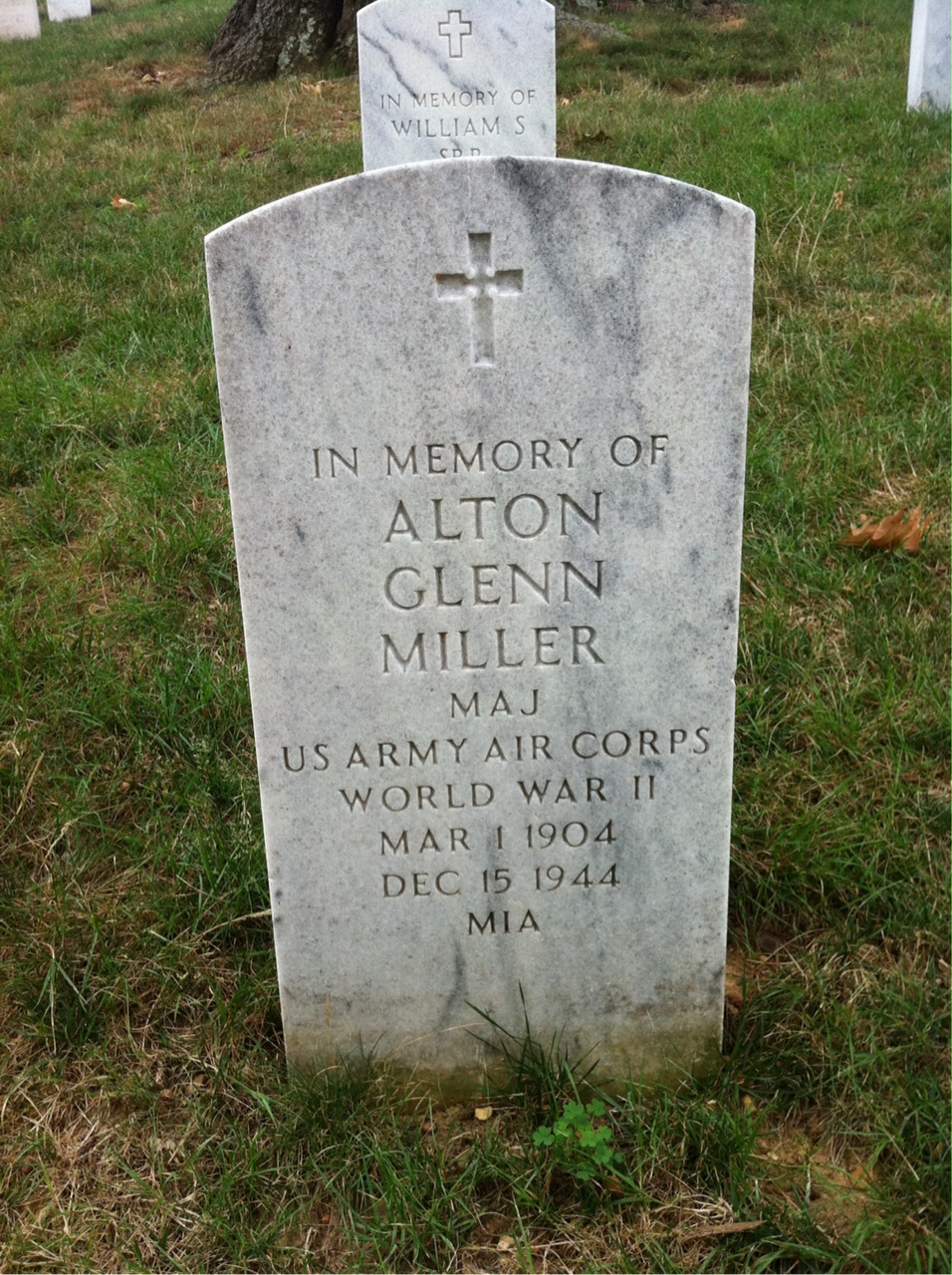 Miller disappeared more than 75 years ago during a flight across the English Channel to perform for troops overseas as part of his World War 2 orchestra. Attempts to resolve the mystery have never ended. Experts suspect they know where the plane crashed and it's within a three-square-mile radius.

Ric Gillespie believes a trawler pulled-up the doomed aircraft decades ago. An unidentified was trawling the seabed for shrimp, red mullet and other creatures when his net got "snagged on something." It became free of its trappings and pulled-up what appeared to be a "World War 2 plane", which he described as "hanging off the back of the boat." The fisherman recalled the nose was facing upwards and he also observed landing gear, an engine and a wing with a white star, that appeared to match the plane Miller travelled on.

Miller was 40 years old when he disappeared.

Still, crazy theories persist.
· Miller never boarded the plane, but was assassinated after Gen. Dwight D. "Ike" Eisenhower sent him on a secret mission one or two days earlier to negotiate a surrender from Nazi Germany.
· He made it to Paris, where he died of a heart attack in a bordello.
· The small plane he was on was destroyed by bombs jettisoned from a phalanx of Allied bombers passing overhead on their way back from an aborted mission over Germany.
In 2009, Steve Miller, Glenn's son said "enough is enough."

Miller's current orchestra continues to tour.

Let's begin our discussion about special moon observances this year.

The first of three supermoons in 2021, the Full Pink Moon is just around the corner. Experts say it's plenty worthwhile to watch outside.

The moon will turn full at 11:33 p.m. ET on Monday, April 26. At this point, the side of the moon that faces towards us will be fully illuminated, appearing like a perfect circle.
"Pink moon" comes from the pink flowers of the creeping phlox or moss phlox, a plant native to eastern North America, that often blooms around this time of year, according to The Old Farmer's Almanac.

Just about everyone in show biz has performed our next song, even Chevy Chase. It's probably the most famous "moon song" of all.

Henry Mancini and Johnny Mercer's collaboration won the Grammy Awards for Record of the Year, Song of the Year and Best Arrangement. Featured in the film Breakfast at Tiffany's it won the Oscar for Best Song.
After a preview screening of the film, the studio decided the screenplay was too long and wanted to cut the scene of Audrey Hepburn singing what would become a classic. Mincing no words, Paramount president Marty Rackin said, ly: "Well, the f–cking song has to go." Mancini's widow, Ginny, told the BBC, " I saw Henry go pale. We were all stunned, totally stunned. We were quiet for a minute or two and then there was a barrage of reasons why it should stay in the film and cuts should be made in other areas."
When Rackin told Hepburn he was cutting the song, she reportedly replied, "Over my dead body!"
The Jazz Ambassadors is the United States Army's premier big band. Known as America's Big Band, the Jazz Ambassadors are the premier touring jazz orchestra of the United States Army. Formed in 1969, this 19-piece ensemble has received critical acclaim throughout the United States and abroad performing America's original art form, jazz.
I love telling this next story. The year is 2002. I'm visiting my mother on a Saturday night. Naturally she's in front of the tube.
PBS.
There's a male vocalist in front of a huge orchestra. The bandstands all had the initials RS emblazoned on them. I recognized the performer immediately.
But he looked different. Much different. He was singing "Moonglow."
It must have been Moonglow,
Way up in the blue,
It must have been Moonglow,
That led me straight to you
Seeing and hearing this spectacle for the first time, my first thought was this is awful (I'd grow to love and appreciate it all later).
"Mom, do you know who that is?"
She wasn't sure. I knew she had never heard of him.
"Do you know he used to be a rock star?"
Nope. And she didn't really care.
"You like the way he's singing?"
Yep.
"You don't think he's murdering that song?"
Not at all.
It was at that point my conscience landed on my shoulder like something out of a Flintstones cartoon and told me with no subtlety to knock it off and let my mother enjoy.
Rod Stewart was singing and promoting the first of a string of albums featuring the Great American Songbook.
Mom was enraptured (Thank you, Mr. Stewart). And he would do several more songbook CDs. Mom had all of them.
Stewart has sold more than 250 million records.

SOME OTHER STEWART FACTOIDS…

Stewart left school at 15 and worked briefly as a silk screen printer. Briefly because he was fired when the boss found out he was color-blind.

Several times he's been divorced leading him to once remark, "Instead of getting married again, I'm going to find a woman I don't like and just give her a house."

AND this nugget was reported recently and it's a beauty.

Our next moon is the Full Flower Moon that is actually a "Total Super Blood Flower Moon Eclipse." On May 26, observers will be able to see the lunar surface turn a deep crimson for around 15 minutes. Why a "flower moon?" Because of the many spring flowers sprouting.

This one's noteworthy because it will take place during a total lunar eclipse. Where I live the moon will rise on May 26th at 9:00 pm. The exact moment when the Moon reaches the highest position in the sky, when it "crosses the meridian" will be 12:36 am Central Time.

Back to music. This song is from 1942, one of the many road pictures featuring Bob Hope and Bing Crosby. In Road to Morocco Crosby sang to Dorothy Lamour. Seth MacFarlane recorded it on a Grammy-nominated album in 2017.
In case you didn't know MacFarlane is the voice of Peter Griffin in Family Guy.

Our third and final supermoon in 2021 will be the Full Strawberry Moon in June that marks strawberry harvesting season in North America. The Strawberry Moon rises on June 24 at 2:40 p.m. Eastern Time.
Waukesha, WI native Les Paul was a guitar legend. From his obituary in the NY Times:

In 1940 or 1941, the exact date is unknown, Mr. Paul made his guitar breakthrough. Seeking to create electronically sustained notes on the guitar, he attached strings and two pickups to a wooden board with a guitar neck. "The log," as he called it, if not the first solid-body electric guitar, became the most influential one.

"You could go out and eat and come back and the note would still be sounding," Mr. Paul once said.
(In 1945 Bing) Crosby encouraged Mr. Paul to build his own recording studio, and so he did, in his garage in Los Angeles.
There he experimented with recording techniques, using them to create not realistic replicas of a performance but electronically enhanced fabrications. Toying with his mother's old Victrola had shown him that changing the speed of a recording could alter both pitch and timbre. He could record at half-speed and replay the results at normal speed, creating the illusion of superhuman agility. He altered instrumental textures through microphone positioning and reverberation. Technology and studio effects, he realized, were instruments themselves.
He also noticed that by playing along with previous recordings, he could become a one-man ensemble. As early as his 1948 hit "Lover," he made elaborate, multilayered recordings, using two acetate disc machines, which demanded that each layer of music be captured in a single take. From discs he moved to magnetic tape, and in the late 1950s he built the first eight-track multitrack recorder. Each track could be recorded and altered separately, without affecting the others. The machine ushered in the modern recording era.
In 1947 Mr. Paul teamed up with Colleen Summers, who had been singing with Gene Autry's band. He changed her name to Mary Ford, a name found in a telephone book.
They were touring in 1948 when Mr. Paul's car skidded off an icy bridge. Among his many injuries, his right elbow was shattered; once set, it would be immovable for life. Mr. Paul had it set at an angle, slightly less than 90 degrees, so that he could continue to play guitar.
Here's Jeff Beck who played with Eric Clapton and Jimmy Page in the Yardbirds along with Imelda May and a classic from Les Paul and Mary Ford.
So, to repeat:

April 26, 2021: Pink Moon
May 26, 2021: Flower Moon
June 24, 2021: Strawberry Moon
That's it for this week.

Goodnight.

Sleep well.

Have a great weekend.