No one noticed. And that includes the sleepy news media.

It took a Ph.D. candidate in political science who recently posted details on Twitter for us to learn about a significant study by the Pew Research Center from March 2020.

White liberals, moderates, and conservatives, both male and female, were examined in the study that found conservatives were far less likely to be diagnosed with mental health issues than those who identified as either liberal or even "very liberal."

There's more. White women suffered the worst of all. A strong majority of self-identifying white female liberals between ages 18-29 reported a history of a doctor diagnosing them with a mental health condition, much more so than any queried demographic. In that age group white liberal women were given a mental health diagnosis from medical professionals at a rate of 56.3%, as compared to 28.4% in moderates and 27.3% in conservatives.
Zach Goldberg, the doctoral candidate who discovered the study, posted this on Twitter.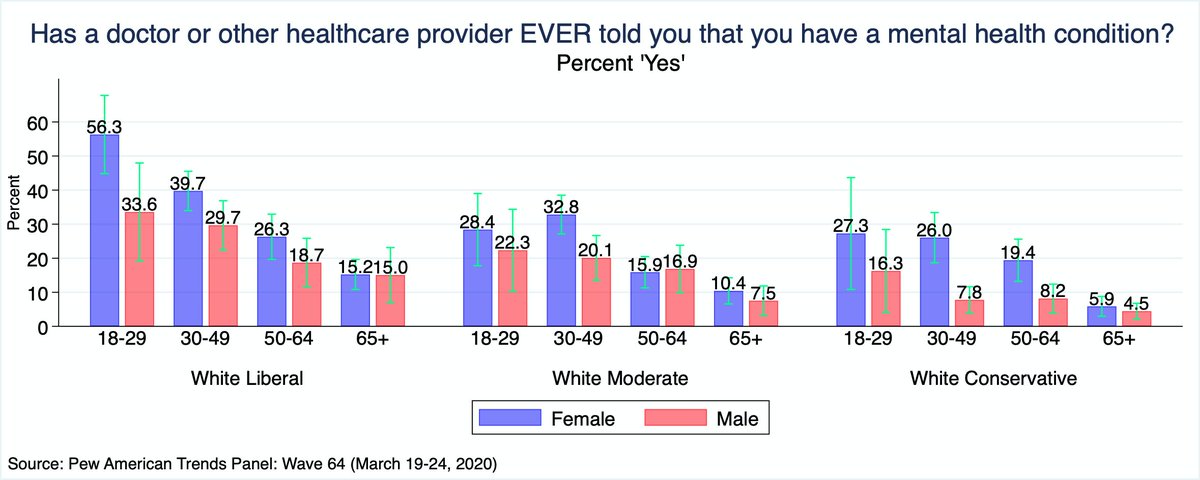 One might see humor in the study…

But it's serious stuff.

"I didn't write this thread to mock white liberals or their apparently disproportionate rates of mental illness (and you shouldn't either). Rather, this is a question that's underexplored and which may shed light on attitudinal differences towards various social policies."