Every Friday night we smooth our way into the weekend with music, the universal language. These selections demonstrate that despite what is being passed off as art today, there is plenty of really good music available. Come along and enjoy.
Black History Month is an annual celebration of achievements by African Americans that evolved out of "Negro History Week," the brainchild of noted historian Carter G. Woodson and other prominent African Americans. Since 1976, every U.S. president has officially designated the month of February as Black History Month.
The celebration is our focus this week. We open with some movie music. Critic Roger Ebert writes:

"Pixar's 'Soul' is about a jazz pianist (Joe Gardner) who has a near-death experience and gets stuck in the afterlife, contemplating his choices and regretting the existence that he mostly took for granted. The prologue peaks with Joe (voiced by Jamie Foxx) falling into an open manhole and ending up comatose in a hospital. It's a bummer twist ending to a great day in which Joe was finally offered a staff job at his school, then nailed an audition with a visiting jazz legend named Dorothea Williams who had invited him to play with her that night. After his near-lethal pratfall, Joe's soul is sent to the Great Beyond—basically a cosmic foyer with a long walkway, where souls line up before heading toward a white light. Joe isn't ready for The End, so he flees in the other direction, falls off the walkway, and ends up in a brightly colored yet still-purgatorial zone known as The Great Before."

For most of the rest of the movie Joe is trapped in the Great Before as he searches for a way back to his human form.

In the film Joe says, "Music is all I think about, from the moment I wake up in the morning to the moment I fall asleep at night. I was born to play."

"Born to Play" is the name of one of the movie's many songs composed, arranged and performed by real-life musician, Jon Batiste.
From the movie:
The notes Joe plays in the film are the notes you hear on the soundtrack. Photo: Pixar/Disney

From the NY Times:
Those close-up shots of Joe's hands in motion reflect the pianist's spirited style of play — so much so that Batiste was taken aback when he saw those moments onscreen. "My hands are central to my life," he said. "I was in tears when I saw my essence come to life in Joe. To have this as a part of my creative legacy is an honor."

"Soul" is the first Pixar film to feature a Black lead character.

A "Soul"- inspired exhibit opened at EPCOT this week at Walt Disney World. Read about it here.
Duke Ellington was born in 1899 and died in 1974 from cancer, just a few weeks after his 75th birthday. Ellington led his band from 1923 until his death.
From dukeellington.com:
"Duke Ellington influenced millions of people both around the world and at home. He gave American music its own sound for the first time. In his fifty year career, he played over 20,000 performances in Europe, Latin America, the Middle East as well as Asia.
"Simply put, Ellington transcends boundaries and fills the world with a treasure trove of music that renews itself through every generation of fans and music-lovers. His legacy continues to live on and will endure for generations to come."
Our next selection is from an album that's a collection of digitally mixed and mastered compositions written by and usually associated with Duke Ellington. His son, Mercer Ellington conducts the Duke Ellington Orchestra for this project recorded in 1987. The digital updates are a crisp and clear, timeless tribute to the Duke.
That's a true classic.
There's absolutely no way of knowing how big Van McCoy would have been had he not died so early. For the short time he did entertain us he was a giant in the music industry.
McCoy gave the world "The Hustle" in 1975, a Grammy award winner. The record, which sold over 1 million copies is regarded as a landmark in the disco movement.
One year later McCoy told the Washington Post "I don't think any of us were aware at the time we went in to cut 'The Hustle' that it was going to be as big as it was. I suppose I thought it would be a good album to cut because the dance was just beginning in the discotheques just starting to catch on. It wasn't as big as The Bump, but it was something people were starting to get into to get involved in."
"The Hustle" was so huge McCoy could never match the magnitude of its popularity. But McCoy still had some aces up his sleeve.
In 1976 McCoy wrote and released "African Symphony," a truly wonderful piece despite the fact it was merely a blip on The Hustle's radar.
The same year, of all people, Henry Mancini decided to do a soul/disco album that included "African Symphony."
To be honest, if you just consider record sales and airplay, this beautiful arrangement went nowhere. But if you judge on the merit, well that's a different story. Lots of musicians picked up on this piece, including the Wind Orchestra Zaragoza, formed in 2011, some 35 years after McCoy's instrumental.
Wind Orchestra Zaragoza is a professional ensemble of highly qualified musicians of young people from the Aragon Region of NE Spain who are passionate about wind band music.
Their rendition of "African Symphony" is reverent to the original and is truly amazing.
Songwriter, record producer and performer, Van McCoy suffered a massive heart attack at his home in June of 1979 and remained in a coma until his death in July. He was 39.
On Jan. 21, 1961, a quartet of 15-year old girls from Detroit signed on with Berry Gordy Jr.'s Motown Records. One of the original members was Mary Wilson.
"It was 1961, January, and we were The Primettes," Wilson told the Hollywood Reporter recently. "We were not The Supremes yet. We had gone for an audition at Motown prior to that signing. And Mr. Berry Gordy turned us down. We were quite young, about 15 and a half. And we went out and we recorded with another company called Lu Pine.
"But pretty soon we realized that Motown Records was the record company that we wanted to join. And we were still in high school. We were hearing Smokey Robinson and the Miracles, Marv Johnson, Mary Wells on the radio, and we said, 'That's where we want to be.' So we sat on the grounds of Motown, outside Hitsville, every day until pretty soon one of the producers came out and said, 'We need to have some background hand claps.' That's how we got into Motown. And Mr. Berry Gordy decided to go ahead and sign us because he said that we were really serious. We were still 16 years old, and our parents had to actually sign the contract, because we were underage. We didn't have any legal representation, because we were just so happy to be there."

So it's the 60th anniversary of the Supremes. What about a reunion?

"Well, let's put it this way: It's really up to Diana (Ross)" said Wilson. "I don't think she wants to do that. It doesn't make sense unless you come together lovingly. Or at least have an understanding. It can be an understanding, that's fine. But I don't think she does want to. So therefore I'm going on with my life. I look at it like this, especially with this pandemic: Who knows when the end may come. And at 76 and a half years old I'm not going to sit around waiting for something. As my mother used to say, don't cry over spilled milk. I have too much to live for now and be happy about."
Elaborately gowned, the Supremes could really sing. On December 21, 1969, they were guests on the Ed Sullivan Show in what I believe was their final appearance together on national television.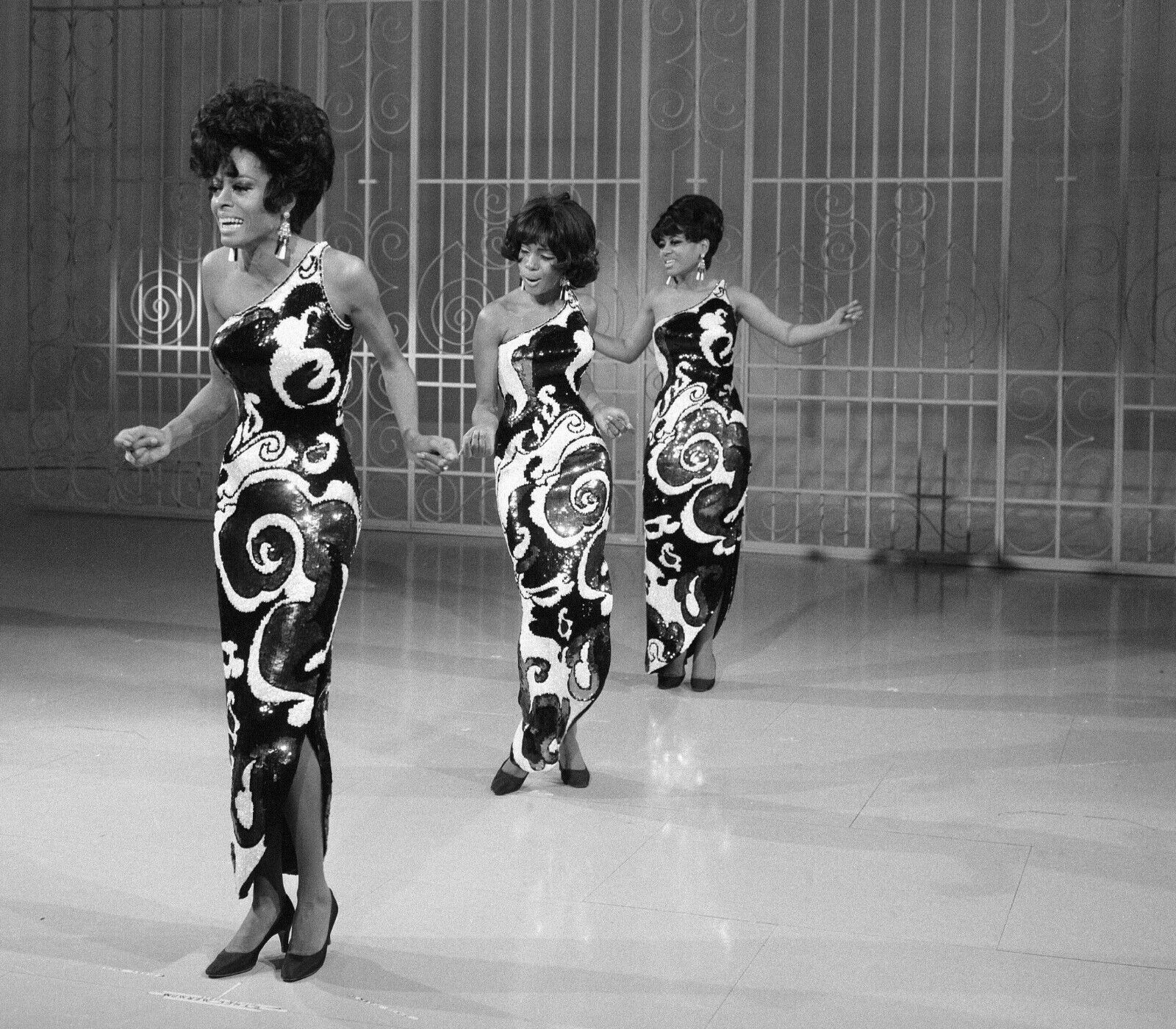 That's it for this week.
Goodnight.
Sleep well.
Have a great weekend.
Jazz is America's only true art form. That's been said countless times. And if so then jazz trumpeter Wynton Marsalis is a national treasure.

In 1981 he formed his own band and performed more than 120 concerts on the road every year for 15 consecutive years. Marsalis has produced more than 100 records that have sold over seven million copies worldwide including three Gold Records. Grammy Awards? He's won nine and is the only artist ever to win Grammy Awards in five consecutive years (1983-1987).

Honorary degrees have been conferred upon Marsalis by over 30 of America's leading academic institutions including Columbia, Harvard, Howard, Princeton and Yale.

In 1987 Marsalis co-founded a jazz program at Lincoln Center and opened Frederick P. Rose Hall, the world's first institution for jazz. The complex contains three state-of-the-art performance spaces (including the first concert hall designed specifically for jazz) along with recording, broadcast, rehearsal and educational facilities. Jazz at Lincoln Center has become a preferred venue for New York jazz fans and a destination for travelers from throughout the world. Marsalis currently serves as Managing and Artistic Director for Jazz at Lincoln Center.

We close with a piece from a 2014 Jazz at Lincoln Center concert in the Rose Theater that paid tribute to legend Dave Brubeck ("Take Five"). Prominently featured is Milwaukee native Dave Nimmer on the piano.