Every Friday night we smooth our way into the weekend with music, the universal language. These selections demonstrate that despite what is being passed off as art today, there is plenty of really good music available. Come along and enjoy.
After Elvis died in 1977 many celebrities were interviewed for a radio documentary. Singer Pat Boone said, "We'll never know what an old Elvis would be like. He'll just always be the King."

Elvis the Pelvis would have been 86 years old today. Astonishingly, though he's been gone for more than 40 years he's still making news, still being talked about and remembered, still making an impact.

An Elvis Presley biopic is slated for release on Nov. 5, 2021. Austin Butler will portray Elvis, Tom Hanks will play Elvis' manager Colonel Tom Parker, and Kelvin Harrison Jr will fill the role of blues legend BB King who died at the age of 89 in 2015. King met the star at Sun Studios in Memphis before he was famous.
In an interview with PBS' Charlie Rose in 1996, King spoke kindly of Elvis.
This week, Elvis and recordings you may never have heard before. Let's get started.

First released in part on the album Elvis In Person At The International Hotel 50 years ago, ELVIS: Live 1969 showcases an incredibly, important phase in Presley's career in Las Vegas: live shows for the first time in 11 years, recorded at the International Hotel in Las Vegas. The limited 11-CD box set was released in August of 2019, the 50-year anniversary of those Vegas performances.

The box set features 11 complete sets from the first of his many engagements at the hotel (several of which are released in full for the first time, with one show entirely unreleased). The 11 shows include the midnight show on August 21, 1969 and the dinner and midnight shows from August 22-26, 1969.

There's also a 52-page book with rare photos, memorabilia and an oral history by Ken Sharp from historic interviews with Elvis, Colonel Tom Parker, Tom Jones, Jerry Schilling, James Burton, Cissy Houston, Terry Blackwood, George Klein, Fats Domino and more. We like to begin with a rousing opener and this twin spin fits the bill as the curtain rises on an August 21, 1969 show.
"I missed the closeness of a live audience. So just as soon as I got out of the movie contracts, I started to do live performances again."

The 11-CD box set costs $105 on Amazon.com. Listening to all the CDs would take 13 hours and 17 minutes.
Elvis was a great American hero. Here's a perfect example.
In the late 1950's Congress gave its approval to the construction of a memorial in Pearl Harbor to honor the crew members entombed when the USS Arizona was sunk during an attack by the Japanese that sent the United States into World War II. It was the job of The Pacific War Memorial Commission to raise $500,000 to build the USS Arizona Memorial.
By the end of 1958 more than $95,000 was raised. However fundraising began to lag and at the start of 1960, only $155,000 had been collected.
Elvis' manager, Colonel Tom Parker, read about the slow progress in the Los Angeles Examiner. Elvis was already in Hawaii to film his next picture and agreed to do a benefit concert for the memorial.
On March 25, 1961, the 26-year-old Presley went onstage before a packed, screaming crowd of 4,000 fans at the Bloch Arena who paid anywhere from $3 to $100 a ticket.
Admirals and generals who hit Parker up for complimentary tickets were rejected. Parker insisted everyone pay, including the performers. Elvis bought a $100 ticket for himself and then bought dozens more to give to staff and patients at a military hospital.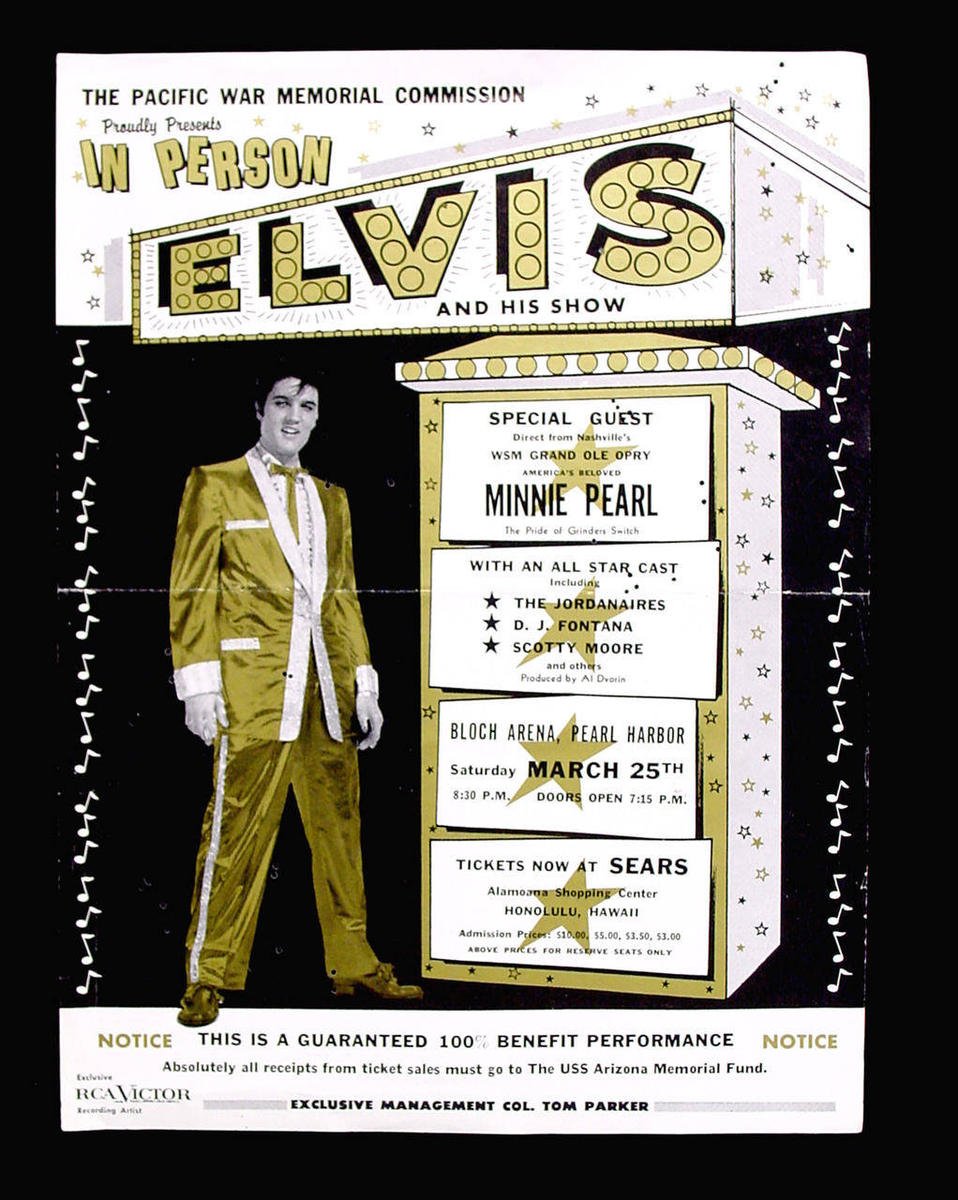 The concert raised $60,000, well short of the goal. But the show created a new excitement about the construction project and donations started to pour in. The $500,000 goal was reached by September, 1961, just 5 months after the concert. Construction on the memorial was completed by the end of the year. Elvis saved the USS Arizona Memorial.
Audio from that show…
Elvis didn't win many Grammy Awards. That's more of a reflection about the Awards themselves than Elvis. They didn't start handing the trophies out until 1958. And arguably Elvis was more deserving than some actual recipients.

"A Fool Such As I" that you just heard was nominated in 1959 for Record of the Year. But it lost to "Mack the Knife" by Bobby Darin, a very worthy selection.

Just a few weeks ago, December 21, 2020, marked the 50th anniversary of Elvis and President Richard Nixon's meeting at the White House.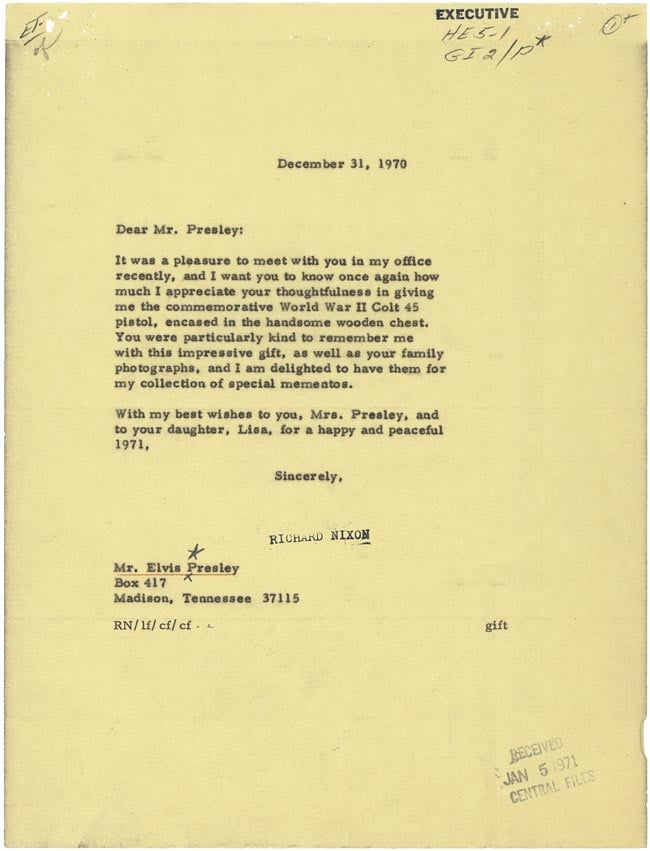 Elvis told Nixon he wanted to get involved with the White House's anti-drug campaigns. "I have done an in-depth study of drug abuse and Communist brainwashing techniques and I am right in the middle of the whole thing where I can and will do the most good," he wrote in a letter that helped get him into the Oval Office.

Many feel Elvis' true motivation was to get his hands on a special badge from the Bureau of Narcotics and Dangerous Drugs to add to his massive personal collection of police badges.

What Elvis single was on the Billboard Hot 100 chart that day? It sat at #32 having peaked at #11, and was also #1 on Billboard's Easy Listening chart.
Another Elvis single debuted on the chart that week at #56: his rendition of the country classic "I Really Don't Want to Know" that went to #21.
We know Elvis loved rock and roll, country, gospel, and R & B, but opera?

"When he'd see a band on television, he'd get up and imitate the maestro and get serious," Priscilla Presley told Rolling Stone magazine and that he admired Enrico Caruso and Mario Lanza.

"He loved their drama, their voices, their power."
"When you hear 'It's Now or Never,' that's Mario Lanza," said Priscilla.
CBS followed Elvis around all summer in 1977, filming his concerts for a TV special that would coincide with an RCA album, Elvis In Concert.
I watched TV that night along with millions of others, as Elvis was captured, walking on stage for the last time. As difficult as it is for true Presley fans like me to watch, it solidified in my mind how dedicated this man was to his craft, to his audience, to his fans.
The broadcast of that CBS-TV special has never been shown again since its first airing in 1977.
Elvis wasn't too fat.
Was he heavier than he was on those historic Ed Sullivan shows? Of course he was. Were you heavier at 42 than you were at 22?
Let's imagine Elvis at 42 years of age, walking into a bar in Milwaukee. Would people fall off their bar stools, aghast at how obese this man was?
No.
The fact is, when Elvis died, he looked like your average 40-year old guy.
Elvis worked his butt off.
Two shows a night, every night, in Vegas.
No one, not Sinatra, not Wayne Newton, not anybody did that, especially after Elvis died. His good friend Newton said it became a rule after Elvis passed on that you just didn't do two shows a night, period.
Cha cha cha!

Elvis did say publically that "It's Now or Never" was the favorite song of all he did.

That's it for this week.

Goodnight.

Sleep well.

Have a great weekend.

Irene Tsu helped break barriers for Asian-Americans in her long acting career in Hollywood.

She was a co-star with Elvis in the 1966 film "Paradise Hawaiian Style."
"It was the very first day on set and I was so nervous," Tsu told Fox News. "Everyone was having lunch and I really didn't feel like eating because I was that nervous. So I decided to go take a nap and if I was needed on set, they would call me. I went to my trailer and the air conditioner wasn't working. I was just hysterical — really hysterical. I thought, 'Oh no, this isn't happening.' You could only imagine how hot it was. And there was no one around because everyone was having lunch.
"I started walking around and I suddenly found this big hut. I thought, 'There must be an air conditioner there.' All of a sudden, there was a hand stopping me. I immediately apologize without even looking up. And I was told, 'That's Elvis' dressing room. You can't just go in. I'm going to have to ask if you're allowed.'
"Elvis had told him I could stay for as long as I liked and not to worry about it. So I fell asleep."
When she opened her eyes after a restful sleep, she saw Presley's face closely staring right back at her.
"He was putting a cold compress on my face. He thought I must have passed out or something. I didn't even know what to say because I was so shocked. And then he went, 'Don't worry about it. I just want you to feel good. Are you hungry? Do you want something to eat? Are you thirsty?' I couldn't even talk!

"I was overwhelmed by everything I was experiencing. He smelled like baby powder and milk. But he just kept insisting if I needed or wanted anything."

In this scene Elvis and Tsu are headed in a helicopter from Waikiki to the Polynesian Cultural Center on the north side of Oahu. You'll hear the familiar refrain of "Pearly Shells."