This year's top story was chosen for several reasons:

It garnered a lot of attention.

It was controversial.

When the issue was debated at City Hall it was standing room only.

Franklin's miserable business climate was on full display.

Some aldermen demonstrated how clueless they truly are when it comes to leadership and city growth.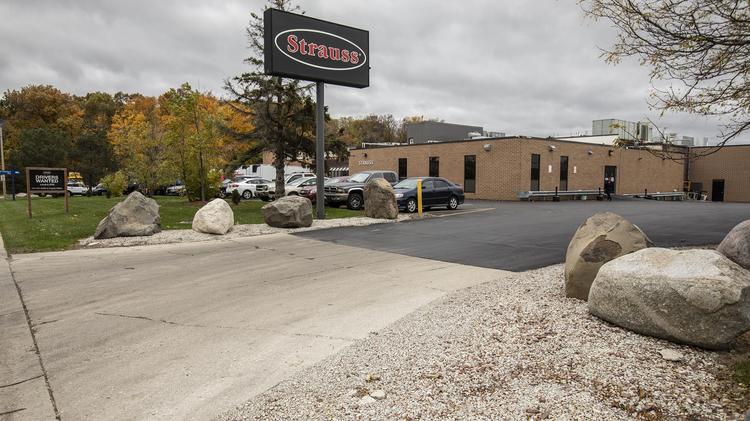 After Strauss Brands that is headquartered in Franklin failed in its effort last year to move operations to the city of Milwaukee the company announced in February of 2020 it would remain in Franklin. CEO Randy Strauss issued a printed statement:

"After careful consideration, Strauss Brands has decided to stay in Franklin, our home for more than 50 years. We appreciate the ongoing support and patience of Mayor (Steve) Olson, his team and the city of Franklin."
Statement from Franklin Mayor Steve Olson:
I often have been asked "what's going on with Strauss?" The real question that's unasked is "staying or going?" We've been working with Strauss management for perhaps five years on their need to consolidate and/or expand. Almost two years ago they purchased 30 acres from Bear Development in our new Loomis Road business park and announced plans to build a consolidated plant/office there. Then Milwaukee offered large financial incentives and access to a ready workforce. Politics are what they are and support changed causing Strauss to withdraw their plan to move to Milwaukee. Offers from communities across the country poured in to the Strauss offices all while we continued to present our advantages. Strauss executives have been working diligently on business and building plans and have finally come to a point where they can publicly announce what they've been telling city leadership for a long time now. They're staying here, they're building here. The city changed some terms to make the commitment by the company more closely match their business plan. We expect applications for approvals very soon. We're proud that Strauss is staying home.
The plan was to expand in the Loomis Business Park near Ryan and West Loomis roads with Bear Development of Kenosha leading the project. For several months the story was off the radar. And then it exploded.

The backstory began with President Trump
When Strauss Brands announced in 2019 it wanted to expand and not in Franklin but in the city of Milwaukee it made perfect business sense.

At the time Strauss wanted to take advantage of an Opportunity Zone (OZ).

Opportunity Zones are economically-distressed communities, designated by states and territories and certified by the U.S. Treasury Department, in which certain types of investments may be eligible for preferential tax treatment. The tax incentive is designed to spur economic development and job creation in distressed communities by providing these tax benefits to investors. Effective June 14, 2018, Treasury certified Opportunity Zones of all states, territories and the District of Columbia. Opportunity Zone designations certified by Treasury will remain in effect until December 31, 2028. The program was created by the Trump administration while Scott Walker was governor (his office drew up the zones based on Census tracts), and is administered in Wisconsin by the WI Housing and Economic Development Authority (WHEDA).

Milwaukee has Opportunity Zones. Franklin does not.

The stage was set for a Strauss move north. Strauss intended to move into a Milwaukee OZ, an area thirsting for jobs.

The company might have done it, had it not been for a loud, vocal group of terribly misinformed residents who used phony scare tactics, claiming Strauss would wreak havoc and unleash every peril known to man on the city of Milwaukee.
Some city officials caved. Strauss said forget it. We're done here.
Suddenly, inconceivably, Franklin miraculously had a chance to retain Strauss and expand. The economic benefits to Franklin are off the charts.

But again, a loud, vocal group of terribly misinformed residents began to use phony scare tactics, claiming Strauss will wreak havoc and unleash every peril known to man on the city of Franklin. These opponents planned to pack a Franklin Planning Commission hearing in early October. I wrote, "It's possible that the Franklin Common Council, not known for its business acumen, will be intimidated and crumble into the fetal position on this entire matter."

I was expecting the typical "sky is falling" warnings from the anti-Strauss crowd.
Just about every speaker will use the term "slaughterhouse."

Traffic will be snarled.

Cattle will get loose.

Manure will be everywhere.

The stench will be overpowering.
The environment will suffer.

Jobs won't pay crap.
Workers will get injured.

PTSD cases will increase.

Eating meat is dangerous.

Eating meat is inhumane.

Children will die.

Noise.

Pollution.

Violent crime.
I was waiting for someone to quote Paul McCartney: "If slaughterhouses had glass walls, everyone would be a vegetarian."

Meanwhile comments came pouring in from Strauss workers in support of the Franklin expansion.
It was no surprise that hyper enviro Franklin Alderwoman Kristen Wilhelm was poised to reject the $74 million expansion of Strauss Brands and the numerous jobs that would be created.
During the lengthy public hearing on the proposal at a Planning Commission meeting one of the speakers was Marcelino Rivera who started a petition online against Strauss and also organized a protest outside Franklin Mayor Steve Olson's house that was diverted when police blocked off the street.
After his three-minute time limit expired Rivera refused to leave and had to be escorted away by a police officer. When Rivera went out into the crowded hallway he immediately began talking with Wilhelm who started giving him advice and counsel. Lots of people saw them conversing.
It's clear what Wilhelm told Rivera to do. Later in the hearing Rivera went up to the microphone a second time, attempting to testify. But he was reminded by Mayor Olson the rules were that a speaker got only one opportunity. For a second time Rivera refused to leave. For a second time he had to be escorted out by one of Franklin's finest.

My vote predictions
On October 20 the Franklin Common Council will meet to vote on the proposed expansion of Strauss Brands. Expect opponents to launch a series of amendments to, if not kill the project, over-regulate and seriously hamper the facility's operation.
Let's handicap how the council members might vote on this important project that's not a slam dunk. Franklin, rightfully so, has a well-known reputation of being hostile to businesses. Here's how I see the voting going.

Alderman Mark Dandrea: The calm, thoughtful, well-reasoned Dandrea will vote YES. I'd call his vote a solid YES.

Alderman Dan Mayer: One of the two worst aldermen in Franklin. Mayer has done nothing to advance the city. Think about this. Mayer was a major obstructionist on two of Franklin's historically most significant developments: Ballpark Commons and Kayla's Playground. All Mayer needs to fight an idea is to have a few residents bitch and he's done. A definite NO.

Alderwoman Kristen Wilhelm: Worst council member in Franklin? Flip a coin between her and Mayer. She's a wacko when it comes to the environment and despises any growth efforts by Mayor Steve Olson. An emphatic NO.

Alderwoman Shari Hanneman: YES.

Alderman Mike Barber: Not a solid YES, but in the end, YES.

Alderman John Nelson: The project is in his district. The fact he's not shouting from the rooftops how critically important this expansion would be for the city is telling. Nelson seems to always want to please everybody which is impossible in the world of politics. The loud opponents, despite phony claims, will ultimately get to Nelson who will vote NO.

If my calculations are correct, that would mean 3 votes YES, 3 votes NO. Under the rules Mayor Olson would then break the tie and he will definitely in that scenario vote YES.

The (first) Common Council vote
Franklin took another major step at solidifying its well-deserved reputation of being hostile to business when it voted 4-2 against an expanded facility for Strauss Brands, a company that has been in Franklin for nearly 50 years.
As expected, aldermen Kristen Wilhelm, Dan Mayer, and John Nelson voted NO. But a surprise NO vote came from Shari Hanneman who stunningly opted to reject the proposal after rattling off the economic benefits the city would reap from a Strauss expansion.
Before the vote was taken Hanneman boasted of her economic education credentials and told the audience her expertise allowed her to perform her own economic impact study. Hanneman found:
The local economy gets an additional $1.3 million just by Strauss being here.
A Strauss expansion would increase the annual benefit to $2.4 million.
Construction would generate #60 million.

The project would create more than 700 jobs.
The project would generate $4 million in impact fees.
Strauss would pay $300,000 in taxes, far more than it paid in 2019.
So Hanneman's a supporter, right? Wrong.
Prior to voting NO Hanneman said Strauss and the city could have done a better job of outreach on the proposal, including the creation of an FAQ website page, for example.
And once again, the city of Franklin delivered a loud and clear disappointing message to potential businesses: Go away. We don't want you.

Aldermen Mark Dandrea and Mike Barber voted YES.
Franklin businesspeople were quick to express their dismay.

Most people were unaware of a critical repercussion of the NO vote: a tax increase.
I broke the story that the Common Council would reconsider its NO vote at their November 2nd meeting. Strauss sent a letter to the Mayor and Common Council offering more details on their proposal.

When the council reconsidered the outcome was different as the expansion was approved.

Franklin Community Advocates, Inc., a non-profit made up of Franklin residents, filed a lawsuit Dec. 1 against the city of Franklin over the approval. The Woodlake Village Homeowners Association and nine individual residents are also listed as plaintiffs, according to online court documents.
Court documents filed in the suit list five points of contention with Strauss's application and the subsequent reconsideration and approval by the common council. Those points include a lack of substantial evidence, interference with adjacent developments, that it's contrary to applicable zoning, it's inconsistent with the city's comprehensive plan and it violates due process with a risk of bias."The conduct of City officials including the Mayor strongly and vociferously indicated a strong pre-determined bias by the Mayor and others in favor of the Strauss project and the (special use permit/conditional use permit)," the document said.
FCA also alleges required federal and state permits from the Wisconsin Department of Natural Resources, Environmental Protection Agency and the Milwaukee Metropolitan Sewerage District have not been applied for by Strauss.
Franklin's City Attorney Jesse Wesolowski said the city is represented by its insurer, the League of Wisconsin Municipalities mutual insurance company.

I believe the lawsuit filed in Milwaukee County Circuit Court is without merit and will not be successful.
THE TOP 10 FRANKLIN STORIES OF 2020
1) STRAUSS LOSES, THEN WINS
2) FRANKLIN SCHOOL DISTRICT PUNISHES FOOTBALL
3) MILKMEN ARE CHAMPIONS!
4) FRANKLIN CANCELS FUN
5) FRANKLIN IS TOO NOISY
6) IMPRESSIVE OPENINGS
7) FRANKLIN POLICE SAY NO TO MILWAUKEE
8) OLSON VS. RYAN
9) THE SPACE TO BE
10) THE PARADE BRIGADE