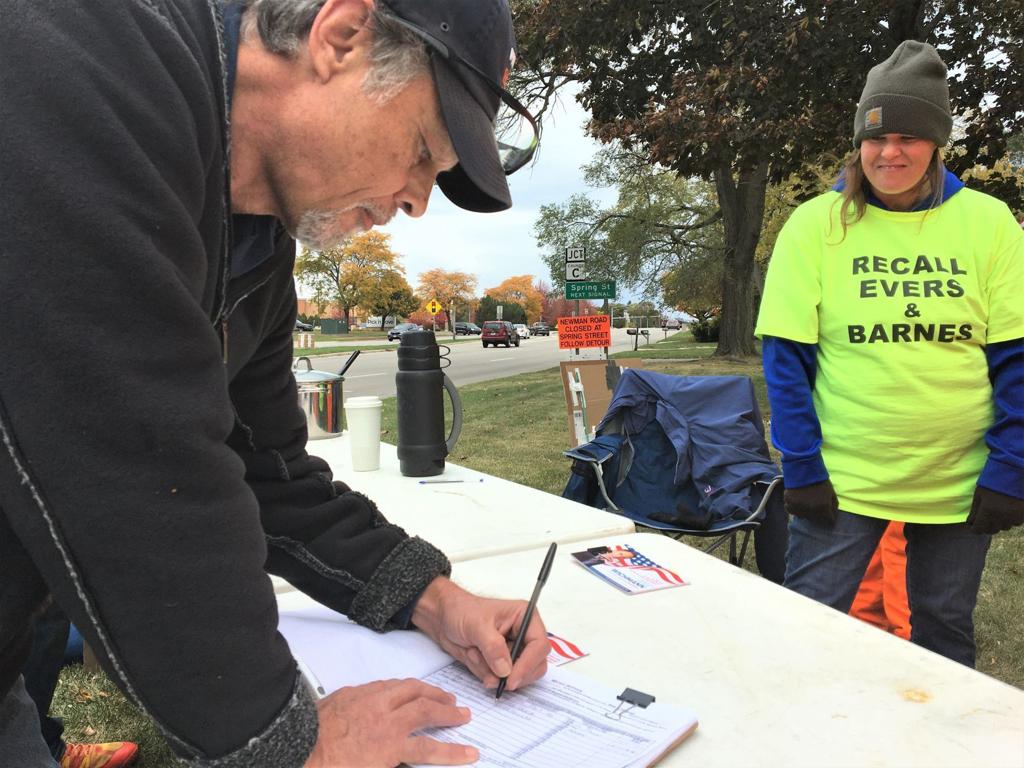 Back in late August I called upon recall expert Orville Seymer, a Franklin resident, to lend his insight into the launching of the recalls against Gov. Tony Evers and Lt. Gov. Mandela Barnes. Seymer meticulously outlined why the timing of petition drives was highly questionable.

Now that the recalls didn't work out Seymer is back with analysis of what went wrong. The answer is a lot.
Why Did the Evers/Barnes Recall Fail? (exclusive)
By Orville Seymer
There are many reasons why the Evers/Barnes Recall effort failed but the main reason is lack of organization.
The Recall group apparently on a whim decided to file a Recall of the Governor and Lt. Gov. Did they deserve to be Recalled? Most people would agree that the Evers/Barnes administration is possibly the most incompetent administration in Wisconsin history, so clearly they deserved to be removed from office.
The Evers/Barnes administration is exactly what the Recall provision was designed for. It is very important to understand exactly how difficult it is to gather nearly 750,000 signatures. This is where the organizers fell down and that was just their first mistake.
It is always best to get organized before actually filing the actual Recall effort. That means forming an "Exploratory Political Action Committee (PAC) which allows the group to raise some money and spend some money and get volunteers in place before the 60 day clock starts ticking. This was the second mistake.
The Recall of a Governor is a very big story, yet I'm not aware of any press releases from the Recall group to announce any type of signature gathering efforts. In my experience the media wants to cover a big story such as a Recall of the Governor. This was their third mistake.

Nearly everything the Governor and Lt. Governor do on a daily basis is subject to the Wis. Open Records laws, it is incredible what turns up in simple Open Records Requests, and in Evers' case, he has a history of not complying with simple Open Records Requests. That in itself is a Press Release and a major media event. This was their fourth mistake and a major one at that.
Petition Security is vitally important in any Recall effort. According to the Recall Evers FaceBook page, someone was acting as a "mole" and apparently infiltrated the petition vetting process and surprise, apparently a large number of petitions disappeared. This was their fifth mistake and again, a major mistake.
A few other simple mistakes. If they would have waited a week and a half to file the Recall way back in August, they could have included the Nov. 3rd election within the 60 day time frame for gathering the signatures. This would have allowed petitioners to collect signatures at the polls on election day. Sixth mistake.
They could have also timed the original filing so that the last day or 60th day would fall on a Sat. This would have allowed an extra day to gather signatures over the final weekend and could have possibly put them over the top if needed. Seventh mistake.
Again according to their Face Book post, a large number of people did not complete the "Circulator Certification" at the bottom of every Recall petition. So they did not have a team of people sending these petitions back where they came from to complete this important step. Without the "Circulator Certification" all the names on the petition are invalid. Eighth mistake.
As I have said before at the beginning of the Recall effort, I offered my knowledge and expertise which would have minimized all of the above mistakes, all at no cost to the Recall organizers except they never took me up on my offer.
I'm sure there were other minor mistakes but the above mistakes were enough to kill the effort.

Some will say that I am speaking out of turn, so let me say this. In 2002 when we Recalled then-Milw. County Exec. Tom Ament, Mr. Ament hired some very prominent attorneys to represent him in attempting to have the entire Recall effort thrown out. It was some time after that Recall was all completed that I ran into one of Mr. Ament's attorneys and he told me that our Recall was one of the best Recall's they had ever seen. They could only find 2%-3% of the signatures that they thought they could challenge and there was no way that they could even begin to challenge enough signatures to have the entire effort thrown out, so Tom Ament threw in the towel.

Some will say that this Recall should not have been attempted and that they should wait until a regular election cycle. I disagree with that premise, the power of a Recall is to single out a politician in a special election. I strongly believe that Recalls are a good thing as it keeps politicians of all stripes on their toes and looking over their shoulder, so we should be making Recalls easier not harder.
Orville Seymer is one of the founding members of CRG Network and he has participated in dozens of Recalls around the State of Wisconsin including the historic Recall of Milw. County Exec. Tom Ament in 2002