THIS WEEKLY BLOG POSTED EVERY MONDAY PROMOTES A CULTURE OF LIFE
Don't miss our closing heartwarming story every week!
PLANNED PARENTHOOD'S POSITIONS ON 2020 PRESIDENTIAL CANDIDATES.
'Vanity Fair' Warns ACB Will 'Execute' Women for Getting Abortions.
Priest: Silent bishops will have blood of aborted babies on their hands if Biden wins presidency.
When You Hear The Term 'Late Abortion,' Think Of Me And My Embree.

A new report aims to measure the impact of pro-life pregnancy centers on women's health care in the U.S.
The latest e-newsletter from Pro-Life Wisconsin.

Wisconsin Right to Life's Political Action Committee has announced the following endorsements for the November 3rd, 2020, General Election.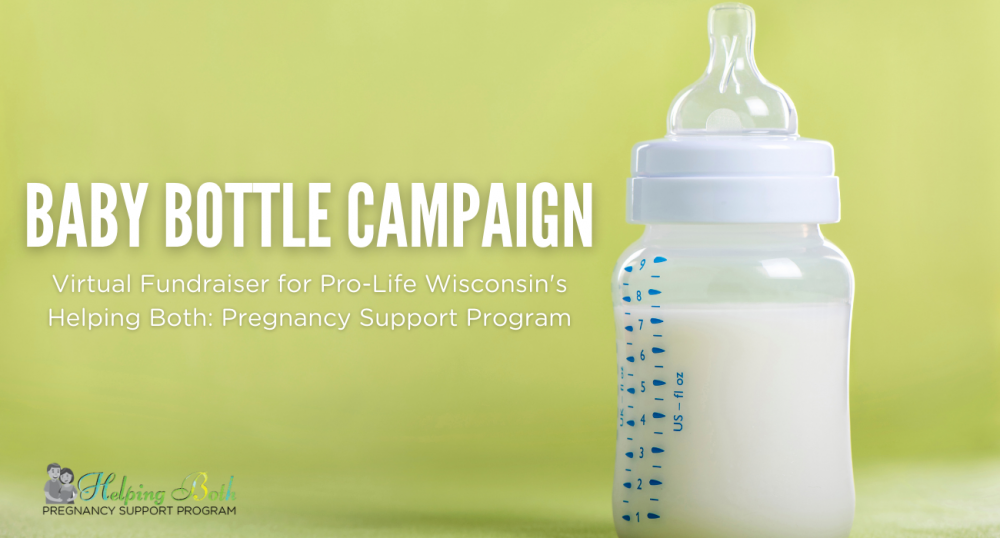 Every year, Pro-Life Wisconsin partners with churches throughout the state and holds a Baby Bottle Campaign through our Helping Both: Pregnancy Support Program. However, because of the COVID-19 pandemic, we're moving the physical baby bottle campaign to a virtual baby bottle campaign. You can give online and help countless moms and their beautiful babies.

Crisis pregnancies happen all the time whether there is a pandemic or not but especially now, women need a supportive community to choose life for their preborn baby. The temptation of abortion is even greater in these difficult times. Sadly, many women are vulnerable in a crisis pregnancy to pursue an abortion.

We know that moms choose life because of the help that they receive from PLW's Helping Both: Pregnancy Support Program. We work with local Pregnancy Resource Centers to save the life of the baby and heal the hearts of hurting moms. Helping Both fills the gap and changes lives.

We know that in this time, unemployment has affected families and limited their access to childcare, and education. It has stretched family resources and their ability to pay rent and/or their monthly bills. Our Helping Both Program fills the gap for families and gives the hope that moms in crisis pregnancies so desperately need. Your financial support means you are there for moms and their babies after birth too. Through the Helping Both Program, families have received food, gas, baby clothes, rent assistance, appliances, and financial assistance for their education. These are just a few of the ways this program has made a difference in the lives of pregnant moms in crisis.

Your generosity in this virtual baby bottle campaign provides the financial resources to continue supporting families in need. Please give generously today!
AND FINALLY, LOVIN' LIFE…
Thanks for reading!