THERE ARE THOUSANDS AND THOUSANDS OF FOOD BLOGS, BUT ONLY ONE CULINARY NO-NO!
Nothing is safe from the coronavirus in troubled 2020. That includes Halloween.

Earlier this month word got out that my extremely liberal alderwoman was working behind the scenes to either cancel or scale back trick or treating. Several people heard her talk about her plan. After being caught and exposed the alderwoman poo pooed the notion that anyone would imagine that of her.

Who would want to ruin trick or treat for children by imposing all sorts of rules that would remove all the fun? Remember, it's 2020, and there are all kinds of fear mongers with power to be killjoys.

From the Milwaukee Journal Sentinel last month:
Both the Wisconsin Department of Health Services and the CDC have recommended against traditional door-to-door trick-or-treating.
The Los Angeles County health department stirred up controversy by issuing an order banning trick-or-treat as well as events like fall festivals. A day later, the department backtracked a bit, instead recommending that communities not host trick-or-treat this year.
In Wisconsin, Antigo has canceled trick-or-treat, replacing it with a scary movie drive-in event with socially distant costume contests at the Langlade county fairgrounds.
Milwaukee mayor Tom Barrett has said no decisions have been made on trick-or-treating yet but that he's working with the health commissioner on a plan.
Several southeast Wisconsin communities have trick-or-treat times listed on their websites and Facebook pages, although officials are leaving open the possibility of canceling or changing things up due to safety precautions..
Local parents are coming up with alternative ideas.
Facebook user Zeno Franco posted a poll to the Bay View Town Hall Facebook group, asking his neighbors to vote for different trick-or-treat celebration options.
As of Sept. 10, the most popular option was for families to forgo trick-or-treat, but go crazy with decorations and giving their own kids candy. Emphasizing the controversy involved, the second most popular option was to just go ahead with trick-or-treat as usual with no special precautions.
Other innovative suggestions include:
Kids sitting in their own yards while adults walk by throwing candy to them
Trick-or-treating with a contraption made of 10-foot PVC tubes, which would allow candy to be slid to the kids in a socially distant manner
Canceling Halloween this year in favor of two Halloweens in 2021
Using drones to drop candy to kids in their yards
"Innovative" the reporter writes. I say stupid.

No question Halloween will be different this year.

But why stop there?
It's true. Remember this is wacky California we're talking about.
From USA TODAY:

The impracticality of some of the safety measures – it's hard to fit everybody at a table 6 feet apart or to eat a meal outdoors in the late November chill – combined with pandemic fatigue and some Americans' defiant nature will probably lead many to ignore the suggestions.
"I know there will be plenty of families who mock this kind of advice and say, 'That's ridiculous. We're going to get together and enjoy Thanksgiving like it's supposed to be, and no one's going to tell us otherwise,'" Dr. Steven Woolf, director emeritus of the Center on Society and Health at Virginia Commonwealth University said. "That may give them a sense of independence, but then the virus gets to Grandma, and she ends up in the hospital on a ventilator, and then you live with the guilt."
Woolf and other experts recommend that families in separate households sit at their Thanksgiving tables at the same time and connect through a video platform such as Zoom, which might give a sense of sharing the meal. If members of different households congregate inside, opening windows would at least improve ventilation and could help diffuse the virus, reducing the chances of contagion.
Columnist Rich Manieri boils down all this foolishness:
There won't be much time for regaling your guests with post-feast storytelling, or even dessert for that matter. You need to keep it short – two hours maximum, the governor says. Then, it's everyone out, post-haste. If you have any lingerers, do what a friend of mine does when he decides the party's over and wants everyone to leave – start cleaning up. You can even put up the chairs. They'll get the hint. If not – and I hate to resort to this but rules are rules – you might have to get physical. I don't see anything wrong with hiring a bouncer for a couple of hours to clear out the riff raff.
Yes, in a state where only Nancy Pelosi can still get a rinse and a blow-out, you, the tax-paying citizens, have to celebrate Thanksgiving in the yard.
I'm not sure how California plans on enforcing what it calls "mandatory requirements for all gatherings." Along with the obvious challenges, defunding local police departments is all the rage in Cali so good luck finding enough cops to staff a special turkey detail.
CULINARY NO-NO BONUSES
Wolf Richter, the founder of Wolf Street Corp has released his monthly update on the recovery in cities, in terms of what people are doing and where they're going, if anywhere, and how raw unadjusted indicators compare daily or weekly to how it was just before the pandemic. Here's an excerpt:
Restaurants as measured by "seated diners."
OpenTable provides daily data on "seated diners," tracking how many people – walk-ins and those who made reservations online or by phone – actually sat down in restaurants to eat and drink, compared to the same weekday in the same week last year, based on thousands of restaurants in the US that shared this data with OpenTable. I converted daily numbers to a 7-day moving average to smoothen out the day-to-day fluctuation.
These are the types of restaurants where diners can make reservations. They exclude cafés, fast-food places, delis, and the like. Currently, into the eighth month of the Pandemic, "seated diners" are still down 41.1% from where they'd been last year at this time: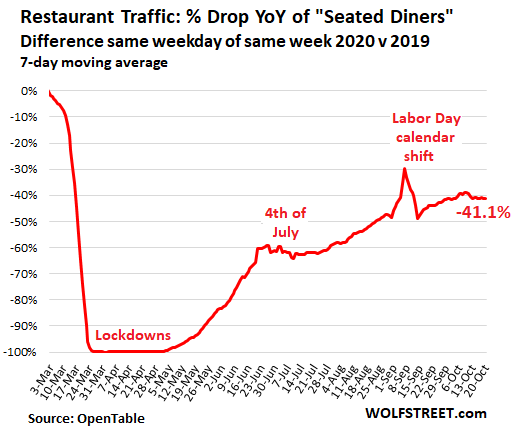 The number of restaurants that took reservations before the Pandemic and that are now taking reservations again was still down 26.5% on average over the past 30 days, compared to the same period last year. This is a rough stand-in for how many of these restaurants have re-opened – rough because some restaurants with outside-dining only have eliminated reservations as diners might not show up when it's suddenly too cold and windy (one of our favorites in San Francisco has done that; it's open though it no longer takes reservations):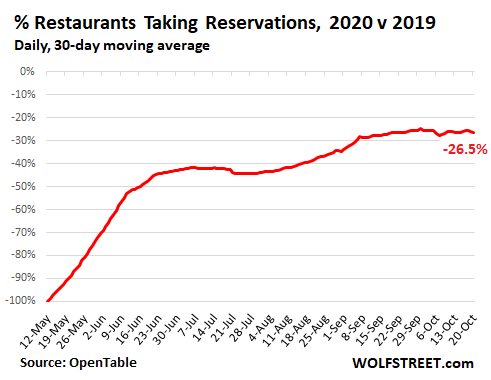 The disconnect between the number of open restaurants being down only 26.5% from a year ago, to the number of seated diners being down 41.1% can in part be explained by reduced capacity in restaurants inside or outside.
'This is going to be a long haul': Local taverns close for the winter
Health experts say you may want rethink birthday candles on cakes during pandemic

ICYMI, Culinary no-no #672