THIS WEEKLY BLOG POSTED EVERY MONDAY PROMOTES A CULTURE OF LIFE
Don't miss our closing heartwarming story every week!
During a recent town hall meeting, presidential candidate and fake Catholic Joe Biden was asked what he would do as president if Amy Coney Barrett were confirmed to the Supreme Court and voted to overturn Roe v. Wade. He stated that, if Roe were to be overturned, "the only responsible response to that would be to pass legislation making Roe the law of the land."

When Bishop Joseph Strickland of Tyler, Texas, learned of Biden's latest defense of aborting babies, he tweeted: "We must speak against the fallacy that abortion is about a woman's health care. Interrupting the natural process of pregnancy is actually a threat to a woman's health. And to speak of the murder of the child in her womb, death by dismemberment is evil."
Facebook Censors Pro-Life Ads Exposing Joe Biden's Support for Late Term Abortion, 'Fact Checker' Apologizes.
Are you pro-life but won't vote for Trump? Here's why you should vote for him anyway.
Feminists Scream at Pregnant Woman Playing Audio of Her Baby's Heartbeat.
COLUMN: The Pro-Abortion Left Attacks Adoption.
"Patricia saw tiny fingerprints on those fingers. But what really broke her heart was the expression on the baby's face. She could tell he was screaming because his little mouth was open. He had fought for his life, but there was nobody to defend him. It was then that Patricia realized that she had been lied to. She hadn't aborted sacs of tissue. She had aborted three babies. Her children."
Patricia Sandoval tells the rest of the story of her recovery and healing in her autobiography entitled Transfigured. 
Wisconsin Right to Life's Political Action Committee has announced the following endorsements for the November 3rd, 2020, General Election.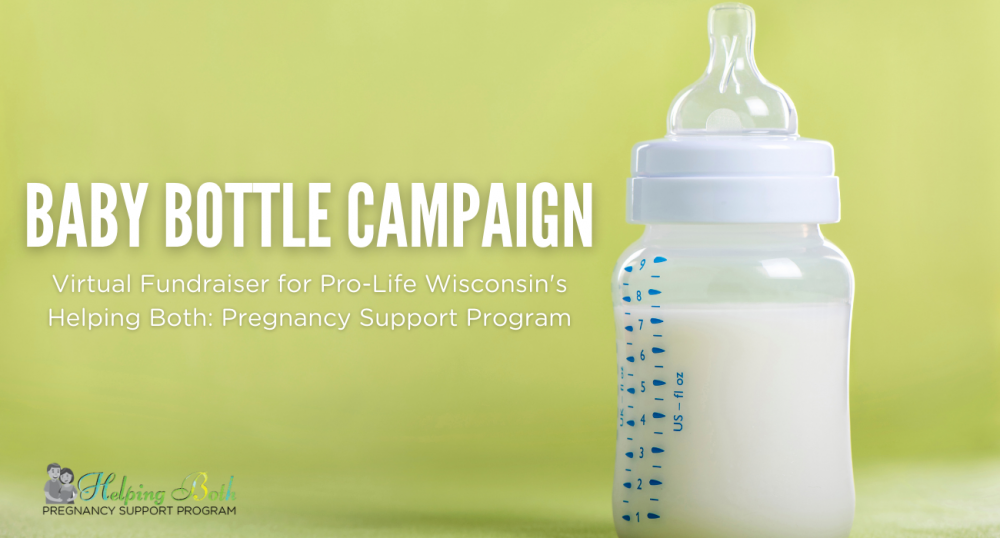 Every year, Pro-Life Wisconsin partners with churches throughout the state and holds a Baby Bottle Campaign through our Helping Both: Pregnancy Support Program. However, because of the COVID-19 pandemic, we're moving the physical baby bottle campaign to a virtual baby bottle campaign. You can give online and help countless moms and their beautiful babies.

Crisis pregnancies happen all the time whether there is a pandemic or not but especially now, women need a supportive community to choose life for their preborn baby. The temptation of abortion is even greater in these difficult times. Sadly, many women are vulnerable in a crisis pregnancy to pursue an abortion.

We know that moms choose life because of the help that they receive from PLW's Helping Both: Pregnancy Support Program. We work with local Pregnancy Resource Centers to save the life of the baby and heal the hearts of hurting moms. Helping Both fills the gap and changes lives.

We know that in this time, unemployment has affected families and limited their access to childcare, and education. It has stretched family resources and their ability to pay rent and/or their monthly bills. Our Helping Both Program fills the gap for families and gives the hope that moms in crisis pregnancies so desperately need. Your financial support means you are there for moms and their babies after birth too. Through the Helping Both Program, families have received food, gas, baby clothes, rent assistance, appliances, and financial assistance for their education. These are just a few of the ways this program has made a difference in the lives of pregnant moms in crisis.

Your generosity in this virtual baby bottle campaign provides the financial resources to continue supporting families in need. Please give generously today!
AND FINALLY, LOVIN' LIFE…
Marathoner limping in pain gets help from prisoner on work release to finish race.
Thanks for reading!